Are you feeling a little adventurous in the kitchen? Do you want to "WOW" the in-laws this Christmas? Try baking scones! Scones are the fancy version of a biscuit! Scones are a great way to enhance your baking skills while creating something delicious.  Let talk scones and ceramic scone baking pans.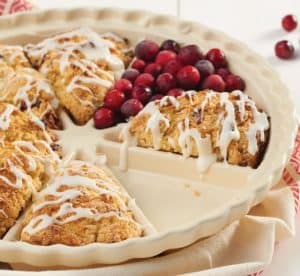 What is a scone? For those who do not know, a scone is a baked good. It is usually made of either wheat or oatmeal combined with baking powder as a leavening agent.
Scones are historically round and flat. Like most things in the culinary scene, a scone's structure and taste fluctuate based on culture and on the baker. Scones have changed over time and in a variety of ways.
One of the most popular shapes of a scone is a puffed triangle often baked on a sheet pan. As chefs experiment and bakers create new methods of baking, kitchen accessories and aids are invented.
Ceramic scone baking pans were created to make baking triangle scones easier. Scone baking pans can help both novice bakers and professional chefs produce high-quality scones.
Want to know how ceramic scone baking pans work? And the best scone recipes to try? Keep reading to find out more!
What is a Ceramic Scone Baking Pan
A ceramic scone baking pan is the perfect kitchen accessory for those who are not familiar with baking scones. Not only for novice scone bakers, but it is also for those who produce a high number of scones. This ceramic baking pan can help shorten the baking process.
Features
A Scone baking pan can be made of ceramics, cast iron, stoneware, stainless steel, and silicone. While the other materials all have their advantages and disadvantages, ceramics is all-around a satisfactory material. Stoneware is also a type of ceramic. Stoneware and ceramic are the materials most commonly used to produce scone baking pans.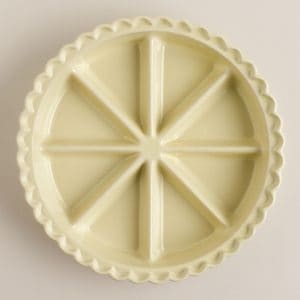 Ceramics are durable and sturdy. Ceramics are manufactured by using molds and high temperatures for hardening; this creates a sound internal structure. Robust construction makes a chip-resistant baking pan.
Some ceramic scone baking pans are glazed, and others are not. Having a glazed ceramic scone baking pan is ideal because it creates a non-porous surface. The stoneware or ceramic glaze also prevents major damages to the baking pan.
The glazed ceramic surface is scratch-resistant and stain-resistant. Bakers can use metal utensils and knives with a ceramic scone baking pan. The glaze provides a smooth exterior. This smoothness makes removing food easy; which means that you may not need metal utensils or knives at all!
This glazed coating also is resistant to stains and absorption. While using a ceramic scone baking pan, the scones will not leave any burnt stains and the pan will not absorb any flavors or moisture from the scones.
Another advantage to using a ceramic scone baking pan is the non-stick finish; this makes baking and cleaning easy! Scones will not stick to the pan after baking. With no sticky food remaining on the pan, cleaning up is simple.
Capabilities & Design
Ceramic baking pans are safe to use with most kitchen appliances. For example, ceramic baking pans are microwave-safe, dishwasher-safe, oven-safe (up to 425 degrees Fahrenheit), and freezer-safe.
A ceramic scone baking pan is a round pan that often comes with good-grip handles. The round pan is typically divided into 6, 8, or 12 triangles. After assembling the scone dough and greasing the scone baking pan, bakers press the dough into the individual triangles.
The divided baking pan helps the scones puff up in the proper shape. A ceramic scone pan is designed to evenly distribute heat throughout the pan. Each portion of the baking pan evenly heats up and creates the ideal mold for scones.
Using a Ceramic Scone Baking Pan
Scones can be both sweet and savory. While the flavor profile may change based on the baker, scones are expected to follow a specific model. The model of a perfect scone is a moist inside, flaky texture, and crumbly edges.
How do you make scones using a ceramic scone baking pan? Start with the basic scone recipe. There is a simple ingredients list to a basic, plain scone. It includes the following ingredients:
Baking Powder
Butter
Eggs
Flour
Milk or Half and Half
Salt
Sugar
(Additional ingredients for flavors and tastes)
After following the basic recipe using the ingredients above, bakers can add ingredients to create culinary masterpieces. Butter the ceramic scone baking pan, rest your dough in a cold palace, and bake at 400 degrees Fahrenheit for about 15-30 minutes (depending on the additional ingredients).
The Best Scone Recipes
There are thousands of scone recipes to try, but we have handpicked our favorites based on variety, flavor, and accessibility.
Sweet scones can be served for many events and in several ways. You can serve sweet scones as dessert for family dinners, breakfast for guests, or as a token of appreciation for an elderly neighbor.
The following sweet flavor combos are sure to be the new favorite dessert:
Blueberry and Lemon
Cardamom and Orange
Chocolate Chip
Cinnamon Sugar
Cranberry
Jam Filled Scones
Rhubarb
Sweet Potato
Toffee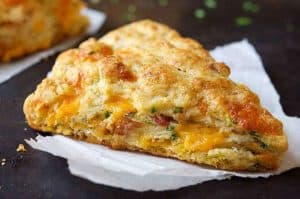 No sweet tooth in the family? Savory scones are just as popular as sweet scones. You can serve savory scones as an appetizer, as a side to a Thanksgiving lunch, or as a sneaky way to incorporate veggies into your child's diet. Try one of the following savory recipes with your ceramic scone baking pan:
Caramelized Onion
Garden Veggie
Goat Cheese and Sun-Dried Tomatoes
Pickle Brine Pesto
Red Onion and Chili
Ricotta Herb Pesto
Tomato, Rosemary, and Black Pepper
Zucchini Cheddar
Using a ceramic scone baking pan can also be used to make cornbread, individual cakes, and biscuits! Even if you don't like scones, you can enjoy a ceramic scone baking pan. Which recipe will you try with your ceramic scone baking pan? Let us know!