Versatile cookware is becoming all the rage! Everyone wants the most bang for their buck nowadays. That is why people are turning to multi-use kitchen gadgets; some increasingly popular multi-use gadgets include Immersion Blenders, Instant Pots, and KitchenAids.
Immersion blenders can be used for smoothies, chopping veggies, and whisking ingredients. Instant Pots are made with many settings that allow users to cook in a variety of ways. And KitchenAids come with multiple attachments. You can grind meat, spiralize vegetables, juice fruits, or mix ingredients!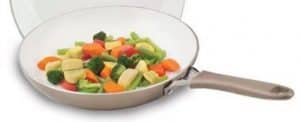 The ceramic cookware company, WearEver, is keeping up with the trend. WearEver has designed ceramic pots and pans that can be used both with a stovetop and an oven.
WearEver understands the pain of having to use multiple dishes while cooking. That is why they offer ceramic cookware that is usable on the stovetop and in the oven!
Read below to find out what makes WearEver oven-safe and how it is different from other ceramic cookware brands!
Heat Capability – Is WearEver Ceramic Cookware Oven Safe?
The WearEver ceramic cookware set is compatible with most stovetops: gas, electric, and glass stovetops. However, it is not compatible with an induction stovetop.
Each pot and pan is made with a wide aluminum base. WearEver chose aluminum as their base because it is an excellent heat and electricity conductor. Aluminum is a fairly lightweight metal, making it an easy material to maneuver.
Not only is it lightweight, but it is durable as well. Many brands use aluminum as their base because of its durability and its ability to conduct heat.
WearEver has also chosen ceramic as its coating. Ceramic coatings are beneficial to users because it is durable, scratch-resistant, chip-resistant, and creates a non-stick surface.
Ceramic cookware is also toxic-free. Free of PTFE and cadmium. People often go with ceramic cookware because it is environmentally friendly. With no toxins and with a ceramic glaze, it is safer than other cookware options.
The downside to ceramics is that they can not handle high heat. A high heat setting will decrease the non-stick quality. Despite not being able to handle high heat, ceramic cookware is oven-safe!
What Makes WearEver Oven-Safe
There are several elements to each piece of cookware; elements including handles, coatings, core, lids, etc. To be oven-safe, each component must be oven-safe to a certain degree.
Handles
WearEver handles are made of silicone. The silicone handles are made with soft grips for a gentle touch. The silicone handles also provide a firm grip for managing and using. This way, there shouldn't be any worries about dropping the cookware. The silicone handles are oven-safe, but only up to 350 degrees Fahrenheit.
Glass Lid
If you choose a WearEver ceramic dish that comes with a glass lid, rest assured because it is oven-safe. The glass lid is oven-safe up to 350 degrees Fahrenheit, as well. Be aware that glass is temperamental. Glass can not handle sudden temperature changes. If you use the glass lid in the oven, allow it to cool before putting it in water, refrigerator, or freezer.
Aluminum Base
The aluminum core of WearEver cookware has a high heat capacity. While WearEver does not give a specific temperature for the aluminum base, the pan itself is oven-safe up to 350 degrees Fahrenheit. If the oven does not exceed 350 degrees Fahrenheit, the aluminum base will not be compromised.
Ceramic Coating
Ceramics are known for their high heat capacity. As mentioned previously, using a high heat setting will ruin the non-stick surface of a ceramic pan; however, the ceramic material will maintain its integrity. Ceramics are safe up to 570 degrees Fahrenheit. PLEASE NOTE: that the pan itself can not withstand these temperatures, only the ceramic coating.
WearEver Ceramic Cookware
It is oven-safe! Although each element has a different oven-safety temperature, the pan, as a whole, is safe to use on the stove and in the oven. WearEver ceramic cookware is oven safe up to 350 degrees Fahrenheit.
What Makes WearEver Different From Other Brands
WearEver has designed a ceramic cookware line that allows its users to use their cookware on the stovetop and in the oven.
This ceramic cookware brand comes with a bonus that not many other brands come with. A Lifetime Warranty. If something happens to your WearEver pot or pan, you can contact the company, and they will repair or replace your cookware.
While WearEver does offer oven-safe cookware, it is not broiler-safe. Using a broiler may result in a blemish or it may destroy your WearEver ceramic cookware. Broilers are made to use high heat very quickly. It is hard to control the temperature and distribution of a broiler's heat. That is why it is not recommended to use with WearEver.
Although WearEver pans cannot withstand broiler heat, their ceramic coating can withstand high heat. WearEver promotes its cookware as being perfect for searing meat.
The cookware has also been designed to withstand the heat of a dishwasher. Hooray! Having fewer dishes to wash is always a celebration. WearEver assures its customers that its ceramic cookware can withstand the heat and cleaning process of dishwashers.
What will you cook in your WearEver ceramic cookware? Whatever it is, know that you can safely keep it warm or reheat it in the oven!