Crofton Cookware is a popular brand known for its high-quality, durable, and stylish kitchen products. Designed with both form and function in mind, these kitchen essentials cater to the needs of cooking enthusiasts and busy families alike. The company's offerings range from non-stick frying pans to colorful pots and even extend to baking dishes, all of which are created to ease and enhance the cooking experience.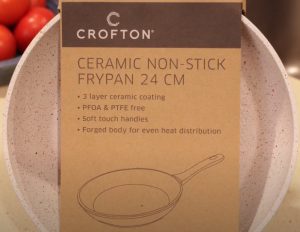 One of the standout features of Crofton Cookware is its commitment to affordability without compromising on quality. The brand understands the importance of well-made products that are accessible for any budget. This combination of cost-effective and reliable cookware has earned them a loyal following of satisfied customers around the world.
Innovative materials and coatings are also used in the production of Crofton Cookware. This ensures that their products are not only visually appealing but also highly efficient in terms of heat distribution and durability. From stainless steel to cast iron, the brand offers an array of choices suited to different cooking styles and preferences.
Overview of Crofton Cookware
History
Crofton Cookware is a popular brand of kitchen products known for its quality and affordability. The brand offers a variety of cookware items such as pots, pans, bakeware, and utensils. The use of durable materials and innovative designs have contributed to its growth and loyal customer base.
Connection to Aldi
Crofton Cookware is closely associated with Aldi, a well-known global supermarket chain. Aldi regularly features a wide range of Crofton products in its "Aldi Finds" section, where customers can purchase these items at competitive prices.
Aldi Finds is a unique concept where Aldi introduces new and exclusive products every week. Typically, these products are available for a limited time and in limited quantities. Crofton Cookware often makes its way into Aldi Finds selection, allowing customers to easily access and purchase their desired kitchen essentials.
Types of Crofton Cookware
Stainless Steel Collection
Crofton offers a wide range of stainless steel cookware to suit different needs. Popular choices include copper-bottomed skillets and frying pans, which provide excellent heat distribution and durability. Another option is the multi-layered stainless steel saute pans, featuring a core of aluminum or copper for even heat distribution. For an attractive finish, the stainless steel collection also includes various polished and brushed exteriors.
Cast Iron Collection
The Crofton cast iron collection features pre-seasoned skillets and dutch ovens, ensuring that they're ready to use right out of the box. Made to last, these cast iron pieces provide superior heat retention and consistent cooking results. The enameled cast iron collection offers a protective coating that prevents the cookware from rusting and enables easy cleaning.
Non-Stick Collection
Crofton's non-stick cookware includes frying pans and sauté pans that are designed for easy, low-fat cooking. Made from durable materials, these pieces feature non-stick coatings that make flipping and turning a breeze. Ideal for busy kitchens, these non-stick products promote healthy cooking and hassle-free cleaning.
Enamel-Coated Collection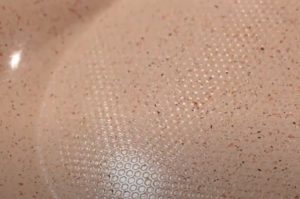 The enamel-coated collection features a variety of vividly colored cookware, including enameled cast iron and bakeware. The enamel coating adds an extra layer of durability and enables the cookware to resist stains or chips. Cooks can choose from diverse sizes and shapes, such as round, oval, and square options.
Bakeware and Accessories
Crofton's bakeware and accessories complete the kitchen setup. This selection includes various gadgets, knives, and bakeware designed to complement the cookware collections. Items like baking sheets, muffin tins, and even silicone baking mats make preparing baked goods a pleasure. In addition, Crofton offers an assortment of essential kitchen gadgets and knives to assist with food preparation and serve as valuable tools for any home cook.
Material and Durability
Cast Iron Cookware Benefits
Cast iron cookware is known for its durability and ability to retain heat evenly. This makes it an ideal choice for slow cooking and ensures that the food is cooked uniformly. Cast iron is also oven-safe, allowing for a versatile cooking experience. One potential drawback, however, is that it tends to be heavy and requires proper seasoning to maintain its non-stick properties.
Stainless Steel and Aluminum Advantages
Stainless steel and aluminum cookware are popular choices due to their lightweight nature and resistance to rust and corrosion. Both materials are durable and provide even heating, contributing to an efficient cooking process. They are also oven safe, making it easy to move from stovetop to oven.
Stainless Steel: It is a non-reactive material, meaning it doesn't affect the flavor of the food. It is also easy to clean and maintain.
Aluminum: This material is known for its excellent heat conductivity, allowing for quick and even cooking. It is often combined with other materials, such as stainless steel, to improve durability.
Non-Stick and Enamel-Coated Considerations
Non-stick and enamel-coated cookware offer several advantages, including easy cleanup and reduced need for cooking oil.
Non-stick: Most non-stick pans use a PTFE (Teflon) or ceramic coating. While they make cooking and cleaning a breeze, it's important to note that PTFE coatings can release toxic fumes when heated to very high temperatures. This type of cookware should be used with caution and at moderate heat levels.
Enamel-Coated: Usually applied to cast iron or carbon steel cookware, the enamel coating provides a smooth, non-stick surface that is easy to clean. These pans are also visually appealing and come in various colors. However, care should be taken not to chip the enamel, as this could cause the underlying material to rust.
| Material | Durability | Oven Safe | Even Heating | Non-Stick |
| --- | --- | --- | --- | --- |
| Cast Iron | High | Yes | Yes | Moderate |
| Stainless Steel | High | Yes | Yes | Low |
| Aluminum | Moderate | Yes | Yes | Low |
| Non-Stick (PTFE) | Moderate | Moderate | Yes | High |
| Enamel-Coated | High | Yes | Yes | Moderate |
In summary, when selecting cookware, consider the material's durability, oven-safe properties, and ability to provide even heating in order to make an informed decision that best suits your needs.
Cooking with Crofton
Using Different Stovetops
Cooking with Crofton cookware is a delight for both amateur and experienced chefs. Their versatile range of pots and pans can be used on various stovetops. For instance:
Gas stovetops: Crofton cookware works well on gas stovetops, offering consistent heat distribution and excellent cooking results.
Electric stovetops: With Crofton pans, electric stovetops provide even heating, preventing hot spots and ensuring thorough cooking.
Induction stovetops: Some Crofton cookware, especially cast iron skillets, are compatible with induction stovetops, allowing for energy-efficient and precise temperature control.
Oven Recommendations
Crofton cookware is also suitable for oven use, opening up a world of baking and roasting possibilities. Here are a few recommendations: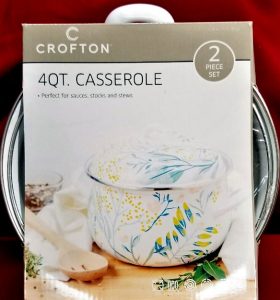 Cast iron cookware: Preheat the oven before placing the cast iron skillet or dutch oven inside to ensure even heat distribution.
Pots and pans with removable handles: Make sure to remove any plastic or non-ovenproof parts before placing them in the oven.
Temperature monitoring: Use an oven thermometer to track temperature levels, ensuring that the cookware is not exposed to temperatures beyond its limit.
Temperature Limits
To prolong the lifespan of your Crofton cookware and maintain their excellent cooking performance, adhere to the following temperature limits:
| Cookware Type | Maximum Temperature |
| --- | --- |
| Non-stick cookware | 500°F (260°C) |
| Cast iron cookware | 700°F (370°C) |
| Stainless steel | 600°F (315°C) |
| Glass/ceramic | 450°F (232°C) |
It is essential to follow these guidelines to prevent damaging the cookware and ensure a safe cooking experience.
Care and Maintenance
Cleaning Instructions
Crofton cookware is designed to be easy to clean. However, it is recommended to hand wash the cookware to prolong its lifespan. To clean the cookware effectively, follow these steps:
Allow the cookware to cool down completely after use.
Fill the cookware with warm water and mild dish soap.
Gently scrub the surface using a non-abrasive sponge.
Rinse thoroughly to remove any soap residue.
Dry the cookware using a soft cloth.
Although Crofton cookware is dishwasher safe, it is advised to hand wash to maintain the integrity of the Quantanium non-stick coating.
Avoiding Rust and Damage
To prevent rusting and damage, it is essential to take proper care of Crofton cookware. Here are some tips to keep your cookware in excellent condition:
Store the cookware in a dry place to avoid excess moisture.
Avoid using metal utensils, which can scratch the non-stick surface.
Don't use aggressive cleaning agents or abrasive scrubbers.
Regularly inspect for signs of wear or damage to the coating.
By following these care and maintenance instructions, your Crofton cookware will remain durable and retain its non-stick properties.
Purchasing and Availability
Finding Crofton Cookware at Aldi
Crofton cookware is often sold through Aldi, a popular budget-friendly supermarket chain. The selection of Crofton cookware at Aldi stores may change from time to time, so it's a good idea to check their weekly ads or visit a store location to see what is currently available. Aldi prides itself on offering customers quality products at low prices.
Some Crofton cookware items found at Aldi include:
Frying pans: These non-stick pans are durable and easy to clean.
Cast iron cookware: Versatile and long-lasting, making them great for cooking a variety of dishes.
Saucepan sets: Multiple sizes are often available, perfect for cooking various meal types.
Online Stores
If you don't have an Aldi store nearby, or if you prefer shopping online, there are several online retailers where you can find Crofton cookware. Some popular choices include:
Amazon: This online retail giant often offers a variety of Crofton cookware products. Be sure to read reviews and compare prices before making a purchase.
eBay: Sellers on this platform might provide new or gently used Crofton cookware items up for sale or auction. Always check the condition and return policy before bidding or buying.
Brand-specific websites: Some cookware brands have their own websites and online stores, offering a range of their products directly to consumers.
| Store | Pros | Cons |
| --- | --- | --- |
| Aldi | Budget-friendly, physical store locations | Limited availability, rotating stock |
| Amazon | Wide online selection, customer reviews | Prices may vary |
| eBay | New and gently used items, potential bargains | Potentially limited choice, varying conditions |
| Brand websites | Direct from the manufacturer | May not have the full range of Crofton items |
In conclusion, finding Crofton cookware can be as simple as visiting an Aldi store or searching online retailers for sales. With its budget-friendly prices and selection of products, Crofton cookware makes for a great addition to any kitchen.
Contact and Support
When customers need assistance with their Crofton cookware, they can rely on a responsive and friendly support team. To help customers get the assistance they require, Crofton offers various means of contact.
Phone Support: For immediate assistance, customers can call Crofton's customer service hotline. The support agents are available during business hours to address any questions or concerns related to cookware products.
Email Support: If a customer prefers to use email, sending a message to the support team can be done quickly and easily. A representative typically responds within 24 hours to provide guidance or information.
Online Chat: Another convenient method of contact is utilizing Crofton's website's live chat feature. Customers can chat with a support agent in real-time to resolve any issues or obtain helpful advice on cookware use and care.
Social Media: Crofton maintains active accounts on popular platforms such as Facebook, Instagram, and Twitter. Reaching out through direct messages or comments allows for an alternate mode of communication, as well as the opportunity to engage with the broader community of cookware enthusiasts.
By providing multiple ways to access their support team, Crofton aims to ensure all customers receive the best assistance possible. The friendly tone and professionalism of their staff further add to the satisfactory experience of using Crofton cookware products.
Expert Opinions and Reviews
Professional Chefs' Recommendations
Professional chefs appreciate Crofton cookware for its high-quality construction and durable materials. They often recommend these products for their excellent heat retention and even cooking. Here are some key points that professional chefs emphasize:
High-quality cookware: They praise the use of stainless steel, cast iron, and ceramic materials in Crofton's cookware.
Durable materials: Chefs appreciate the long-lasting and resilient construction of these products.
Heat retention: Crofton cookware, especially the cast iron and ceramic lines, are praised for their ability to retain heat and evenly distribute it during the cooking process.
User Experiences
Many users of Crofton cookware shared their experiences with the brand, mentioning the benefits of using the products. Some common themes in user reviews include:
Glassware: Crofton's glassware is recognized for its durability and resistance to cracking and chipping.
Easy to clean: Users appreciate the easy-to-clean surfaces, which in many cases are non-stick or dishwasher-safe.
Here is a summary of users' feedback in a tabular form:
| Feature | Positive Reviews | Negative Reviews |
| --- | --- | --- |
| High-quality cookware | High | Low |
| Durable materials | High | Low |
| Heat retention | High | Medium |
| Glassware | High | Medium |
| Easy to clean | High | Medium |
Overall, both professional chefs and users provide positive feedback on Crofton cookware, praising its durability, heat retention, and glassware quality. It is easy to see why Crofton products continue to be popular choices among cooking enthusiasts.
Crofton Cookware Frequently Asked Questions
What is it made of?
Crofton cookware uses a variety of materials in its products, depending on the specific item. Common materials include stainless steel, aluminum, and cast iron. Some products may also feature ceramic and non-stick coatings to enhance their performance.
Is it safe?
Yes, Crofton cookware is designed with safety in mind. The materials and coatings used in their products meet industry standards for safety and quality. However, it's essential to follow the manufacturer's guidelines for proper use and care of the cookware to ensure safety and longevity.
Good brand?
Crofton is often praised for its affordability and quality. Many customers appreciate its range of products as they fit various cooking needs and preferences. While some high-end brands might offer more premium features, Crofton cookware provides a good balance of value and performance.
Who owns it?
Crofton is a brand of cookware that is commonly sold at ALDI supermarkets. ALDI, a German-based grocery chain, is known for offering a wide range of products, including home and kitchen essentials, at affordable prices.
Non-toxic pans?
Crofton offers a selection of non-toxic cookware options. Ceramic and naturally non-stick coatings are examples of non-toxic options available in their product line. Always check the specific product's features to ensure that it's free from harmful chemicals.
Non-stick pans?
Yes, Crofton offers non-stick pans in their cookware line. These pans often feature a non-stick coating, such as ceramic or PTFE, to make cooking and cleaning easier. Make sure to follow the manufacturer's instructions on proper usage and care to maintain the non-stick surface's effectiveness.