If you are a knife enthusiast or a professional chef looking for a high-quality knife on the market, you are in the right spot. Or even looking for a great recommended gift to order.  Over time, the knife culture underwent thousands of variations and styles. While many of them defined cultures and heritage, many kitchen knives were regarded as iconic and were widely recognized everywhere.  Let's dig into the Kamikoto Knife reviews.
Let's discover some exciting details about one of the iconic knives known for its Japanese roots, The Kamikoto knife. Although many manufacturers introduced modern touches to their knives. Kamikoto still sticks to its classic style. It uses its time-honored process to produce its classic and conventional Japanese knives, known for style among the masses.
About Kamikoto the Company
Kamikoto is a leading Japanese company that specializes in manufacturing high-quality Japanese knives in Japan and China. The headquarters of Kamitkoto are located in Tokyo, Japan and it sources its raw materials from its specially selected steel Mills in the Honshu Islands, Niigata, Ibaraki, and Kanagawa among other places. These knives are mostly made in China using Japanese steel. Kamikoto knives are exceptionally fine blades that are particularly crafted for expert chefs and knife enthusiasts.
Kamitkoto employs an extremely demanding 19-step procedure that takes multiple years to complete for each Kamikoto knife. They have a workforce of skilled bladesmiths who forge and mold raw steel into durable blades, polishing and refining them to give a fine edge.  They have more than 100 years of extensive experience.
Kamikoto also makes sure that before leaving the workshop each blade is carefully examined to make sure it remains true to the Japanese tradition of producing unique Japanese steel knives of the highest caliber. Every piece of a Kamikoto knife embodies the essence of the craft.
Kamikoto Knife Reviews:
Here are Kamikoto knife reviews of all the popular Kamikoto Knives. Let's delve into the features and specifications of each knife:
Kamikoto Kanpeki Knife Set: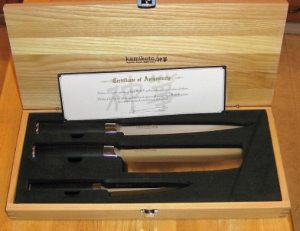 The company's classic item is the Kamikoto Kanpeki knife set. Additionally, it's the full package if you are fond of using and maintaining a collection of classic Japanese cutlery. The knives are made of premium steel and are incredibly sharp and robust. When needed they are a breeze to sharpen with a stone or whetstone.  And even better, they are more corrosion-resistant than the majority of Japanese blades.
The knife set includes three knives. An 8.5-inch knife that can replace a chef's knife. It works great for accurately cutting meat and vegetables. The set also includes a 7-inch Nakiri knife. All sorts of vegetables are usually sliced using these delicate, flat blades. The last knife of the set is a multi-purpose 5-inch utility knife that is ideal for anything which your chef's knife or nakiri cannot handle. It works particularly well for chopping herbs, onions, and garlic.
There is a certificate or document of authenticity included with all these three knives, which come in a stunning wooden box. Your investment is secure since Kamikoto has a lifetime warranty. The most preferred choice among Kamikoto's knives is the kanpeki set since it offers the best value and price.
Kamikoto 7in. Santoku Chef Knife: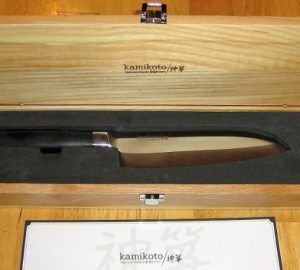 The second Kamikoto knives review; This 7′′ chef's knife has a single bevel that comprises corrosion-resistant steel. It also comes in a stylish oak or ash wood box and has a distinctive style that skillfully integrates strong lines with traditional flair. This Kamikoto Santoku is a good option if you're looking for a single knife that will make food preparation a little more enjoyable.
The Santoku knife, in contrast to several Japanese-style blades, is substantial, heavy, and features a bent belly. It would be hard to grab a better knife for slicing sausages or cutting veggies. Even though the knife is a little hefty, it maintains excellent balance. It is quite simple to manage and handle the knife while chopping, slicing, or dicing. When used properly, the single bevel prevents food from sticking to the knife and also makes maintenance a little bit simpler. While you might find the tip thick for certain chores, it's ideal for practically all other kitchen uses.
Kamikoto Senshi Dual Knife Set: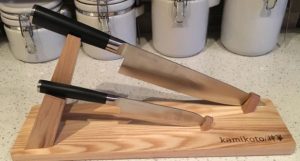 The perfectionists in the kitchen will enjoy the Senshi knife set. If you are a purist and need a whole set of knives for little chores or heavy-duty tasks this set fits the bill for you.  A 10-inch chef's knife and a 5-inch utility knife make up its unrivaled combo. It deserves to be the focal point of your kitchen. The knives come with a beautiful oak display stand. You can proudly show your guests your elegant knife set.
All Kamikoto knives are made from the same premium steel, making this knife set razor-sharp with exceptional edge retention. These knives are well balanced and move around the kitchen quite easily, but if you prepare food for several hours at once, you can feel your arm getting a little exhausted. This set is pretty attractive in terms of aesthetics. It has strong black handles that match the blades' satin finish and has a sleek, subtle lining. You might never want to use a Western-style blade again after you become habitual to the single bevel blade that comes with this knife.
Are Kamikoto Knives Any Good?
Both experts and novice chefs will laud the expertise and specifications of the Kamikoto knives. So, what distinguishes them from conventional stainless-steel knives? In reality, it's just different—not necessarily "better."
Kamikoto knives are primarily appealing due to their exquisite appearance and brand recognition. This knife set is the greatest option for displaying both of these components because it comes with a display block.
Western knives typically only include one type of steel. Steels that are both high and low carbon are present in Japanese knives. Japanese blades are therefore stiffer and tougher. They can take a sharper edge and maintain it longer as a result. However, having harder steel has advantages as well. If a Japanese blade touches a hard surface, such as a bone, it is more vulnerable to chipping.  You might also need to use a specialized sharpening block to maintain them sharp. So overall, Japanese Kamikoto knives are sharp and have a unique aesthetic but that comes at the cost of regular maintenance which is not a serious downside.
Are Kamikoto Knives Worth the Cost?
Japanese knives undeniably consist of high-quality materials. Nevertheless, it is not where the majority of their expense stems from. The majority of the cost comes from the fact that each blade is hand-made using a laborious and highly skilled procedure.
Traditional craftspeople take over decades to learn how to create Japanese knives. Even after that, each hand-forged object takes several days to reach completion. Moreover, the performance of the knives reflects the attention producers pay to minute yet crucial details. As a result of the producer's hard efforts, these knives rank among one of the most balanced and sharp knives you will ever use. Therefore, Japanese knives are unquestionably worth the investment.
Are Kamikoto knives real or fake?
The producers of Kamikoto Knives create their traditional knives in China with imported Japanese steel. Does the manufacturing place of a knife make it any less of a unique product or cheap? Of course not.
Now let's talk about the highly controversial stigma regarding the Kamikoto knives being fake or real. Unfortunately, the manufacturers have been associated with a perception that they produce cheap materials in China and fool their buyers.
However, the reality is, that Yanjiang, China is the hub of Chinese blade-smithing activities. It has a history of blade smithing. Therefore, Kamikoto uses Chinese craftsmen to lend a distinctive touch to Japanese knife styles rather than compromising the product's quality. Even though Kamikoto's knives are made in China, this shouldn't influence your choice.
Kamikoto's knives are quite similar to those made by several authentic Japanese knife makers, and the Chinese craftsmen that Kamikoto recruits are just as adept as any other Japanese knife-makers.
Should you buy Kamikoto Knives?
The answer depends on your needs and budget criteria. You should know that Kamikoto knives come at an enormous cost. They are frequently still significantly pricier than Yoshihiro knives or knives from many other well-known manufacturers, even when they are on sale.
However, they are still exceptionally fine knives that hold an edge well and are relatively simple to maintain. More than any other brand, Kamikoto knives are great display pieces. They come with display stands and have amazing aesthetics. You can always purchase a set for your kitchen if you can afford them. Now, if you're on a tight budget, you should consider waiting for a discounted offer or a sale or go with a different brand. Keep checking the Amazon website for any sales on these knife sets.  Fortunately, these knives had great sale offers in the past. They are far less expensive than other brands if you manage to purchase them during one of those future major discounts.
What are Kamikoto Knives Made From?
The Kamikoto Knives consist of the highest quality Japanese steel from Honsho, Japan. This type of steel comes with various functional properties which include high corrosion resistance and durability. According to the company, they use Genten series steel and Ganjo series steel. The Genten series is especially for those consumers who do not mind sharpening and maintaining their knives from time to time. In comparison, SLD steel retains its sharp edge over a longer time.
In the Kamikoto forge, the craftsmen heat the steel to 1922°F for over two hours and anneal it at 392°F for a further two hours.
What should you look for in a Japanese Kamikoto knife?
There are various factors that you should consider before buying your Kamikoto knife. One of the first things to notice is the design. Select a design that will accelerate your culinary experience. However, if you're simply choosing a knife for a display you can go for any design.
Another crucial feature is that you should consider high-carbon forged blades that are simple to sharpen and maintain. They are more than capable of withstanding typical kitchen use, and with routine upkeep, they will remain razor-sharp. Due to this, they are pretty comparable to Shun or other premium brand knives. You should also consider the construction, build, durability, and maintenance requirements of your knife. Usually, Kamikoto knives do not compromise on these features.
Do they come in Sets?
Usually, Kamikoto knives come in a variety of sets. Most of the time, the set comprises three to four knives, including a vegetable knife, one slicing knife, and one utility knife. Different knives serve different purposes from handling heavy tasks to intricate chores. Each knife has its purpose.
Which knives should one keep in the kitchen?
What works for a home chef with great expertise in cooking will be significantly different from what works for a novice cook. Regardless of your level of culinary expertise, you must begin with a superb chef's knife. You can also add a paring knife after that to handle little and delicate tasks. You can research more about types of knives before making the final plunge.
Conclusion
So, to wrap up, Kamikoto knives have a legacy of excellence in manufacturing knives of the highest caliber. They are one of the most well-made, sharp, and durable knives available on the market today. With that being said, the best Japanese Kamikoto knife choice for chefs may differ according to the preferences and usage of every individual. However, according to expert opinion, expert chefs should choose a single bevel design. Beginners or other knife enthusiasts who are eager to practice new edge styles should get a suitable kanpeki knife set that has a variety of knives. You will soon get the hang of Kamikoto's unrivaled sharpness and cutting power.  We trust Kamikoto knife reviews help in deciding if they are right for your kitchen.  Let us know if you have any questions.