A frying pan is one of the most vital tools in any cookware arsenal.  Aside from being popular, it serves many purposes. So, we have prepared a complete Scanpan frying pan review to make your work easier.
For instance, your breakfast eggs are unlikely to be as soft and well done without an adept frying pan. So, not all frying pans are the same. Some can ruin your little breakfast experience, while others make it wholesome.
Scanpan is arguably one of the most popular cookware companies right now. However, it is tough to determine the quality of a product without using it. It would be best to look for various factors before buying a new frying pan, like the brand, product reviews, and more.
Scanpan Frying Pan: An Overview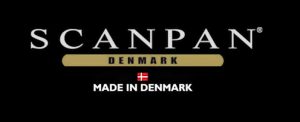 Started in 1956, Scanpan offers multiple cookware products that assure maximum user comfort. It produces utensils for both professional and home cooks. One of the best things about Scanpan is that it offers you the perfect balance of non-stick and non-toxic pots.
Scanpan frying pans are another great addition to the company's list of top-quality products. These ceramic frying pans are affordable, durable, and safe for use. They are also dishwasher-safe and ovenproof.
The company makes the pans extremely easy to care for and clean and is optimal for gas and halogen cooking. It also has a radiant ring at the bottom. Lastly, the pan's thick and solid base plate allows efficient heat control.
Pros
Non-stick
Ceramic
Safer
Durable
Cons
Does not allow the use of cooking spray or aerosol
Scanpan Frying Pan Review.  What Is So Great About Scanpan?
There are several benefits of using a Scanpan frying pan. The company offers various perks like discounts and return policies. Moreover, the product has received several great reviews from satisfied users. This section explains all the benefits of Scanpan frying pans in depth:
●    Affordable
One of the first things users look for before buying any product is whether it fits their budget. Scanpan is the best brand to pick if you want affordable, top-quality products. The company's frying pans have a very diverse price range. These prices generally depend on the size of the frying pan. However, some prices vary due to the pan's shape as well.
●    Product Diversity
The next perk of selecting a Scanpan frying pan is that you can choose the most fitting pick from a range of options. The company offers frying pans in over five different sizes. Hence, this lets you get more specific while shopping and precisely select according to your needs. Whether you live alone or have a family of four, you can cook meals for all using a Scanpan frying pan.
●    Wide Availability
Some products are tough to find since they quickly go out of stock or are unavailable. Scanpan ensures that this is not an issue for its users. If you decide to buy a Scanpan frying pan, all you need to do is visit their official website. You can find several product options there, along with their specifications like size, price, delivery, etc.
Also, you do not need to worry about searching for the product in physical stores. You only need one click of your mouse to order a Scanpan frying pan.
Can I Use High Heat for My Scanpan?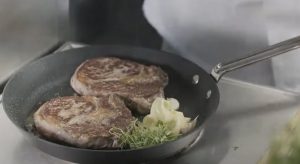 Scanpan frying pans are built to endure high heat. However, makers advise using oils with higher heating points, like grape seed or rice oils, in such cases. This would unlock the pan's maximum efficiency.
Is the Scanpan Safer Than Teflon?
One of the most prevalent controversies around non-stick cookware is how they are likely toxic. However, not everyone knows that a non-stick pan is harmful because of its Teflon coating. Even Teflon pans are not dangerous if you care for them properly. They can harm you only when you accidentally consume the scraped-off outer layer. However, if you use it regularly, preserving your pan's coating and preventing it from scraping off is tough. So, people generally do not prefer using Teflon pans.
As we mentioned earlier, Scanpan frying pans use non-toxic ceramic material. While ceramic is slightly more expensive than Teflon, it is much more durable and safer. Ceramic also provides better heat protection to the pan, which allows the food to cook better.
Can You Ruin a Scanpan?
Whether a professional or a home cook, you are no stranger to cooking mishaps. Leaving your stove unattended or setting your timer wrong can easily result in spoiled cookware. Moreover, several mouth-watering delicacies use some very tough-to-clean ingredients. Even when your pan is non-stick, some food can likely stick to it if you are not careful. So, it is natural to wonder if minor mistakes like these can ruin your Scanpan frying pan.
Scanpan can experience some wear and tear over time, like most frying pans. However, this frying pan is much more durable than most. So, with the proper care, a Scanpan frying pan can last a lifetime. Similarly, if you clean the pan correctly after cooking, you do not need to worry about sticky food spoiling its coating.
How Can I Care for a Scanpan Frying Pan
These pans are extremely easy to care for and do not require much maintenance. Scanpan has even made a complete guide for its users about caring for and using these frying pans. According to the website, you must follow these simple steps to ensure the durability of your pan:
You must remember to wash your pan after every use. Remember to use warm or hot soapy water and a sponge to clean it. It would be best to clean it right after use instead of letting it dry.
If you have trouble cleaning the sticky parts or getting the food off the pan, you can use a brush with soft bristles. However, you must gently rub the brush over the pan to prevent it from scratching. You can use both natural and nylon brushes.
Lastly, use some divider or other protection while storing the pan. Such care would prevent the pan from scratching. The makers also advise against storing vessels on top of one another.
Additional Tips
Scanpan frying pan makers have provided extra tips for caring for their products during first and daily use. The following tips are also posted on the company's official webpage.
Before first use, you must remember to remove all the labels and stickers from the pan. It is also advisable that you gently rinse the pan with hot soapy water before cooking with it.
Many prefer using aerosol or cooking sprays to prevent food from sticking to their frying pans. However, the makers advise against using a spray for cooking using Scanpan products. You can use natural substitutes like oil or butter or not use any protection at all. Cooking sprays contain components that can lessen the non-stick effect of the vessel.
The final tip is for desirable cooking outcomes. The frying pan guarantees optimum cooking performance if you heat it a minute and a half before cooking. Pre-heating would allow the pan to reach the perfect cooking temperature and the food to cook better.
Scanpan Frying Pan: Final Thoughts
Scanpan has been a prominent cookware brand for decades. Recently, their frying pans rose in popularity, experiencing an increase in sales. So, we prepared a thorough Scanpan frying pan review for those looking to buy it.
The brand's frying pan is ceramic-make, compliant with gas and halogen cooking. You can use it on high heat without worrying about burning the pan. Finally, the product is durable, safe, affordable, and offers many choices.