Frying pans are an essential kitchen accessory for chefs. The most basic kitchen requires a frying pan. Frying pans can fry meats, saute vegetables, and simmer fruit jams.  Lets talk about the Bialetti titanium ceramic fry pan.
Many know Bialetti because of its extensive coffee makers and accessories. Bialetti has branched into the world of cookware. They released this titanium ceramic line and its a little different from other frying pans.
While this frying pan possesses similar qualities to normal ceramic cookware, it has added an extra material. Titanium is embedded titanium to provide a better cooking experience for its customers.
Keep reading to find out what makes the Bialetti Titanium Ceramic Fry Pan a great buy!
The Interior of the Bialetti Titanium Ceramic Fry Pan
Titanium
The interior of the titanium ceramic pan consists of titanium-infused ceramic coating. Why use titanium? Titanium yields a more durable cooking surface. By embedding titanium, Bialetti can produce a non-stick, durable cookware surface.
Look what Amazon has to say about the Bialetti Titanium Ceramic Fry Pan:
"This superior ceramic non-stick gives you the beauty of an enhanced cooking surface and the durability of titanium"
To prove its durability, Bialetti insists that owners can use metal utensils with the Bialetti Titanium ceramic line.  We still use silicone, wood or plastic utensils.   This non-stick surface is also robust compared to other frying pans.
Ceramics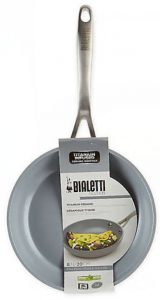 Ceramics is a distinguished material used in many cookware lines. It is because ceramics are toxin-free. You will not find unnecessary or hazardous carcinogens in ceramic cookware or bakeware.
The Bialetti Titanium Ceramic Fry Pan is free of the following toxins:
PFOA (Perfluorooctanoic acid)
PTFE (Polytetrafluoroethylene)
Ceramics are also used because of their non-stick qualities and smooth texture. There are many benefits to the Bialetti Titanium Ceramic Fry Pans' smooth surface.
Surface Features
The Bialetti Titanium Ceramic Fry Pan surface is extremely non-stick. A non-stick pan is necessary for a busy kitchen. There is nothing worse than a sticky pan. The non-stick surface doesn't only provide easy cooking. The smooth coating also makes cleaning up a breeze.
The titanium and ceramic combination helps food cook evenly and thoroughly. In part because of its aluminum exterior, but also because of the heating capabilities of titanium and ceramic.
The Exterior
Aluminum Base
The aluminum construction of the Bialetti Titanium Ceramic Fry Pan is ideal. The aluminum base is an exceptional heat conductor; this means that it can heat up quickly, efficiently, and evenly.
The aluminum is coated in a porcelain enamel that can handle high heat. You can use this frying pan that is compatible with gas stovetops and electric stovetops.
The exterior of the Bialetti Titanium Ceramic Fry Pan is sturdy because of the aluminum exterior. The exterior contributes to the durability and longevity of this frying pan. While remaining strong, aluminum is lightweight and easy to maneuver.
Handles
The handles of this ceramic fry pan are riveted. They are designed to provide a good grip for chefs. Many reviewers of the pan state that the handles remain cool, despite the high heat of the pan.
Some handles also have silicone around it that helps chefs and bakers move the pan from one place to the next.
Lids
The Bialetti Titanium Ceramic Fry Pan comes with a glass lid. Glass lids are beneficial to chefs. The glass lid allows users to monitor cooking food. Many will be glad to know that the glass lids are also oven safe. The Bialetti glass lid is oven safe up to 350 degrees Fahrenheit.
Sizes
There are many pieces in the Bialetti Titanium ceramic collection. You can purchase saucepans, Dutch ovens, pots, saute pans, and frying pans.
The most common frying pan sizes are the following:
Use and Care
It has been proven that the Bialetti Titanium Ceramic Fry Pan is durable and long-lasting. Yet, there are specific instructions to follow that will make your pan last even longer.
It is important to hand wash cookware items before the first use. Washing before the first use can remove any dust, dirt, or packaging materials. After using the ceramic fry pan, hand wash it with gentle dish detergents and soft scrubbing agents. Harsh dish detergents and abrasive scrubbing agents can harm the pan. Using rough cleaning methods can also damage the non-stick surface of the any ceramic fry pan.
While cooking with this fry pan, use the pan on low to moderate heat. High temperatures can also damage the non-stick surface of the frying pan. Using the pan at a low to moderate temperature will ensure safe cooking.
The Bialetti titanium pans are also oven safe. The pan and handles are oven safe up to 450 degrees Fahrenheit. And the glass lid is safe up to 350 degrees Fahrenheit.
What to Know Before Buying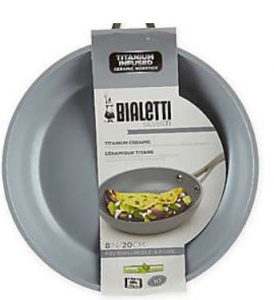 It is vital to understand that non-stick pans do not last forever. Non-stick pans will lose their non-stick surface. The Bialetti fry pan is no exception. Some methods and products can restore a non-stick coating.
Avoid using high heat with any ceramic pans to keep your pan non-stick. Also, avoid using dishwashers and harsh washing methods.  We usually use Bar Keepers Friend on tougher stains.
These types of pans are durable and will last as long as you take care of them. Most owners complain of it losing its non-stick surface. But, very few people complain about the durability of the pan.
If you have the time and patience to care for a quality Bialetti pan, then it may be for you!
Did this review of the Bialetti Titanium Ceramic Fry Pan help you? Let us know!