The Caraway Ceramic Fry Pan is becoming a common household cookware piece. With over 20,000 reviews and customers, Caraway is manufacturing popular cookware pieces, including the famous Caraway frying pan. Keep reading to see if the Caraway Ceramic Fry Pan is for you!
Caraway Ceramic Fry Pan – THE BASICS
The Caraway company states on their site that they are non-toxic, non-stick, and made with an innovative design.
Non-Toxic – Are Caraway pans really non toxic?
Ceramic cookware is non-toxic, meaning that it is without toxic materials. Other frying pans require inorganic materials to create a non-stick surface. Cookware made with ceramics does not because it is organically non-stick. The following materials are not in a Caraway ceramic pan:
PTFE (Teflon)
Heavy Metals
PFOA
PFAs
Lead
Cadmium
Hard Anodization
They are also free of all harmful chemicals and materials. Other frying pans (specifically, frying pans made with Teflon) release hazardous fumes when heated up. This one does not.
Non-Stick
Due to its materials and coating, the Caraway pan is naturally non-stick. Caraway claims that because their frying pan is non-stick, users require fewer oils and less scrubbing for cleaning.
This pan is coated with a mineral-based ceramic. This ceramic material coats both the interior and the exterior. The interior and exterior glaze is a combination of clay minerals and quartz sand.
There is a multilayer coating to ensure a non-stick, durable surface. The base of the ceramic fry pan has an aluminum core. The aluminum core conducts heat evenly and quickly.
Design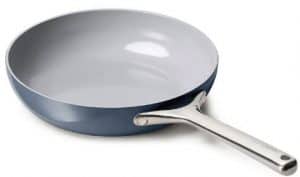 This Caraway pan is 10.5 inches and holds a minimum of 2.7 quarts of liquid. At 2.8 pounds, it's hefty enough for durability yet, light enough for maneuvering with ease.
This frying pan has tall walls that prevent splashing, spilling, and accidents. The walls of the ceramic frying pan are not angled or flared. A benefit for those who worry about splashing liquids.
The pan is safe to use in the oven (up to 550 degrees Fahrenheit). A common complaint among customers is that the Caraway ceramic pan is not broiler-safe.
ADDITIONAL FEATURES
The aesthetically pleasing pan isn't only non-toxic and non-stick. It also has many additional features, including multiple colors, eco-friendly manufacturing, accessories, and compatibility.
Colors
An additional feature that customers love is the variety of styles and colors. Caraway produces the pan in many colors. Shoppers can purchase them in the following colors:
Cream
Gray
Marigold
Navy
Sage
Terracotta
With many color options, shoppers can easily find a color that compliments their kitchen themes and styles.
Eco-Friendly – What is so special about Caraway cookware?
According to the Caraway website, this pan is environmentally friendly to produce. Caraway releases up to 60% less CO2 in comparison to other non-stick coatings.
Not only is it better for the environment to manufacture these ceramic frying pans, but this company is taking steps to be eco-friendly.
Caraway ships their merchandise in "recycled cardboard with zero plastic bags, low impact print dyes, and 100% biodegradable cork trivets."
Accessories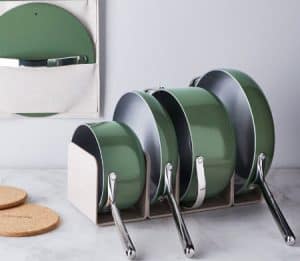 The pan comes with mirrored stainless steel handles. The handles, in a definite Y-shape, are riveted to the ceramic frying pan.
The advantages of the metal handles are that they are oven-safe, sized for good grip, and hallowed to prevent heating. The disadvantage of the metal handles is that they do get hot when they are too close to a heat source.
Compatibility – Are Caraway pans induction safe?
The Caraway Ceramic Fry Pan is compatible with electric stovetops, gas stovetops, and induction stovetops. This frying pan is also oven-safe up to 550 degrees Fahrenheit.  A nice feature for finishing your favorite meal in the oven.
Customers can not use their Caraway Ceramic Fry Pan under the broiler. The Caraway Ceramic Fry Pan is also not dishwasher-safe. Caraway claims that this frying pan is easy to clean with soft scrubbing agents and gentle dish detergents.
WHAT THE REVIEWS SAY
On carawayhome.com, the Caraway Ceramic Fry Pan has 20,003 reviews with a 4.8-star review! Keep reading to hear what people love and don't love about the frying pan.
Good Reviews
Most of the good reviews rave about the non-stick surface, the clean-up, and the cooking capabilities.
"Love this fry pan! Very little, if any, oil needed cooks evenly, and cleans up so easily! I'll be buying a pan out of the set each holiday for my family!"
"Great product, nothing sticks and it is so easy to clean."
Bad Reviews
The not-so-good reviews focus on the durability of the Caraway Ceramic Fry Pan. Many customers complain about chipping, scratching, staining, and durability.  With that said we feel that with proper maintenance these will last.  Hand wash and use a mild cleaner if needed.  Only use wood or plastic utensils.
"The set is beautiful but is just not durable enough for everyday use, mainly the color coating. Food that inevitably spills over the side while cooking, easily stains and is impossible to remove."
"If you are getting these pans for any of the cosmetic value, don't. They stain pretty much after the first use"
WHAT WE SAY
The Caraway Ceramic Fry Pan would make a great addition to anyone's kitchen. On the plus side, the Caraway Ceramic Fry Pan is non-toxic, non-stick, eco-friendly, stylish, and compatible with many kitchen appliances.
On the downside, the Caraway Ceramic Fry Pan according to some readers is not very durable, not dishwasher-safe, and made with handles that get too hot when cooking.
This frying pan is for those who care about the environment and require a good non-stick frying pan.
Do you own a Caraway Ceramic Fry Pan? Let us know what you think of this honest Caraway Ceramic Fry Pan review and if it helped you!