Ready to say goodbye to stainless steel and hello to ceramic cookware? Unsure of which brand to trust?  Read our Tramontina ceramic cookware review.
Tramontina is a successful company. They provide more than just cookware. Tramontina produces cookware, kitchen accessories, appliances, agricultural tools, furniture, vehicle parts, and electric equipment.
Tramontina states, "Mission: to do beautifully well to inspire people's daily lives and stimulate meaningful experiences, generating value and satisfaction for clients, consumers, employees, stakeholders, and communities."
With a mission like that, this Brazilian company is becoming a common household name.
Tramontina ceramic cookware has both its advantages and disadvantages in comparison to other cookware brands.
Read below for an honest Tramontina ceramic cookware review!
Tramontina Ceramic Cookware Advantages
Tramontina has become increasingly popular because of its beneficial features. Features such as non-stick surfaces, toxin-free materials, easy cleaning, and more.
Materials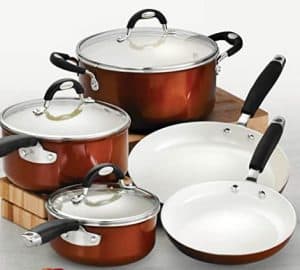 The Tramontina ceramic cookware set has an aluminum core, a white ceramic coating, and a porcelain enamel exterior. With three levels of durability, this cookware is known for its strength.
The aluminum core provides stability. Tramontina's cookware is designed to withstand outside forces and mechanical shocks. The aluminum material helps the cookware from being damaged. Not only is the aluminum strong, but it is lightweight as well; great for those who need an added security.
Another bonus of ceramics is that it is toxin-free. Ceramics are more environmentally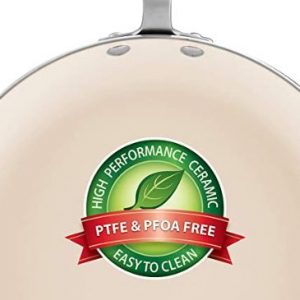 efficient than other materials. Ceramics do not contain PFOA, PTFE, lead, or cadmium.
The ceramic interior and porcelain enamel exterior also equip the cookware with a non-stick surface. The glaze is non-stick, delivering customers an easy cooking experience with little cleaning involved. The non-stick finish makes cleaning easy because there is no food sticking to the cookware.
Heat Ability
Tramontina is a great heat conductor. As for most ceramic cookware, the heat conduction supplies food with an even bake. Along with ceramics, aluminum can be heated quickly. This fast heating process helps chefs cook more efficiently. The aluminum core provides fast heat distribution in Tramontina cookware.
Many of Tramontina's ceramic pans come with handles. Chefs and novice bakers can agree that one of the biggest downfalls of pots and pans is their handles that heat up along with it. A hot handle is extremely dangerous and can harm users instantaneously. Tramontina handles are stainless steel with a soft grip. The handles also come with silicone grip pads designed to withstand high heat.
A select assortment of Tramontina pots and pans come with glass lids. The glass lids are heat resistant and are made to trap steam to better heat meals. The glass lid is also tempered and shatter-resistant. Both ceramic cookware and glass lids are oven-safe up to 350 degrees Fahrenheit.
Design
One of Tramontina's goals is to make its cookware both functional and sophisticated. Most ceramic cookware pieces are more attractive than their stainless steel counterparts, so it is not hard for Tramontina to achieve this.
Tramontina's ceramic cookware comes in many colors; such as black, red, and metallic copper. The interior of each piece is the classic off-white ceramic shine. The porcelain enamel coating is a sleek and modern design. The various colors and styles are sure to match any kitchen style.
This ceramic cookware has been designed for easy cooking and cleaning. Each ceramic cookware piece is compatible with gas, electric, and glass cooktops. As previously mentioned, it is oven-safe up to 350 degrees Fahrenheit. As for cleaning, Tramontina's ceramic cookware is dishwasher-friendly.
Disadvantages
While Tramontina has provided multiple advantages, it does come with some drawbacks; such as price, staining, and fragility.
Price
The reason Tramontina has become increasingly popular is because of its high quality. To many, however, the price does not justify the fragility. Tramontina is quite a pricey ceramic cookware brand.
In comparison to other name brand companies, Tramontina could be affordable to different people. For the standard household, other ceramic cookware brands are more affordable.
Tramontina ceramic cookware sets range from 8 to 10 pieces, and their prices range from $159.95-$329.95.
Care Instructions
Because Tramontina is high-quality, it comes with extensive care instructions.
If the ceramic cookware is to remain undamaged, the following care instructions must be followed:
Use only silicone, nylon, bamboo, or wooden utensils
Season the cookware with light oil and on a medium heat setting for two to three minutes
Do not use cooking sprays
Use only a low to medium heat setting
Do not overheat an empty dish
Do not use under an oven broiler
Avoid abrupt temperature changes
Do not use abrasive cleaning agents
Encourages users to hand wash, rather than da dishwasher
Many argue that this care and diligence is exceedingly unnecessary. However, others are prepared to take extra care of their ceramic cookware to ensure its longevity.
Damages
According to Amazon reviews, the Tramontina ceramic cookware collection is fragile and damages easily. Human error is common in cookware damages, so it's crucial to remember that not everyone treats their cookware the same.
The most frequent damage complaint focuses on staining. Customers that purchased Tramontina complain that the cookware stains easier than other cookware sets. As with most light-colored interiors, staining is a possibility.
It is hard to get rid of stains when the main suggestion is that the cookware only is washed in warm water, gentle detergents, and a soft cloth. Because of this hindrance, many criticize that the interior is not as durable as they expected.
In addition to staining, the non-stick feature is also a problem. Customers complain that the pan starts with a non-stick surface, but it continuously gets worse over time. With each use, some customers feel that the pan loses its non-stick surface.
In Summary
Tramontina Ceramic cookware has many benefits. Benefits include, but are not limited to uniformed heat distribution, attractive design features, environmentally healthy materials, and helpful details.
One customer wrote, "No chipping, scratches, or discoloration at all. I have been careful to have followed all recommendations without exception".
Despite glowing reviews, Tramontina does have its drawbacks. The most prevalent drawbacks are the prices, the long list of care instructions, and the fragility of the cookware.
Another customer wrote, "I have taken extremely good care of this pan, so I'm a little disappointed it's breaking down so early."
The point of every ceramic cookware review is to point out the overwhelmingly joyful features and the not-so-fun faults equally.
Did this Tramontina ceramic cookware review help you? Are you going to choose Tramontina for your kitchen? Let us know!