Is the Healthy Green life Ceramic Cookware The Best Non-Stick Cookware?
There are so many ceramic cookware sets out there. Each one claims to have created the perfect non-stick pan.  Lets talk Green Life Healthy Ceramic Non Stick Reviews.
How do you know who to trust?  Let's review Greenlife.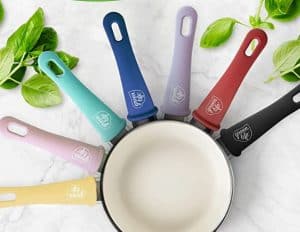 Greenlife was one of the first cookware companies to use Thermolon, the first ceramic non-stick coating. Many households have seen a piece of Greenlife's cookware at some point. It's hard to miss a cookware set with as many eye-catching colors as Greenlife. Their cookware comes in yellow, navy, pink, turquoise, lilac, and red.
Greenlife grew a following because of its non-stick coating, its environmentally-friendly approach, and its striking design.
What makes Greenlife's ceramic cookware non-stick? Or an even better question, is it the best non-stick cookware?
Find out if the Greenlife ceramic cookware is worth the money and hassle in this review!
What Makes it Non-Stick?
Greenlife ceramic cookware is created with a toxin-free coating known as Thermolon. Thermolon is made of silicon dioxide and sand. The combination of these materials create a conductor of heat and a non-stick coating.
Thermolon is also a more environmentally conscious material. Using the combination of sand and silicon dioxide, factories are able to create a solution without plastics, glues, and additives. Many consider Greenlife one of the safest pans because of this.
Greenpan cookware is made with PFOAs, PFASs, lead, cadmium, and other toxic materials. Being toxic-free means that harmful fumes will not seep into the air. Pet-owners can rest easy knowing that their pans are not releasing dangerous toxins.
LIKES
There are different reasons that people should buy Greenlife ceramic cookware and its non-stick coating is just one of the reasons. What makes Greenlife's non-stick cookware better than other non-stick cookware brands?
DURABLE COATING
Households are often wary of ceramic cookware because once it is chipped the metal core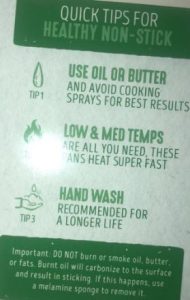 is exposed. Oftentimes, cooking with direct contact to the metal core is bad. If a pan is chipped, scratched or dented, the coating could end up in your food. Ingesting chips of ceramics and food exposed to aluminum can result in a doctor's visit and a lost frying pan.
Greenlife has created a pan to squash the fears of harmful ingestion. The ceramic cookware does have an aluminum base, but it is covered with a thick coating. In between the layer of ceramic coating and the layer of aluminum, there is a thick coating. This coating was put in place to prevent food from touching the aluminum core.
ADDED MATERIALS
Greenlife has many ceramic cookware collections. The following are all ceramic collections from Greenlife:
Soft Grip
Soft Grip Pro
Sandstone
Induction
Classic Pro
Minis
One of their cookware collections is slightly different from the others. The Soft Grip Pro Collection is extremely similar to the others except it has a reinforced non-stick coating.
The Soft Grip Pro collection was designed for those serious about their non-stick pans. Each piece of this collection has a diamond dust embedded into the ceramic coating.
Similar to the other ceramic coated pots and pans, it is toxin-free and made with Thermolon. The biggest difference is that it has better heat distribution, durability, and non-stickiness.
COOKWARE LONGEVITY
Greenlife is not afraid to admit that their non-stick coating will not last forever. However, they have put factors in place to ensure that the pan can last longer than its coating. As mentioned previously, each piece is composed of three layers. An aluminum base, a thick protection layer, and a ceramic coating.
Greenpan's website states, "Scratches, dents, or pits in the coating won't affect the safety or performance of your pan. No nonstick coating lasts forever. How fast the pan's coating fades depends on how often you cook and, of course, how you care for your pan. A thick undercoating protects food from contacting the aluminum underneath, so it can be used for years after the coating is gone."
Many looking for a non-stick pan may stick their noses up at this; however, it should be a reassurance. Those buying Greenpan are often looking for an environmentally-friendly, non-stick option. Other environmentally-friendly brands do not have this special undercoating. Which means that the pots and pans will have to be replaced more often than Greenpan cookware.
DISLIKES
While Greenlife has paved the way for cookware production, it doesn't come without its drawbacks. The following items are the downfalls of Greenlife's non-stick cookware.
HEAT RESTRICTIONS
Greenlife has certain heat restrictions that hinder household chefs. It is recommended that the non-stick ceramic cookware items only be used on a low to medium heat setting. Using a high heat setting can result in a sticky pan.
Not only will high heat damage the non-stick coating, but it will decrease the longevity of the coating. Greenpan also suggests that users don't use certain oils such as those with a low smoke temperature and cooking oil sprays. These types of oils are more likely to burn. When oils are burned on the pan, it becomes sticky and stained.
Greenlife is compatible with gas stoves; however it is vital to account for the pan's size. If using a pan too small, the flames will lick the side of the cookware and harm the outer, decorative coating. High heat on a gas stove can also cause unnecessary flames that can harm the pan.
GUIDELINES
Similarly to other brands, if the guidelines and care instructions are not followed the cookware will have a shortened lifespan. Layers of Greenlife ceramic cookware will become less effective over even a short period of time, if it is not cared for properly.
Abrasive cleaners and harsh cleaning agents are one of the leading causes of damage. Greenlife is meant to be cleaned with warm water, a gentle detergent, and a soft cleaning agent. Without using these things, pots and pans undergo stress.
Many do not know that placing a hot pan under water is not good for their pan. Despite it being wrong, it is common practice to rinse a hot pan with water to "prevent" food from sticking to the cookware. This is not proper procedure because it lessens the durability of the non-stick coating.
People that use metal utensils on their stainless steel cookware can not do that with Greenlife's ceramic cookware. Metal utensils, when used roughly, can scratch the outer layer and damage it. Thankfully, Greenlife combats this with its thick undercoating above the aluminum layer.
MIDDLE OF THE ROAD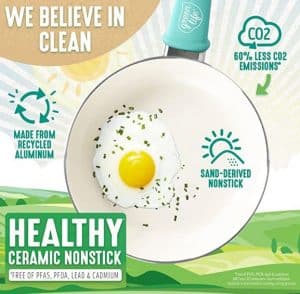 Is Greenlife's healthy, ceramic non-stick cookware the best non-stick cookware? Probably not, but it is not the worst non-stick cookware either.
Greenlife's goal is not to provide a professional-grade non-stick frying pan. Rather their goal is to provide an accessible non-stick cookware.
Brands such as Hexclad and Tfal are used in restaurants and professional settings; however, for many, they are far too expensive to purchase. According to Food Network, Anlon and Le Cruest are the most accessible professional-grade non-stick pans. However, they can also be extremely expensive
Don't expect Greenlife to exceed all other non-stick cookwares. However, it is a great medium for those who do not want to spend a lot of money on non-stick cookware.
Should You Buy Greenlife Ceramic Non-Stick Cookware?
If you care deeply about the environment, Greenlife may be for you. The non-stick coating creates 60% less CO2 than other coating productions. It is also made of recycled aluminum!
The factories also play a large part in its fight against its earthly footprint. 30% of the factories energy comes from personal solar panels and the factories own a treatment plant to filter and reuse industrial wastewater.
Those who are looking for a toxin-free pan will enjoy Greenlife. Not to mention, the longevity of the pan. If you are looking for a non-stick pan that will last forever, Greenlife may not be for you (unless you are prepared to take the utmost care of each piece).
If you purchase the Greenlife healthy, non-stick ceramic cookware set, be prepared for heat restrictions, excessive guidelines, and a middle of the road experience.
Additionally, if you've already purchased Greenlife's non-stick cookware, did you enjoy its durable coating, added materials, and its longevity?
Did our honest Green Life healthy ceramic non stick reviews help you? Let us know!