Summer is on the way, so get your grill ready!
Ceramic pans are easy to grill in and give food a delicious flavor. Ceramic cookware has numerous benefits, like being super durable and stick-resistant.
Grilling temperatures exceed 310 °F (155 °C), which browns proteins and sugars. This is known as the Maillard reaction. It gives grilled foods extra flavor, which is why everything tastes better straight off the grill.
Pick out the best ceramic grill pan recipes and enjoy a summer cookout. 'Tis the season!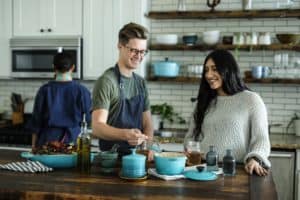 Our Top Ceramic Grill Pan Recipes
Between all of the different meats and veggies to grill, which is the best? We've outlined some of our favorite grill pan recipes just in time for grilling season.
1. Chicken and Vegetable Shish Kabobs
Who doesn't love a tender piece of grilled chicken? Cooking chicken on your ceramic grill pan makes it extra juicy. Surround tiny chunks of chicken with grilled veggies, and you've got a scrumptious shish kabob.
For this recipe, you'll need:
1 pound boneless chicken tenders
3 bell peppers
1 zucchini
1 red onion
1/2 cup olive oil
12-16 bamboo skewers
Herbs and spices for seasoning
First, dice your chicken and vegetables. Each square should be one to two inches wide.
Add your ingredients to your skewers. Alternate between chicken and different veggies. Once they're all on, baste the kabobs with olive oil.
If you have seasonings, sprinkle them on. If you're looking for a flavorful punch, try garlic powder and cayenne pepper. If not, just add a dash of salt and pepper.
Throw your kabobs on your ceramic grill until the chicken has been thoroughly cooked. Remember, uncooked chicken leads to salmonella and E. coli!
Check out this freezer-to-grill shish kabob recipe for more ceramic grilling inspiration.
2. Bacon-Wrapped Scallops
Bacon-wrapped scallops don't have to just be a fancy Hors D'œuvre you treat yourself to once a year! Thanks to your ceramic grill pan, you can enjoy the delicious snack anytime.
All you need for your bacon-wrapped scallops are:
16 scallops
1 pack of bacon (16 pieces)
1/2 cup brown sugar
1/2 teaspoon cinnamon
Pinch of smoked paprika
First things first, bake your scallops and bacon to avoid illnesses.
Preheat your oven to 350°F. On one pan, lay out your bacon and let it simmer in the oven for 20 minutes. When done, the bacon should be cooked, but still soft.
Place your scallops in a different pan and cook them in the oven for three minutes. Remove the pan, flip the scallops, and place them back in the oven for another three minutes.
Once your scallops and bacon are finished, wrap each scallop with a strip of bacon. Cut the bacon if it's too long for the scallops.
Preheat your ceramic grill pan to low heat. Dip your bacon-wrapped scallops in brown sugar. Once they have a nice sugar-coating, place them on your grill.
Let your scallops sizzle to carmelize the brown sugar. Since all of the meats are already cooked, be careful not to burn them on your grill. It shouldn't take more than three to five minutes to carmelize each scallop.
Once they're done, sprinkle cinnamon and smoked paprika onto your scallops as a final dash of flavor. Just be sure your snacks are cool before you pop one in your mouth!
3. Jalapeño Popper Hot Dogs
Hot dogs are a summer staple and jalapeño poppers are wildly delicious. Put them together on your ceramic grill and what do you get? A flavorful summer snack!
For this recipe, you'll need:
12 large jalapeños
8 slices American cheese
4 hotdogs cut in half (longways)
4 hot dog buns
To begin, heat your ceramic grill to high.
While it's warming up, slice off your jalapeño tops. Clean out any seeds inside. You want your jalapeños to be completely hollow.
Slice your American cheese so each piece is the same size as your hot dogs. Place one slice of cheese in between two hot dog halves.
Stuff your hot dogs into your jalapeño tubes. You should be able to fit multiple jalapeñoss around each hotdog, depending on their sizes.
Throw your jalapeño-covered hot dogs on the grill. Rotate the dogs so they're thoroughly cooked on each side.
Take them off the grill, throw your hot dogs on a bun, and enjoy! For condiments, drizzle on some mustard.
4. Grilled Corn and Chive Butter
As summer crops grow, get ready to grill up some tasty corn on the cob! Throwing your veggies on the grill is the best way to eat them.
For this particular grilled corn and chive butter recipe, you need:
6 husks of corn (leave them unhusked!)
1/2 cup butter
2 tablespoons minced chives
1 tablespoon sugar
1 teaspoon lemon juice
Salt and pepper
An hour before you cook, soak your corn in cold water. This makes it unlikely to dry out on the grill.
In a small bowl, add butter, chives, sugar, lemon juice, salt, and pepper. Mix thoroughly.
Peel your corn husks back one inch from the bottom and remove any silk. Baste with your butter and chive mixture. Reseal your husks.
Fire up your grill to medium heat. Allow your corn to simmer for about twenty to thirty minutes. Rotate your husks to cook each side.
Once your corn is cooked, peel off the husks entirely. Add an extra dash of salt and enjoy!
5. Sriracha and Avocado Grilled Cheese
Sriracha, avocados, and eggs? This sandwich is bound to blow your tastebuds away.
To get this sriracha and avocado grilled cheese started, you must have:
2 bread slices (we recommend multigrain)
1 cup Casa Bolo Melange cheese (gouda or muenster work too)
1/2 avocado, sliced
1 soft boiled egg
1/2 teaspoon sriracha
1 tablespoon butter
Place half of your cheese on one slice of bread. Add avocado, egg, and sriracha. Top it off with the rest of your cheese and the second slice of bread.
Butter the outer sides of your bread. Fire your ceramic grill to medium heat and throw on your sandwich. Cook until both sides are crispy and all of the cheese melts.
Remove from your grill and eat up!
Get Grilling!
Ceramic grill pans make cooking easy and fun. Now that you have plenty of delicious grill pan recipes to choose from, it's time to get cooking.  Ready…set…grill!
Stay in the loop with ceramic grills with our blog. We've got reviews and plenty of tips for grillers. Learn more here!