Griddle pans made of ceramic or at least coated with it offer a lot of practical benefits for your cooking and grilling routine. They make a fantastic option if you're looking to buy a grill pan that cooks evenly and doesn't stick.  Lets take a look at our choice for the best ceramic griddle pan.
Last year, I bought what I thought was a solid 3-piece set of non-stick grill pans. However, it barely took two months before I realized they were just a collective hunk of overpriced junk. Not only did the coating gradually get removed, but two of the pieces warped and the last one still sits in my cabinet, just taking up space and being utterly useless.
I wished I could get a grill pan that is truly non-stick and has good heat transfer. Researching to find my next set of cookware took a while as there were not a lot of reviews to meet my needs. Thankfully for you, you don't have to go through what I did—I've compiled this helpful buying guide and review to help you save time and money, all while getting the best quality possible!
1. GreenLife Soft Grip Ceramic Nonstick Griddle Pan
The best ceramic griddle pan you can purchase on Amazon at the moment, the GreenLife griddle pan is a ceramic pan that is guaranteed to be safe for cooking.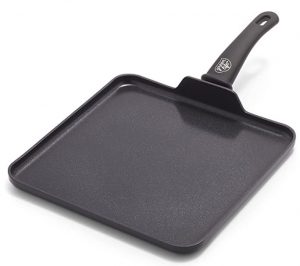 I liked that it's easy to clean and helps me get my pancakes, omelets, and grilled cheeses out in a whole. The brand says the ceramic material is made from materials that are free from sand, lead, cadmium, PFOA, and PFAS. Clean up is fast and easy, something which I entrust to the kids, but you have to be careful with the coating.
One of the main highlights of the pan, which is really practical, is the soft grip handle. It's designed to stay cool, ensuring comfort during use.
2. GreenPan Lima Ceramic Nonstick Griddle Pan
This griddle pan from GreenPan is another safe and healthy model with a non-stick coating. It's also a rectangular pan and I can assure you it contains no toxic chemical or pollutant.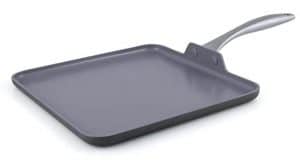 One thing however which I can't vouch for is the non-stick coating. The finish is not so durable. If you're not careful you'll soon start having everything getting stuck to the surface while frying. But a few customers are also saying the non-stick coating lasted a long time—however, if it does, a bit of butter or oil always helps.  We feel that proper maintenance can help any ceramic pan last longer.
The pan heats up quickly, even under medium to low flame. Meanwhile, the pan doesn't leave any burn marks on your food, cooks evenly, and produces some phenomenal and flavorful results.
3. Blue Diamond Toxin Free Ceramic Nonstick Griddle Pan
Made of a stainless steel core and coated with ceramic, the Blue Diamond Griddle Pan is non-stick and free from toxins. It's therefore healthy for use as cookware.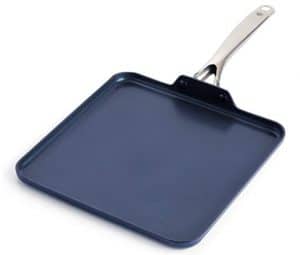 The highlights here are its ease of cleaning, heat resistance, scratch resistance, and good heat distribution.
The ceramic is infused on the base material to create a durable non-stick finish that also distributes and transfers heat. The result is a scratch-resistant metal material, while the pan can be used safely in the oven or broiler and even washed in the dishwasher. In addition, it's free from all types of toxins, from lead to cadmium, PFOA, and PFAS.
How to Choose a Ceramic Griddle Pan
The following are the criteria to consider while choosing a ceramic griddle pan.
Weight and material
The weight of a grill pan can have several advantages and is therefore also an important purchase criterion. The weight of a pan has something to do with how well it can tolerate high temperatures. So the heavier the grill pan, the higher temperatures it can withstand.
Cast iron infused with ceramic is better if you want a heavier, more resistant one. On the other hand, stainless steel and aluminum would be better for those who want a fast-heating pan.
Diameter and shape
Grill pans are also available in different sizes and shapes. But not every size and not every shape is ideal for you. These depend on what you are using your grill pan for. Your grill pan must fit on your stove.
If you intend to cook larger quantities with your grill pan, a rectangular shape is better. For smaller quantities, you can use a round shape.
Coating
There are grill pans with different coatings. These can be made of ceramic or plastic with coatings. Grill pans with coatings can be less heat resistant than grill pans without coatings. Choose a pan with a non-stick coating for ease of cooking and cleaning.
Dishwasher safe
This point will play a particularly important role for you if you don't like doing the dishes manually. For this, you must consider the coating. For example, if you decide to buy a grill pan with a coating, cleaning it in the dishwasher is not the best way to clean it and could even damage it. This ultimately means that your grill pan can rust faster.
In general, read the description before cleaning your grill pan. This is how you can know whether your grill pan is dishwasher safe or not. Otherwise, you should hand wash the pan.
Handle
You can use a grill pan in a variety of ways. They can not only be suitable for the stove but also the oven. But only with the right grip. Plastic handles, for example, make the pans not oven safe. On the other hand, metal handles are much better suited for this.
Another thing to keep in mind when buying is that removable handles can be an amazing advantage when grilling, allowing you to keep your handle cool and safe as your food cooks.
Improve Your Cooking Game Today!
Grill pans are great for grilling at home and can really help elevate your grilling game. They come in a variety of different sizes and materials, all at various prices. There is also a wide range of designs with regard to different handle variants and sizes.
All you have to do is find the right grill pan for you and enjoy elevating your cooking and grilling experience properly.