If you are a culinary artist, you might notice some pans outperform others in many ways. This fact is apparent when you are trying to make delicate fish filets or fluffy omelets. Isn't it frustrating when our perfect-looking omelets begin sticking at the bottom of the pan? Nothing turns us off more than when these frying items leave a stubborn crusty layer that gives you a tough time while dishwashing. That's when you need a high-quality nonstick pan to escape the regular tussle with your pan while frying or dishwashing.  Let's discuss Mopita pans.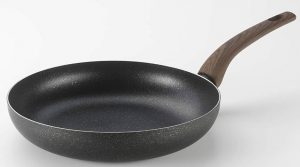 However, there are tons of nonstick frying pan options available in the market. It gets overwhelming to pick the best nonstick frying pan that boasts a versatile, durable, and super-slick surface. Wondering how to find the best nonstick pan model to cater to your cooking needs? Well, you are in luck since we have prepared an ultimate guide about Mopita Pans-an indispensable cookware that takes care of all your cooking needs. So without any further ado, let's dig straight into some amazing specs and features of the Mopita Pans.
An insight into the brand:
Mopita is a leading Italian brand that brings innovation and flexibility to its kitchenware. The brand ensures that it designs products that feature an original functional design. The brand pays attention to minute details including a selection of raw materials and other technical and logistic aspects that gives a touch of aesthetic Italian taste to your food.
What are Mopita Pans made up of?
One of the most-liked collections of Mopita Pans includes Mopita Roccia Viva Non-Stick Aluminum Fry Pan. These Italian Nonstick Pans speak of high quality and functionality, despite their reasonably lower prices than other Pans of the same specs.
Mopita Roccia Viva Non-Stick Pans are made with forged, hard anodized Aluminum to give the users a durable 5-ply Whitford Quantanium non-stick and smooth surface. The interior of the pan has a black-speckled Whitford PFOA coating. The raw materials and non-stick surface also make sure that it is easy to clean and scratch-resistant.
Another great aspect of these pans is that all the raw materials utilized in the pan are approved by the EU. Hence, they are completely safe to cook in.
Besides this, the pans come with a beautiful grey-speckled appearance and sturdy structure that complements well with your home kitchen or studio. These pans would go in perfectly with kitchens with granite or marble worktops and also improve the overall appearance of your cooking area.
Key Features of Mopita Pans:
Here are essential features of Mopita Pans which make it excellent kitchenware:
Durability:
Mopita Pans go through a process that employs tremendous pressure to create a high-strength forged Aluminum metal. These forged Aluminum pans are perfect for cookware since they are highly energy-efficient, light in weight, and sturdy enough to endure high temperatures without warping.
Resistant to stubborn scratches:

Tired of removing the scratches from your pan surfaces? Don't worry, Mopita Pans are resistant to scratches and flakey layers that stick to your pan after frying. The pan features a 5-ply nonstick layering. The layering renders a dual effect and strengthens the pan's internal surface. Eventually, your pan becomes resistant to stubborn scratches and abrasions.
Whether you are a novice cook or a professional chef, here's some good news for you. You don't have to spend extra bucks on any special utensils to maneuver food in the pans. You can use any regular wooden, plastic and even metallic utensils with these pans.
Even-Heat Conduction and Distribution:
Once you begin using the pan, you will appreciate the quick and uniform heat conduction. It conducts heat at a swift pace and heats the pan within a few seconds.
The pan's flat base and leveled surface allow even heat distribution at a high rate. There are almost zero chances of warping or developing hot spots that could impact your food flavor and damage your pan's structure.
If you want to bake perfect brown pancakes or even search for your fried fish, Mopita pans help you to accomplish all your culinary aspirations.
Whitford Quantanium Coating:
The brand introduced a novel nonstick coating to their Roccia Viva Mopita Pan cookware line. Mopita pans come with a five-layer Whitford Quantanium coating. These layers ensure that cooks don't need grease or fats while cooking. The coating also gives a stoney look to the pans.
Thanks to the extra layering, Mopita pans can tackle everything without any food item adhering to the bottom or making a mess. Whether you're frying eggs for your breakfast or grilling a succulent steak for the evening, the pan takes care of everything.
Compatibility with Stove Top: 
One of the most useful and essential features of every pan is its compatibility. The compatibility factor not only helps you to make a plethora of dishes on your pan but also allows you to cook on any stovetop.
The good news for all the cooks out there is that Mopita Pans come packed with a blend of Titanium particles in the Whitford Coating. This unique blend gives Mopita Pans an upper hand in the kitchens. Consequently, you can easily use them on gas, ceramic or even electric stovetops. You can even try cooking on a glass top.
Soft Touch Handles: 
Don't want to do any heavy lifting? Mopita Pans are here for you. The brand brings new bakelite handles that are firmly fastened to the edge of the pan. The ergonomic handles are encased in silicone. Silicone is one of the most preferred materials that is rapidly becoming popular in the kitchen industry owing to its useful properties. The handle is robust and readily supports the pan's weight without placing an undue burden on your arms.
Safety: 
This fry pan is free of PFOA since it is coated with PFLOUN rather than regular aluminum cookware. If you are cooking with acidic food items like tomatoes m, this kind of coating prevents the leaching of Aluminum, heavy metals or other particles in your food. Hence, Mopita pans to ensure you are consuming safe and healthy food.
Variations:
Every cook has diverse requirements and needs in their kitchen. Therefore, Mopita pans come in various sizes that satisfy the individual needs of all chefs. Whether you are cooking for your family or cooking in a restaurant, Mopita Pans has got you covered.
These pans are available in a wide range of sizes to accommodate practically any meal, including seared salmon for dinner or spaghetti for lunch.
You can select any of the following sizes as per your requirements:
20 cm in diameter, 4.5 cm in height, 1.1 liters in capacity, and 4 mm in depth.
24 cm in diameter, 5 cm in height, 1.9 liters in capacity, and 4 mm in depth.
28 cm in diameter, 5.5 cm in height, 2.8 liters in capacity, and 4 mm in depth
32 cm in diameter, 6 cm in height, 4 liters in capacity, and 4 mm in depth.
Precautions while using Mopita Pans: 
If you ensure proper care and cleaning of your nonstick pans, your Mopita Pans might last for years. Follow these techniques to maintain the slick surface and keep them free of damage:
Follow the manufacturer's instructions while using or cleaning your pans.
Don't use dishwashers or other kitchen appliances to clean your stubborn residues.
Avoid overheating your pans in an oven. This might result in warping.
Avoid using non-stick sprays on your pans. It might surprise you but non-stick cooking sprays might make your food stick to the pan's surface. These sprays might even build up residues that ruin your nonstick surface.
Do not cut foods with a knife in a nonstick pan or scrape food using a sharp object.
Frequently Asked Questions:
Here are the top frequently asked questions about Mopita Pans. Have a look and resolve all your queries regarding the pan and its performance:
Are Mopita Pans safe to use?
Mopita cookware is free of any harmful toxins and dangerous chemicals. Hence, there is almost zero risk of harmful particles leaching into your meals and adversely impacting your health.
According to the EU, all the raw materials and metals that Mopita uses to formulate its kitchenware are completely safe to use. The company combines highly specialized materials and cutting-edge manufacturing technology to provide customers with the highest quality cookware at a fair price.
Users should be aware that they do not use these pans in an oven or a dishwasher. That being said, they should take extra caution while using them in dishwashers or other kitchen appliances. Otherwise, the pan's functionality, performance and life may be considerably shortened.
Are Mopita Pans Oven safe? 
No, these pans are not safe to use in ovens. Hence, users should not expose to high temperatures. High temperatures could easily damage the pan's surface or result in warping.
Are Mopita Pans Dishwasher Safe?
You should avoid washing Mopita Pans in a Dishwasher. Dishwashers could also ruin the pan's surface. It would be better if you wash your pans with your own hands. Since these pans are resistant to scratches or flakey layers, it is easy to wash them.
Are Mopita Pans free of PFOA?
Each pan has a Whitford Quantanium coating made without PFOA. It uses a special blend of titanium particles. As a result, you can use these pans on any ceramic, gas, or electric cooktop.
Is Roccia Viva Aluminum Pan free of Teflon?
No, these pans are not entirely free of Teflon. These Roccia Viva pans have a special coating made of titanium particles that are integrated onto the pan's surface without the use of any harmful chemicals. Mopita employs Whitford coating to create nonstick frying pans. The brand claims that this layering is PFOA-free. However, the makers utilize PTFE that instantly releases another chemical called Teflon.
Do Mopita Pans require any special care before using?
Fortunately, Mopita pans don't require any special care at all before use. You can directly use them for cooking without any seasoning. Additionally, you will discover that this nonstick pan gives an extraordinary performance, without any requirement of grease or oil. So you can eliminate oil or grease in your scrambled eggs or breakfast. This not only makes cooking incredibly simple but is also healthier for those who adhere to strict diets or have high blood cholesterol levels.
Final Verdict: 
We have covered all the essential features of Mopita Pans in our guide. We hope by now you can evaluate all the pros and the cons that come with Mopita Pans and make the final plunge. If you are still indecisive and don't know whether you should try Mopita Pans, here's our final verdict about this cookware.
If you are extremely conscious of the presence of toxins and harmful chemicals in your fry pan, this cookware is the right choice for you. It is approved by the EU and hence doesn't contain any harmful substance that can impact your diet or health in any way. However, the pans may still contain PTFE and Teflon.
Besides this, many chefs don't require high heat while cooking. If you are one of them, Mopita Pans fit the bill for you.
Additionally, we love the fact that these pans are resistant to scratches and prevent the accumulation of food residues at the bottom of your surface. Hence, it eliminates the need for a dishwasher and other appliances to clean the frying pan. You can also use any utensil with the pan without any extra investment in special utensils.
Perhaps, the best thing about these pans is that they come at an extremely reasonable price without compromising their quality, design, functionality, safety, or performance. You can even extend its functionality and life if you follow all the guidelines properly. It is unanimously loved by all the customers on Amazon and has garnered a 4.7-star rating.
At a glance, these pans are a joy to cook in. Add Italian aesthetics to your delicious pancakes and crunchy fish filets in our favorite Mopita Pans.