With the rise is eco-friendly products, it's about time that a kitchenware company did their part! Green Pan is one of the fastest growing kitchenware companies on the market for several reasons, primarily because of their eco-friendly nature. Let's talk about what makes this company so appealing, their pros and cons, and are Green Pans dishwasher safe!
A Little About GreenPan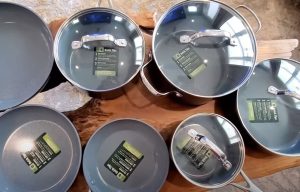 GreenPan launched in 2007 and has been taking over the market ever since. This company was started with one mission, to reduce toxic chemicals emitted into the air and reduce the carbon footprint! This eco-friendly company primarily uses recycled stainless steel and aluminum, making them one of the leaders in the kitchenware industry as far as "reduce, reuse, recycle" goes. Additionally, in comparison to traditional cookware, GreenPan products emit less than CO2 into the air while the products are being made; 60% less to be precise!
On top of the company's eco-friendly nature, they offer a wide variety of styles, colors, and products in their line of kitchenware. They have everything from you small skillets to deep set pots for cooking pastas and soups! They're a phenomenal option for the eco-friendly-minded folks who want to make an impact while still having high quality cookware!
Let's Get into the Details
What Products does GreenPan Sell?
GreenPan sells a wide range of kitchenware products for anyone and everyone. Whether you're a restaurant chef, a home chef, or just someone who makes a mean scrambled egg, you'll love the GreenPan products. Here are some of their most popular products and lines.
The company organized their products into distinct categories, making it easy for you to shop online.
Cookware
Within their cookware section, you'll find all of GreenPan popular cookware items. Their most popular include the following:
Fry pans
Sauté pans
Saucepans
Stock pots
However, you'll also find various high-quality cookware sets in this section. If you're just looking for a new egg pan, that's great, but if you need a whole new kitchen set, you have to check out their collections. Something unique about GreenPan is that they actually sell all of their lids separately as well as with the pots/pans. So, if you're just in need of a new lid for one of your saucepans, you don't have to buy a whole new set!
Bakeware
If you're more of a baker, this is the section for you. GreenPan has everything from muffin tins to loaf pans to baking sheets! They have anything you need to maximize your baking abilities no matter the size of your kitchen. Most of their bakeware is dishwasher safe and nonstick, making it super easy to clean!
Electric
Maybe you're in the market for some larger appliances. Perfect! GreenPan offers rice cookers, slow cookers, mini grills, even ice cream makers! Their larger appliances are just as easy to clean as their littler options and they're made using upcycled aluminum and steel!
Tools
Now, we all know how quickly our kitchen tools can become kind of…grody. Finding high quality and long-lasting kitchen tools is key and GreenPan is the ideal spot. They offer everything. You can grab your spatulas, serving spoons, slotted spoons, cutlery, even just a good old fashion sponge from them!
Are Green Pans Dishwasher Safe?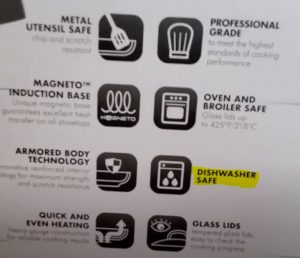 GreenPan products are all made using a nonstick coating that is dishwasher safe and easy to handwash. The only products of theirs that are not dishwasher safe are ones that have a wooden handle. However, those are still easy to wash in the sink, just follow the care instructions and you're good to go! No sticky messes for you!
However, even though they are safe in the dishwasher, I still hand wash.  I'm worried dishes bumping together might damage them.
Are GreenPan Products Oven Safe?
Much like GreenPan products being dishwasher safe, all of the GreenPan products are in fact oven safe as well. The temperature at which they are safe will vary based on the product itself. If your pot or pan is entirely made of aluminum or steel, then you're likely safe up to 600 degrees Fahrenheit. However, if you purchased a product with a silicone, plastic, or wooden handle, you're looking at around 320 degrees Fahrenheit. Of course, check your products instructions to be sure, but that's a general rule of thumb you can follow!
How do You Clean GreenPan Products?
If you are opting to handwash your products, follow this simple step by step process for clean and well-maintained GreenPan products.
Empty any food remnants into the trash or garbage disposal.
Rinse the pot/pan with lukewarm water
Add your gentle dish soap to the pan and wipe it across the base with a soft sponge
Add a little bit of warm-hot water and let sit for a minute or two
Use your sponge to wipe up the pan, inside, outside, and handle!
Rinse your pan with warm water to remove the remaining soap particles in the pan
Place on a drying rack!
If you happen to have some stuck-on messes, let your pot/pan sit in warm-hot water with soap for about an hour to soften the material. It should then wipe right off! If you still have trouble, add a splash of vinegar to the mix and let that sit overnight.
What is GreenPan's Nonstick Coating Made From?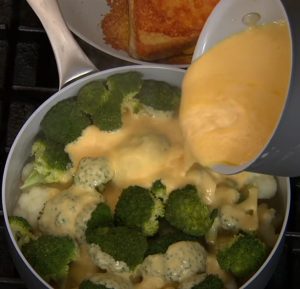 GreenPan's mission is to provide eco-friendly, non-toxic kitchenware to its customers. That's why they use Thermalon as the non-stick coating for all of their products. Thermalon is one of the safest non-stick coatings available. It's created without the use of harmful chemicals such as PTFE, PFAS, PFOA, aluminum, or lead.
So, What's the Verdict?
When it comes to the question are Green Pans dishwasher safe, the answer is a clear yes. On top of this already amazing perk, GreenPan is a leader in eco-friendly kitchenware that reduces the amount of CO2 emitted into the air. Their products are oven safe and easy to clean, making them perfect for every cook! Their products are definite must-haves for your kitchen!