GreenPan is one of the leading eco-friendly kitchenware companies on the market today. Their products are made using primarily upcycled materials. On top of that, during production, they produce 60% less CO2 than most other kitchenware companies. That's a remarkable difference! Before you go filling up your shopping cart with products though, you have to take a look at this review of the GreenPan small frying pan!
Why Choose GreenPan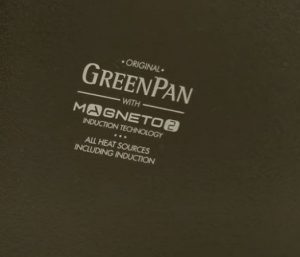 Although this may be a little redundant, it's that important. GreenPan offers a wide range of kitchenware products, all of which are eco-friendly and affordable. Their products are made using mostly upcycled materials like aluminum and steel. They try to reduce their carbon footprint as well by reducing the amount of CO2 they emit into the air during production.
On top of those already key benefits, GreenPan products are all nonstick, mostly dishwasher safe, and oven safe, but we'll get into those details a little later on!
Is the GreenPan Small Frying Pan Dishwasher Safe?
One of the key features to, well really any kitchenware product, is how easy it is to clean. GreenPan clearly kept that in mind during the design and production of their small frying pans. Each one is dishwasher safe (unless it has a wooden handle) or can be easily handwashed. It's best to put the pan on the bottom shelf of the dishwasher to ensure it gets the most detailed clean.
However, if you prefer to handwash your kitchenware, that's also an option here. This little pan fits nicely in most sinks and can be cleaned with a little water, gentle dish soap, and a soft sponge! Just make sure not to use a scrubby as this could damage your nonstick coating.
Is the GreenPan Small Frying Pan Oven Safe?
Before we answer this, double check everything with the GreenPan manufacturer and instructions that come with their products. That being said, this little frying pan is in fact oven safe. Given that it is so small, the temperature and duration of time that the small frying pan can withstand the heat will vary. On average, their small pan can withstand temperatures up to 400 degrees Fahrenheit. Some reports have stated higher temps at shorter times and vice versa though!
How Big is the GreenPan Small Frying Pan?
Well, this depends on what you consider a "small frying pan". If we're talking about their smallest option, that's a whopping 5 inches in diameter. This makes it perfect for cooking eggs, sausage, maybe some potatoes (clearly breakfast is on the mind right now!). However, they do have other sizes mentioned below!
What Can You Cook in this Eco-Friendly Pan?
Since the GreenPan small frying pan is rather little, you would think what you can cook in it would be limited. It's not! However, the amount you can cook in it, well that is. Some popular meals you can create using this little pan include:
Breakfast: cook up some eggs, sausage, even bacon!
A grilled cheese or maybe a chicken breast for lunch
An individual mini quiche
Make some homemade jam
Those are just a handful of options, but really, you can cook anything in them since they are nonstick and easy to clean!
How do You Clean the GreenPan Small Frying Pan?
One of the primary perks of this pan is that it's dishwasher safe. You'll want to follow this basic guide for cleaning and maintaining the integrity of the small frying pan!
Let it completely cool down before you put it in the sink or dishwasher
Throw away any left-over food bits inside the pan
Rinse the GreenPan small frying pan with warm water
If you're putting it in the dishwasher, now is the time to do so on the bottom rack
If you are handwashing, add your dish soap to the pan and use a sponge to distribute evenly
Add a little water and let soak for a few minutes
Wipe your pan gently with a soft sponge
Rinse the pan clean – it may take a few rinses!
If you have stuck on remnants, add more soap/water, and let it sit for a couple hours. Add a splash of white vinegar if you think it's going to be difficult to clean.
Rinse, wash, and rinse again
Add to your drying rack or dry with a soft towel!
It's that easy to clean these little pans and very rare that anything sticks to them.
Does the GreenPan Small Frying Pan Come in Other Sizes?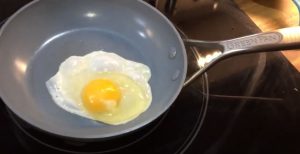 Maybe the 5-inch pan is just a little bit too small for you. Don't worry, GreenPan does have other options! Their "small" frying pans come in 5-inch, 7-inch, and 8-inch. However, they also have pans in the following sizes:
5 inches
10 inches
11 inches
12 inches
5 inches
The size of the pan you get will depend on what you need for your home. If you have a larger family to cook for, you may need the bigger pans. If you're just cooking for you, you can probably get away with one of the GreenPan small frying pans!
Does the GreenPan Small Frying Pan Come in Any Sets?
GreenPan offers various collections and mini sets for almost all of their products. Their frying pans come in whole kitchenware sets as well as smaller sets. Their smaller sets include:
You can also look at whole kitchenware sets that include the small frying pan as well as a wide range of other kitchenware products!
What's the Verdict on the GreenPan Small Frying Pan?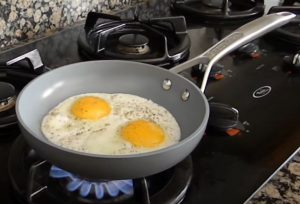 The jury's out and we think that these little frying pans make great additions to any kitchen! If you're looking for something on the smaller end, their 5 or 7-inch pan is probably perfect for you. All of their pans though are dishwasher safe, oven safe, and come in sets or collections! They make excellent gifts for someone who just moved into their own place or for revamping your own appliances!