Lovers of ceramic bakeware are probably aware that GreenPan has released a new collection and it is Bobby Flay's favorite! The collection called GreenPan Premiere is the Bobby Flay ceramic bakeware choice and it should be yours too!
Many things make GreenPan Premiere different from other brands. And with an endorsement from Bobby Flay, you know you can trust this brand!
Read below to find out what makes GreenPan Premiere different and why Bobby Flay trusts this brand!
What Makes GreenPan Premiere Different from Other Brands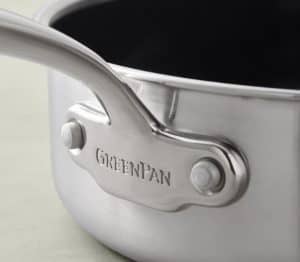 The goal of the original GreenPan brand is to provide safe, healthy, and environmentally friendly cookware and bakeware. With the release of the GreenPan Premiere collection, GreenPan continues to prove they are a successful brand.
The GreenPan Premiere collection is made of a durable ceramic coating. The bakeware also uses a material called Diamond Advanced.
People have been turning to ceramic bakeware because of its eco-friendliness. The GreenPan Premiere collection is free of PFOA (perfluorooctanoic acid), PFAS (polyfluoroalkyl substances), lead, and cadmium.
This material is so strong that chefs can use metal utensils with the GreenPan Premiere collection!
Other brands and companies suggest using wooden or silicone utensils. The GreenPan Premiere collection is so confident with the ceramic coating that they do not require wooden or silicone utensils.  Although, I still use them just to be safe.
The inner materials of the GreenPan Premiere collection are constructed of tri-ply stainless steel. This construction prevents chips, scratches, and dents.
You can guarantee seamless heat transfer with the Diamond Advanced coating and the durability of the tri-ply stainless steel construction.
The GreenPan Premiere collection also strives to provide gorgeous bakeware. They use an evershine finish on their bakeware that gives each piece a polished look.
Because of its unique design and construction, the GreenPan Premiere collection will not release fumes or blisters if it becomes overheated.
The GreenPan Premiere collection is different from other brands because it is dishwasher safe. No hand washing or scrubbing is necessary!   I still hand wash mine as they are still new.
Due to its construction, coating, and finish, the GreenPan Premiere collection is above all the rest!
What the GreenPan Premiere Collection Has to Offer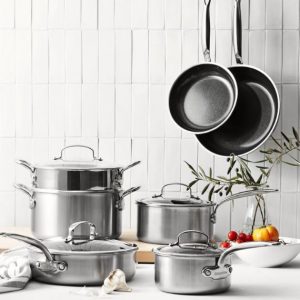 The GreenPan Premiere collection has many pieces in its collection. There is something for everyone! With both indoor and outdoor pieces of their collection, it is perfect for all occasions.
As stated previously, each accessory is crafted with the following features:
Diamond Advanced Non-stick Ceramic Finish
Tri-Ply Stainless Steel
Evershine Finish
With these features, you can guarantee that the following pieces are created for longevity.
It is no wonder that it is Bobby Flay Ceramic Bakeware choice! Parts of the collection are created with "Helper Handles." A helper handle is an extra handle on the pan that allows chefs to pick up their equipment with ease. The helper handle provides stability and balance. For the indoor cook who loves frying and sauteing:
8-inch Frying Pan
10-inch Frying Pan
12-inch Frying Pan
Covered Saute Pan with Helper Handle (4 quarts)
Wok with Helper Handle
The GreenPan Premiere collection has more than just frying pans. There are also saucepans, pots, and unique roasters. The unique roaster comes with a detachable rack and handles. You can cook meat on the rack or you can take the rack out and bake casseroles and vegetables. For the indoor chef who loves simmering liquids and roasting meats and vegetables:
Sauce Pans with a Lid (3 quarts)
Large Pot with Strainer Attachment
16-inch Roaster with Rack
Round Grill Pan
Replacement Lids For All Pieces
The GreenPan Premiere Collection also has an outdoor selection of cookware. Outdoor bakeware is made for using grills and unconventional heat sources. The Plancha Griddle can be used outdoors on a grill for meats, stir fry, and pancakes or it can be used indoors in an oven for pizzas, fries, and potatoes. For the chef who loves cooking outside:
Covered Deep Skillet – Outdoor
Plancha Griddle – Outdoor / Indoor
11 inch Square Grill Pan – Outdoor / Indoor
As you can see, the GreenPan Premiere collection offers an array of items for its customers. There is a piece of bakeware for everyone!
Why Should You Trust the GreenPan Premiere Collection?
If you are still unconvinced that the GreenPan Premiere collection is for you, find out why you should trust them. Not only do they have best-selling items with great reviews, but the GreenPan Premiere collection is also Bobby Flay's choice of Ceramic Bakeware.
Quick Background on Bobby Flay Ceramic Bakeware Favorite
Considered an extremely successful individual in all areas of his profession, Bobby Flay is an American Chef and a Food Network Television host. Many recognize Flay from his time as a judge on the popular show: Iron Chef.
Not only has Bobby Flay become a successful chef and television host, but he has also written and published successful cookbooks. Flay has nine cookbooks in total! Each cookbook focuses on various themes:
Bobby at Home: Fearless Flavors from My Kitchen
Mesa Grill Cookbook
Throwdown! More than 100 Recipes
Grill It!
Burgers, Fries, and Shakes
Barbeque Addiction
Bar American Cookbook
Brunch at Bobby's: 140 Recipes for the Best Part of the Weekend
Bobby Flay Fit: 200 Recipes for a Healthy Lifestyle
While writing and publishing cookbooks, Bobby Flay also owns multiple restaurants. His most popular restaurant is Bobby's Burger Palace. Considering his success as an American chef, his popular cookbooks, and his past experiences as a Food Network television host, you can trust Bobby Flay Ceramic Bakeware favorites!
In Summary
The GreenPan Premiere collection is extremely popular and for a good reason! Just listen to Bobby Flay's words:
"GreenPan has become my favorite non-stick cookware, hands down. I use it all the time at home"
If it is good enough for a well-renowned chef, this bakeware is a perfect addition to your kitchen!  With that said, the average review of the Green Pan Premiere collection is a five-star review.  With the overall rating at 4.8! Great reviews for a great product!
Go to Williams Sonoma to find videos of Bobby Flay using the GreenPan Premiere collection. There you can find recipes, videos, and Bobby Flay's Summer Menu.
Happy Cooking!