There are so many things to consider before purchasing a piece of cookware or bakeware. Finding the perfect piece of kitchenware can be daunting, especially when trying to stick to a budget. Let's talk about where to buy ramekins.
Let us help you find your best ramekin!
Before getting completely overwhelmed by all the internet has to offer, answer a few questions first.
What is your price range? Are you looking for the cheapest option, the best value, or the highest quality?
What is the purpose of your ramekin? Are you picking up a baking hobby and just want to try your hand at a souffle? Or are you intending to make dishes in bulk for purchase? Is it for a crowd or a wedding? Is it a way to get your children involved in the kitchen?
All of these questions play a role in where you should buy your ramekins. Read below to find your bakeware store!
Where to Buy Ramekins  – The Budget-Friendly Ramekins
It's important to stick to a budget, it is what keeps the lights on and food on the table. If you're looking where to buy ramekins or need a ramekin but don't want to pay an arm and a leg, there are a few places you can go.
Crate and Barrel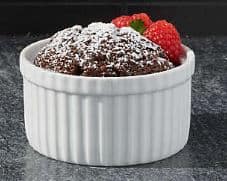 Crate and Barrel is an excellent option for the price-conscious bakers in the house. It is extremely popular among newlyweds and new house owners because they offer many household essentials.
This store sells many bakeware items including ramekins. Not only are the ramekins at a fairly decent price, but they also have a variety of sizes.
Crate and Barrel currently sell the following sizes:
Individual Short Ramekins
Individual Tall Ramekins
Sets of Tall Ramekins
Artichoke Ramekins
With nearly 100 stores across the U.S. alone, they are fairly accessible. The price ranges from $2.95 – $3.50 per ramekin, a great price for this quality!
Target
Target is another example of buying bakeware on a budget. They are home to a little bit of everything so purchasing ramekins from here should not be a problem. This is a great option for those who need a ramekin as soon as possible. There are nearly 2,000 stores for the shoppers' convenience.
In stores, there are a variety of ramekins and most of them are priced at $2 per ramekin. The sizes range from 3 ounces to 14 ounces.
There are a few other options of more expensive ramekins that can be purchased online and shipped to your home through their Blue Rose Pottery partner.
This is an excellent option for those looking to buy cheap, but having various shapes to choose from!
Best Value
If you have a little more wiggle room in your budget or maybe you plan on using ramekins for your baking hobby, the following stores and websites are perfect for you.
Amazon
Amazon is a fan favorite. Everyone has used Amazon at some point in their life, and for a good reason! With an online platform, Amazon is extremely accessible and easy to use.
The downside of Amazon is the many, many ramekin options. While there are countless options, Amazon's most reviewed ramekin is by the DOWAN brand.
DOWAN 8oz ramekins come in a set of 6 and have over 6,000 reviews! Sitting at a 4.8-star rating, DOWAN has an 89% 5-star rating!
The porcelain ramekins sold by DOWAN are priced at $18.99 per set of 6. Sets can come in 4 ounces, 6 ounces, 8 ounces, or 10 ounces. With this many sizes and with that rating it is an excellent bang for your buck!
Bed Bath and Beyond
Bed Bath and Beyond has a variety of ramekins. With various brands, colors, and sizes, Bed Bath and Beyond's prices range for ramekins.
The cheapest ramekin is $1.99 for a 5-ounce ramekin. The most expensive ramekin is $27.99 for 2 ramekins.
The price is not the only thing that ranges with the Bed Bath and Beyond ramekins. There are many colors as well. There are some solid colors, lots of glossy finishes, and floral designs as well.
If you are looking for a simple, yet sophisticated ramekin, Bed Bath and Beyond is an exceptional place to shop.
Williams Sonoma
Similar to Crate and Barrel, Williams Sonoma is popular among those looking to stock their kitchen or upgrade their cookware and bakeware.
While Williams Sonoma does not have a large variety of designs and colors, they make up for it in quality.
Their ramekins are designed for everyday use. Williams Sonoma also has a 30-day return policy that they urge their customers to utilize. Therefore, after several weeks of baking and you are still not satisfied, you can return it and try a different brand at the store.
This is a significant accommodation for those who are not sure if they are ready to commit to a baking hobby or are unsure of the price.
Ramekins can be bought for $3.95 per ramekin and up to $30 per 2 ramekins.
Highest Quality
If you do not have a budget and only want the best of bakeware, the following mentions are first-rate.
Emile Henry
Emile Henry has been a bakeware company since 1850. Located in France, it prides itself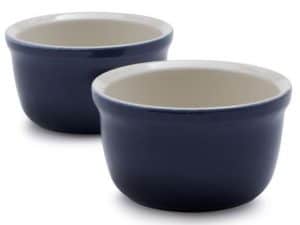 on providing the best ceramic bakeware and cookware. The ramekins sold by the Henry family are guaranteed to be of the highest quality.
The company strives to provide bakeware that will last a lifetime. The ramekins sold by Emile Henry are ceramic and come with a 10-year guarantee.
The following colors are offered on the Emile Henry website:
Flour
Burgundy
Charcoal
Oak
Blue Flame
Flint
Mediterranean Blue
Provance Yellow
The cheapest option is a set of 2 ramekins at 5.1 ounces sold for $18. The most expensive option is a set of 2 ramekins at 8.5 ounces sold for $22.
Le Creuset
One of the most accessible and highest quality ramekins is sold by Le Creuset. Le Creuset has been around since 1925. Since their establishment, Le Creuset has sought to make the finest colored enamel cookware.
They strive to offer a unique array of colors for their customers. The following colors are offered for their ramekins
Cerise
Flame
Caribbean
Marseille
Artichaut
White
Oyster
Deep Teal
The company sells stackable ramekins that are sold for $16 per single ramekin. This company also sells cocotte and heart-shaped ramekins for personal use or gifts.
In Summary
For all of those souffle and cheesecake lovers out there, they know the struggle of finding the perfect ramekin. Ramekins may come in different shapes, sizes, colors, and for different uses; however, there is still hope in finding the perfect ramekin for you!
Even though there are countless ramekins to choose from and that there are many stores to choose from, it can be done!
Determine your budget and your purpose and have fun shopping!