Let talk about making brownies in a mini muffin pan.  Whenever I think of brownies an old, obscure phrase immediately comes to mind. "Don't be a square".
And when I think square, I think about someone or something that is boring, unoriginal, and a dime a dozen.
Brownies, although timeless, are anything but unoriginal or boring. I mean they taste great, don't they?
But brownies taste especially great when you make them bite-sized and dress them up with colorful recipes.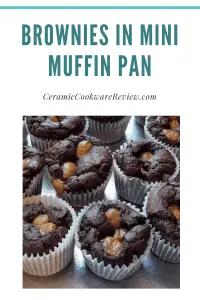 How exactly do I go about that? Believe it or not, but I make those chocolatey baked goodies by using a mini muffin pan.
Hear me out.
The process of baking brownies would be the same, following whatever recipe you chose to use whether it be a box recipe or a recipe you make from scratch.
The only difference? You would use a mini muffin pan when you are ready to pour the delicious batter right before putting them in the oven.
Baking times will vary based on:
the recipes you choose to use
the type and style of mini muffin pan you use
the power of your oven
There are different sizes of mini muffin pans. You may need to bake multiple batches or double up on mini muffin pans in the oven, depending on the mini muffin pan that you choose to use.
When I first got my mini muffin pan, it took me a few tries to get the baking time exactly right. Sometimes you won't really know the perfect time and temperature for baking with a new piece of cookware right off the bat.
I've found that there are no set rules when it comes to baking. You can adjust any recipe to make it just the way you like it!
The Benefits to Baking Brownies in a Mini Muffin Pan
You'll Get a More Crispy Brownie
If you're like me and always go for a corner piece when brownies are made in a traditional square cake pan, you'll love baking brownies in a mini muffin pan.
The first time I had ever tried brownie brittle (which is basically brownie baked into a thin layer of crispy perfection) I was hooked.
I couldn't imagine only being able to indulge in traditional brownies. Until I made my first batch of brownies in a mini muffin pan.
The result? An entire pan filled with circular, chocolatey brownies. Each one was perfectly cooked all the way through and surrounded by crispy edges.
You Don't Have to Worry About Uncooked Middles
Having no uncooked middle pieces was a huge win for me. The best part? You still get edges that are just like when baking brownies in a traditional square cake pan.
I love that I no longer have to choose between whether I should ruin the edge pieces of the brownies or leave the middle portion undercooked.
By using a mini muffin pan to make your brownie recipe, you'll get a perfectly even bake every time.
Reduced Baking Times
Instead of baking one large, square pool of brownie batter, mini muffin pans enable you to bake 24 (or however many cups your mini muffin pan has) little dollops of brownie batter.
The type of mini muffin pan that you choose to use is what will determine the overall baking and consumption experience as far as the number of brownies that can be made at once, baking times, and the quality of which the brownies are baked.
Mini Muffin Pans are Typically Available in Four Different Materials
Silicone
Silicone mini muffin pans are a great choice if you're looking for versatility.
These mini muffin pans can be used in the freezer, dishwasher, and oven. All with no worries of warping or distortion of the product from temperature changes.
Most mini muffin pans made out of silicone are also typically BPA-free.
The biggest downside of using silicone mini muffin pans when baking brownies is that the silicone is not a great conductor of heat compared to other mini muffin pan types.
This unfortunately means longer baking times and higher temperatures when baking.
Carbon Steel
These mini muffin pans are exactly as they sound. They are made with a pairing of carbon and steel.
Unlike the silicone mini muffin pans, these carbon steel pans are great at conducting heat.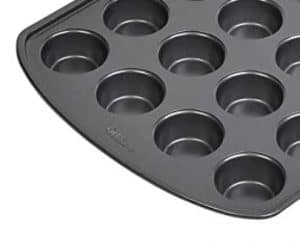 Carbon steel mini muffin pans are a great option if speed is what you're looking for.
The carbon steel mini muffin pans allow the brownies to cook more evenly overall. The best part? It will take you less time and you'll use lower baking temperatures than if you used a silicone mini muffin pan.
Carbon steel is also a very strong and durable material. This type of mini muffin pan is a great choice for you if you value longevity.
Although carbon steel mini muffin pans will save on baking time, the time saved is spent in the cleanup process.
These mini muffin pans require more attention to detail when you clean them and added maintenance.
Carbon steel being the material used on the surface of the pan requires it to be protected. It's not difficult to accidentally scratch or discolor the surface.
Stainless Steel
Mini muffin pans made of stainless steel are typically stronger.
While the ability of stainless steel to conduct heat is good, it is a tad bit slower than other mini muffin pan options.
This could lead to slightly longer baking times (and the need to find something to do to pass time while waiting for your brownies)!
Aluminum
If you have been using aluminum mini muffin pans for years now, you're not alone!
Due to their price as well as the ability of aluminum to conduct heat very efficiently, this type of mini muffin pan is quite commonly used.
While these pans will evenly cook your brownies to deliciousness, due to the thin and weightless design, this type of mini muffin pan is more likely to fall victim to warping or twisting due to temperature changes.
Additional Considerations When Selecting a Mini Muffin Pan
Typically now most baking pans found have a non-stick coating on them. And this is definitely a feature to keep an eye out for as well when selecting the type of mini muffin pan that's best for you.
The non-stick coating decreases the need to bake with greased pans for some recipes.
The non-stick feature brings another benefit to the mini muffin pan. It allows for the seamless removal of the brownies from the mini muffin pan.
Pay attention to whether or not a pan has a non-stick coating because they require different levels of care and maintenance compared to pans without a non-stick coating.
Mini muffin pans come in a variety of different styles in terms of cup placement.
My mini muffin pan has twenty-four openings while another common amount is twelve.
I love having a mini muffin pan with twenty-four openings because I find it to be really useful when baking for a large number of people, for gifts, or to have a ton of brownie bites on hand for myself.
The mini muffin pan has been useful for other things as well like making peanut butter cups or treats for my dogs. The openings are the perfect size for bite-sized snacks of all kinds.
I've even seen recipes online for making eggs and hash browns with mini muffin pans.
I've seen mini muffin pans available for sale at the following places.
Department stores
Grocery stores
Thrift and resale stores
Amazon
Kitchenware and cooking stores
Some Common Brands That Make Mini Muffin Pans That I've Seen
Cuisinart
OXO
Wilton
USA Pan
GoodCook
Rachel Ray
I have a stainless steel non-stick Wilton mini muffin pan that I bought at a craft store. My mini muffin pan cooks the brownie bites evenly every single time. So far I have yet to have a single complaint.
The pan was a decent price, definitely affordable, or else I would not have it, although I do not remember the exact price that I paid.
Baking brownies is always a fun time, but the real deliciousness presents itself when they're baked in a mini muffin pan.
Baking the brownies in a mini muffin pan makes it an easy treat for potlucks, social distance gatherings, sharing at the office, or a bite-sized snack at home.
Brownies are my favorite and I have an easier time not eating all of the brownies right away when I make them in a mini muffin pan.
Since each cup makes an individual mini brownie, it makes me feel like I am eating more when I'm really eating the same amount or less.
If I cut a huge piece of brownie, I can still say I only ate one! This is beneficial to anyone trying to start a diet because everything should be done in moderation.
Nothing changes overnight, so having the small bite-sized brownie would allow fellow dieters to still enjoy a brownie but in moderation.
The Benefits of Baking Brownies in a Mini Muffin Pan
They allow you to make a small snack for someone dieting or monitoring what they are eating.
It's a super easy process! Baking brownies can now be done for a kids' activity or a romantic cozy date night at home.
The consistency of the edges around the brownies that are made using a mini muffin pan is perfect if you like a more crispy brownie.
You don't have to worry about having an undercooked middle piece or portion of your brownie batch. Each brownie is almost identical.
The bite-sized nature of the brownies make for a great portable snack if you're on the go a lot.
There are fewer crumbs while eating the brownies. Clean kids. Happier parents.
There are products made specifically for cooking brownies in a square shape but also designed for the brownies to be individually baked much like the mini muffin pan so that each brownie has edges.
While I like the idea of edges all around, it is still square, and larger. Those brownies are always messier to eat, and not as fun.
It is said that in the human brain circles trigger joy, and I do not know about you, but I will take all of the joy that I can get please, and thank you!
I can not think of any downfalls to baking brownies in a mini muffin pan for myself.
But, if you are someone or are hosting people that you think may not like the smaller brownie, then baking brownies in a mini muffin pan may not be for you.
Some people really enjoy the soft middle that falls apart, which you would normally have with regular square brownies.
Or being able to have just part of an edge, or some middle, or all middle. These are not attributes of a brownie baked in a mini muffin pan.
Brownies are great at all times of the year, wherever you live. I live in the desert and will still cook brownies in the middle of summer.
Making the brownies in a mini muffin pan makes the brownies similar to cookies, which is great for decorating. Decorating cookies is always a great time if you like being creative and eating sugar!
Decorating brownies is even better.
You can decorate the brownies for the season, for the theme of your event or holiday, or simply whichever way you would like.
The fun thing about being creative is that there does not have to be any rules. Being creative is something I was introduced to at a very young age by my grandma, whether it be making crafts or decorating cakes.
The act of decorating brownies and getting creative builds relationships, creates connections and keeps your brain active. But most importantly it creates memories.
A decorated mini brownie, perhaps with a smiley face, would make a great lunch box surprise snack. Not only is it a brownie, but it would be smiling back at the unsuspecting recipient and brighten their day. And then, they get to eat a brownie!
There are many different recipes as well for making brownies in mini muffin pans. My personal all-time favorite recipe is for Rolo candy mini brownies.
A Rolo candy is placed in each mini muffin slot on top of the brownie batter of your choice.
The brownie cooks perfectly and the caramel from the rolo is melty and wonderful.
Not a big Rolo fan? You can also try using peanut butter cups instead of Rolo candies. I'd say these are equally delicious.
I've even seen recipes online for keto-friendly brownie bites, avocado brownie bites, and paleo brownie bites. All made using a mini muffin pan!
You can even make different frostings for the mini brownies and they could be like mini brownie cupcakes. I've had success with white chocolate frosting and Nutella frosting.
The possibilities really are endless.
And then there are toppings that you can add. You can top your brownies with nuts, fruits, chocolate chips, or sprinkles.
Brownie bites also allow you to make many different kinds of brownies at once, like a sampler platter if you will.
If you were to use a mini muffin pan that makes twenty-four mini brownies, you could make four rolo brownie bites, four peanut butter cup brownie bites, four cheesecake brownie bites, and so on. You could package those up at 6 different gift boxes for holidays or just because.
Making brownies bites in a mini muffin pan for the first time was a game-changer for me.
I like to look at brownie bites as the M&M's of brownies. They are perfect for sharing and spreading happiness and joy, or great to keep for yourself.
Brownies baked in a square cake pan are not as easily shareable as brownie bites. And to be honest, most of the people I come across do not want to eat a whole brownie! Brownie bites make for the perfect size.
Portable happiness, stationary sanity, or just a tiny, tasty treat; brownies made with a mini muffin pan are quickly winning my heart.