A few months ago I got my first introduction to ceramic cookware and I have to admit, it did not go well.  So before I get on about ceramic cookware sets on sale let me tell you my story.
As I do every Saturday morning, I went to make breakfast for the family.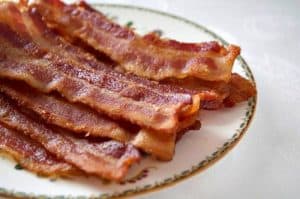 Bacon and eggs or cinnamon rolls are our favorites. Saturday morning breakfast is important to us because it's the only day I don't work and my son doesn't have school.
Sometimes it's the only meal in the week we all get to have together.
I started my morning by making coffee, turning the largest front burner to medium-high. Grabbing our new ceramic skillet and placing strips of bacon directly into the pan. If you are familiar with ceramic cookware you can already count the ways I have messed up.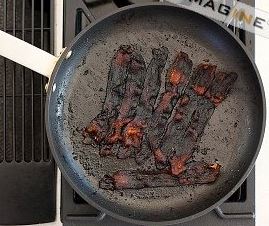 Within minutes my bacon was almost burned on the edges, sticking to the pan and still raw in the middle.
Luckily for me about this time my husband the Chef came in to "save my bacon" quite literally. He took the pan off the burner, turned the burner down, put a small amount of oil in the pan, and put the lid on it. I could not believe we spent all this money on this cookware set and my bacon was nearly ruined in minutes.
What I did not know then is that ceramic cookware is not designed to be used at high heat and although ceramic is nonstick for the best results a small amount of oil or butter is needed.
As usual, he laughed at my small burnt pile of what now resembled bacon bits and proceed to show me how to not set off the smoke detector. I got my first lesson about how to use ceramic cookware and have ruined many meals since but the pans continue to be patient teachers.
Why We Switched to Ceramic Cookware
The biggest push for me was my husband, being a chef he is very particular about what is in our kitchen. Being that his profession is cooking he gets introduced to the newest best technology before most of us even know about it. So while I fumbled to not burn every meal I made, he had already been using ceramic cookware for years.
Most of us are familiar with the other options for cookware.
There's the timeless cast iron which is hard to care for. It has to be seasoned, cleaned properly. As the name states are made of iron and are heavy. Depositing excess iron into foods as they are cooked.
Stainless steel, which let's be honest, stains. Everything sticks to it and when it does you have to soak and scrub to get them clean again. Research has also suggested that cooking in stainless steel can deposit metals into the food when cooking for long periods.
Hard anodized is another option but is full of metals as well. Teflon nonstick pans which have been phased out and no longer made by 2014.
If you are fairly new to the world of ceramic cookware or considering a new set I will say now that now I know how to use them I wouldn't go back. Ceramic cookware is a fairly new technology that has only become available for in-home purchase in the last 10 years.
Ceramic pottery itself dates back as far as 24,000 B.C. Some of the earliest examples being found in Czechoslovakia. Many household kitchen items are still made with ceramics such as bowls, plates, serving dishes, and cups.
Ceramic cookware was developed as an answer to growing concerns over PFTE (Teflon) nonstick pans. Which at high heat begin to break down over time and release toxic fumes. Teflon coated cookware begins to peel after continuous use and lose its coating.
Ceramics are made by a process of adding clay and water to make the desired shape then baking the object in a kiln. This process makes a strong, durable, and long-lasting piece that can be both beautiful and functional.
Ceramic cookware is no different, there are two kinds of ceramic cookware.
The first being solid ceramic and the second being aluminum or stainless steel that is coated with layers of silicon called Sol-gel, extracted from sand. Both of these come with their advantages and disadvantages.
Pure or 100% Ceramic cookware contains no metals giving off no harmful fumes at high heat for extended periods, but can become more brittle over time and break or crack if dropped. Ceramic coated cookware also claims not to have harmful fumes when cooking.
100% ceramic cookware is considerably more expensive than its ceramic coated competitor.
Two of my favorite things about ceramic cookware are that it's pretty, because it's ceramic there is an array of fun colors to choose from instead of the old standard of black and silver.
Second, it's easy to clean, hand wash and dry like the old nonstick pans and you're done.
Other great benefits include being healthier due to needing less oil to cook foods. The natural ceramic and silicon don't leach chemicals into the food being cooked.
Ceramic cookware cooks evenly over the entire surface so you no longer need to have a favorite side of the pan.
Compared to the Teflon coated cookware, ceramics can take higher heat and is more scratch-resistant.
The same non-scratch utensils are recommended for Ceramic cookware, use only wooden, plastic, silicone, or nylon to prevent surface scratches.
What You Should Know Before Buying Ceramic Cookware
As I mentioned in my crash course introduction to ceramic cookware. These pans are not designed to produce optimal cooking at high heat, because they are baked or the coating is baked on, use of high heats over long periods will cause them to become more brittle.
Ceramic conducts heat evenly and holds heat, but heats up to temperature more slowly.
For these reasons, a ceramic cookware set won't replace all the pans in your kitchen. If you are searing a steak or making a thick potato soup these are not the ideal choice.
Storage is an important consideration when buying ceramic cookware. It should not be stacked or hung too closely together as the outside surface of another pan can scratch or chip it fairly easily.
Ceramic cookware needs to be seasoned much like cast iron pans but less often and with less effort.
Every three to six months a layer of oil or butter should be spread evenly over the pans cooking surface. Place in the oven at 250 degrees Fahrenheit for 3-5 minutes. After the pan cools wipe it clean and continue use as normal.
Is Ceramic Cookware Right for You?
Ceramic cookware is for anyone wanting a quality nonstick addition to the kitchen.
Depending on what kind of cook you are can help you decide what kind you want to get. For the home chef who entertains, cooking two to three meals a day you'll want to invest in a quality set that will last and meet your demands.
If a few cooked meals a week is more your style, even a budget set or a couple of commonly used sizes are worth having in your collection of kitchen accessories.
Ceramic cookware is gaining popularity because it is currently the safest alternative to Teflon nonstick cookware. While offering the same nonstick benefits.
Ceramic cookware is healthier than traditional cookware because it requires less oil to cook food, leaving less oil that is cooked into the food. Some foods can be cooked with only a few drops of oil.
Thinking About Buying Ceramic Cookware But Don't Know Where to Start?
Ceramic cookware has quickly taken off, and easily available.
Local stores such as Walmart, Target, and Costco carry everything from low quality up to the lower end of high-quality pans and sets.
If you're looking to explore Ceramic cookware these can be good places to start. Often offering single pans or sets of two.
If you want to start small, try them out and see if you like them. Places like Macy's, JC Penney's, Bed Bath & Beyond, and Amazon are where you're going to find most of the quality on a budget type sets. Offering full sets of 12-15 for roughly the same price as a set of 4-8 of the top quality brands.
The growing popularity of ceramic cookware makes it accessible to everyone.
You cant walk into a store that carries cookware without seeing at least one brand of ceramic cookware. If you are out shopping or prefer to buy online and have it delivered.
There's a wide variety of prices and quality available.
My Top Five Ceramic Cookware Sets on Sale
Caraway Cream Ceramic Cookware Set:
Currently only available on the Caraway home website at www.carawayhome.com being one of the most expensive on the list but well worth the price.
With over 8,000 reviews, it stands at a rating of 4.8/5 stars. While this brand hasn't been around long enough to be accepted on some top ten lists it's fastly becoming a favorite.
GreenPan Ceramic Cookware Set: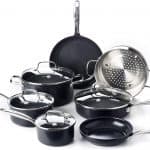 GreenPan has several sets and styles of ceramic cookware hitting the different top ten lists and covering many different budgets.
Green Pan is available online and in-store at Macy's, JC Penny's, Kohl's, Bed Bath & Beyond, and online at Amazon.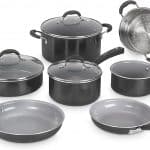 Cuisinart has several lines of ceramic cookware ranging from their Elements series to a Ceramica series.
The Elements Cookware Set can be found at JC Penny's and Amazon and the more budget-friendly Ceramica Cookware Set is available through Walmart online and in some stores.
T-Fal Aluminum/Ceramic Nonstick Cookware Set: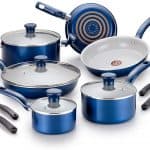 T-Fal Ceramic Cookware Sets range in price greatly.
This is because some sets come with features not many other brands have. T-Fal Initivies Ceramic Thermo-Spot Cookware Set is dishwasher and oven safe being the most expensive of the list it is also the most versatile.
The regular ceramic sets are most easily found on Amazon. The higher-end sets will take some looking for, mostly in specialty and chef stores.
WareEver Pure Living Nonstick Ceramic Cookware Set: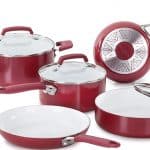 WareEver Pure Living Cookware Sets are harder to find, the full sets seem to be unavailable on most sites that showcase them. However, Walmart and Amazon both have small sets of two saute pans without lids.
Although this set has high ratings its limited availability puts it at the bottom of my list.
Is Ceramic Cookware the kitchen wave of the future?
The ceramic cookware revolution largely gained momentum due to the studies on Teflon coated cookware.
When evidence of the toxicity levels of cooking with Teflon came to light after multiple studies, ceramic cookware was widely accepted as a safer alternative.
Most experts agree the amount of metal transferred while cooking with stainless steel or other metal pan is minimal.
Higher quality metal pans from established companies meet higher quality standards with fewer alternative metals and chemical coatings.
Ceramic coated cookware is however made with Sol-gel which is a "self-sacrificing" coating. This coating is released when the pan is heated. While Sol-gel for ceramic coating is derived from natural sand. The silica used in ceramic coating is to date, considered unlikely to cause health issues.
Unlike 100% ceramic cookware which is made of naturally occurring quartz sand and clay products and considered the best of the two options.
The number of studies done to date on ceramic and ceramic coated cookware is very small in comparison to the studies that have been done on other kinds of cookware.
Part of this is because while ceramic cookware only became mass-produced ten years ago its counterparts have been around for years.
Evidence of the first cast iron pan dates back to 220 A.D. Stainless steel cookware was invented in 1913 and Teflon has been around since 1938.
As of now, the advantages of ceramic cookware put it above the rest.
Being non-toxic, less expensive than other cookware types. Manufacturers claim the production process creates fewer emissions than producing the traditional non-stick pan.
Ceramic cookware boasts being affordable, eco-friendly, non-toxic, and nonstick without changing the flavor or color of the food cooked in it.
It's easy to see why ceramic cookware continues to grow in popularity.