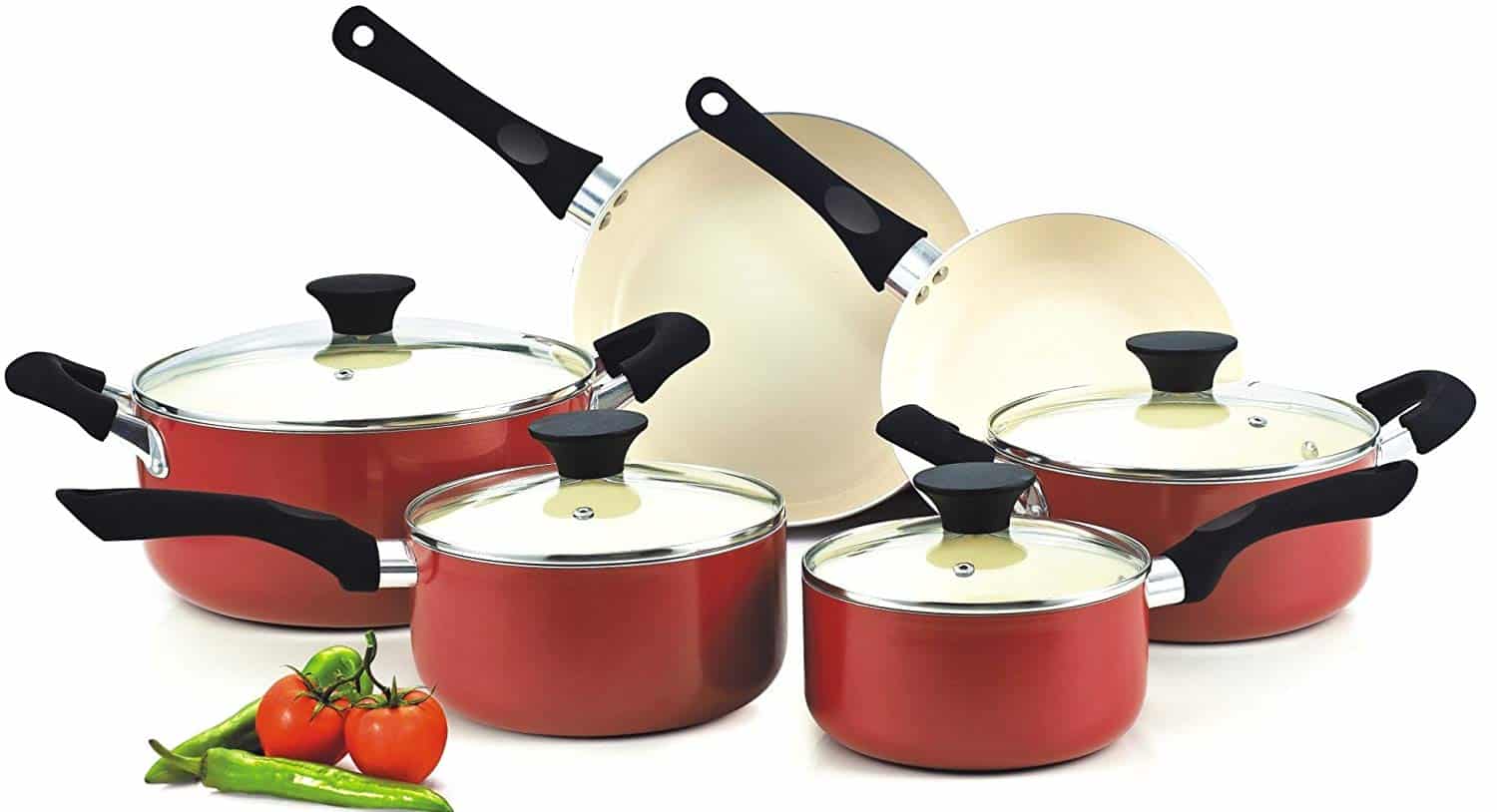 There are different brands of cookware sets in the market and ceramic cookware is known to offer great services. Cook N Home brand offers various types and sizes of cookware products. Actually, the brand's ceramic cookware is one of the best in the market.
First, the non-stick characteristic is associated with the ease to clean and the Cook N Home set is no exception. Additionally, the cookware is designed with the expertise to make cooking not only easy but also safe. Therefore, this cookware brand promotes healthy cooking.
The best ceramic nonstick cookware is made from aluminum material that ensures even distribution of heat and does not leave any hot spots at the surface of the pan. The pans and pots are designed with perfectly fitting lids for safe cooking.
The cookware is made of durable material without compromising on its look. Its good looking design makes it a perfect addition to any kitchen. Moreover, it has a well-designed base to promote efficient conduction of heat. Here are some of the key items we look for in our ceramic cookware reviews which all fall in line with the cook n home reviews.
Cook N Home Ceramic Nonstick Cookware Review/ 5 Key Features
1. PTFE and PFOA free
Polytetrafluoroethylene (PTFE) is essentially a chemical compound that is used for coating most cookware. When cooking using cookware coated with this compound, negligible amounts of the compound are transferred to food. The compound is known to be hazardous to human health. Therefore, long-term use of PTFE coated cookware is unsafe. Perfluorooctanoic acid (PFOA) is another harmful compound commonly used for coating cookware due to its ability to repel water and oil.
Unlike most cookware, Cook N Home Ceramic Nonstick cookware is free of the aforementioned compounds and other harmful substances like lead and cadmium. Consequently, when the cookware is accidentally overheated, no harmful fumes are produced which makes cooking safe.
2. High temperature resistant
Cookware that does not stand high temperatures can limit and inconvenience your cooking experience. With such cookware, you may have to choose an appropriate stove and be careful not exceed certain temperatures to prevent damaging the cookware.
Cook N Home Ceramic Nonstick cookware withstands very high temperatures. This makes the cookware convenient since you are not limited to cook at low heat. However, when cooking at high temperatures, you need to be cautious because the cookware can become extremely hot. This is a very common challenge when cooking with most cookware. To avoid burns, you must use protective gear when handling the cookware itself or its lid.
3. Lightweight and ergonomic handles
Cook N Home Ceramic Nonstick cookware is very light in weight. This is beneficial considering that you may often have to move the cookware around when cooking. For instance, you may have to transfer it from one stove to another or from the stove to the microwave. This cookware is extremely lightweight meaning that it can easily be carried around the kitchen. Besides its lightweight design, this cookware also has stay-cool ergonomic handles to make carrying very easy. In addition, the cookware's handles are strong with a firm, secure grip to guarantee safety while carrying.
Cook N Home Ceramic Nonstick cookware is stylish and expertly designed to make cooking more comfortable and less strenuous compared to conventional cookware.
4.Perfect sizes and easy to clean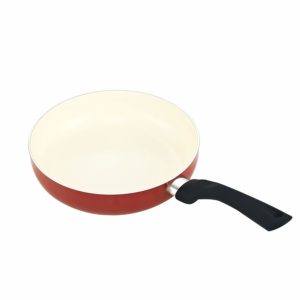 Cook N Home Ceramic Nonstick cookware comes as a set of 10 pots and pans of different sizes making it ideal for both beginners and experts. With the bigger pans and pots, you can comfortably cook for visitors or family.
After cooking, it is common to fight over or get stressed about cleaning dishes. Also, when cleaning, most people have a hard time scratching cookware to remove stuck food. However, with this cookware, this is a thing of the past. The cookware offers impeccable food release making cleaning very easy.
5. Well-fitting Glass lids with knobs
When cooking, you are likely to open and close the cookware lid every so often. This can be a tedious and hectic activity especially when the lid is hot. The good news is that with this cookware, you will no longer have to deal with this problem.
Cook N Home Ceramic Nonstick cookware has high-quality glass lids. Due to the transparency of the lids, you can watch the food without necessarily opening the lid. This also ensures that moisture is retained during cooking.
Additionally, each lid has a plastic knob that offers a firm, secure, and comfortable grip. Also, the stay cool lids have vents that prevent pressure build-up in the cookware. Pressure build-up pauses a great risk to the user, hence, this feature makes Cook N Home cookware safe for use.
Note: Cook N Home Ceramic Nonstick cookware should not be cleaned using very hot water as this will cause damage.
Check The Latest Price on Amazon, Now!
Why should you use Cook N Home Ceramic Nonstick Cookware?
1. High performance
This cookware has the non-stick characteristic which has been confirmed by a majority of users. The meals that you will cook using this cookware will slide perfectly on the pan as you prepare them. The cookware has a ceramic finish that cleans up nicely without the need to apply a lot of effort. Additionally, the cookware is scratch resistant.
2. Durability and workmanship
This cookware is made from durable material and is perfectly designed to serve you for a long period of time. The cookware has firmly riveted handles with strong and sturdy brackets made from stainless steel. Handling the pots and pans when cooking is actually very easy.
3. Versatility
This cookware is completely versatile; it can be used on all kinds of stove tops. Moreover, it comes in a variety of pieces and this enhances its versatility. Furthermore, this cookware is extremely lightweight and the user can easily carry it around even when it has food.
4. Healthy cooking
Food normally continues simmering even after the stove is turned off. This means that you can cook your food by steaming to retain its nutrients. This cookware is absolutely incredible since it maintains food in its original and healthy form.
5. Perfect heat distribution
This cookware has a heavy-duty aluminum base that is perfectly built to help in heat regulation. In addition, the cookware uses the impact-bonding technology to ensure the uniform heat distribution both outside and inside the cooking pan. This way, during cooking, the food maintains its original flavor. The cookware also minimizes the chances of your food getting burned.
Product Benefits
Colorful cookware set
Efficient and healthy cooking
Affordable
Interchangeable lids
Perfect heat distribution
Great value for money
Steam cooking for the nutritional quality of your meals
Fast cooking and excellent heating process
The Negative Things
Not dishwasher safe
Cannot be used at temperatures higher than 350 degrees
FAQ-Frequently Asked Questions
Is the bottom of the pan also covered with enamel?
They are fully lined with the ceramic and spiral aluminum
Which utensil are good for this cookware?
Silicone utensils
Can you stick a magnet to the bottom of the pot or pan?
No, the base of the cookware is made from aluminum which is not magnetic
Is the cookware dishwasher safe?
No
Is it oven-safe?
No
Final Verdict
Actually, the use of Cook N Home Ceramic Nonstick cookware has generally led to a significant reduction in kitchen accidents especially burns from steam and hot cookware.
The cookware stands out in the market with its ability to withstand very high temperatures while remaining cool. The price to value ratio makes cook n home cookware reviews an easy task.