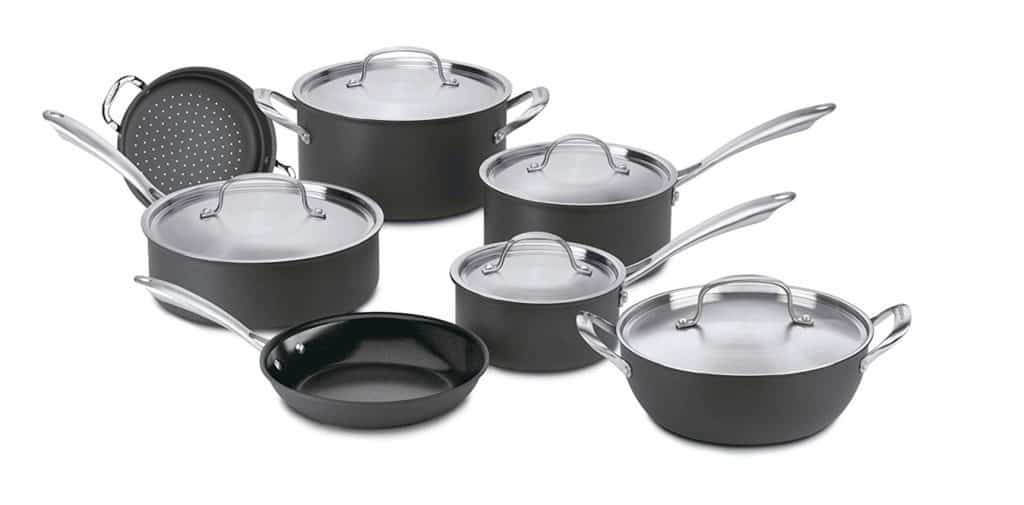 Cuisinart ® GreenGourmet Hard-Anodized Nonstick Cookware is a cookware with quality performance that each and every cook will appreciate. It is designed with years of knowledge to ensure that cooking is not only easier but also safe.
This kitchen appliance is designed with an exclusive ceramic nonstick surface that are 
ceramic based coating
  and petroleum-free. This coating finish does not have PTFE and PFOA substance that is sometimes used in nonstick
ceramic cookware
.
It has a unique technique which reduces the harmful carbon emissions that is developed because of less energy consumed. The coating of the appliance is also water-based, unlike the other cookware with a nonstick coating finish which are solvent-based.
These pans absolutely deliver a superior heat conductivity that requires less energy to achieve a desired cooking temperature. The high profile cookware is affordable which does not compromise its quality whatsoever.
Cuisinart® GreenGourmet Hard-Anodized Nonstick Cookware Review/ 5 Major Features
1.PTFE and PFOA free
Basically, Polytetrafluoroethylene (PTFE) is a chemical compound that is used in most of the cookware, mostly in the coating. While it is minimally transferred in food when cooking, its long term use may be hazardous.
Perfluorooctanoic acid (PFOA) on the other hand is a compound that is used in coating cookware as a result of its unique ability to repel water and oil. Its long term use may be hazardous as well.
When the compounds are heated, the fumes produced may be toxic. Cuisinart ® GreenGourmet Hard-Anodized Nonstick Cookware is free of these. Its coating is 100% petroleum free. This ensures the safety of the customer.
2.Ergonomic heat resistant handles and lids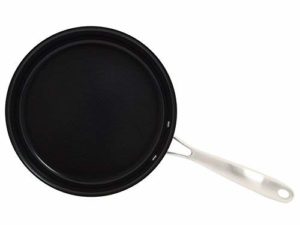 Cooking is easier by taking the cookware from the stove top, to the oven or to change it to another stove.  No need to switch pans without a handle to get in the oven.
However, this is made very easy with Cuisinart ® GreenGourmet Hard-Anodized Nonstick Cookware. The good-looking design has ergonomic recycled stainless steel handles which are designed with you in mind for comfort and to lessen fatigue.
The handles allow a secure yet comfortable grip. The lids are tight fitting and stands heat as high as 500 Fahrenheit. They have vents that allow for pressure release which would otherwise pose a risk to the user.
3.Excellent heat conductivity
The exceptional cookware has an outstanding heat conductivity.  This is due to its anodized sturdy construction. The heat is also well distributed to all the parts of the cookware to ensure that food does not burn in specific hot spots.
The superb heat conductivity saves energy. This is because it will require less energy to achieve the desired cooking.
Cuisinart ® GreenGourmet Hard-Anodized Nonstick Cookware is additionally very convenient. This is due to its excellent stove compatibility. Indeed, cooking has never been more convenience.
4.Easy to clean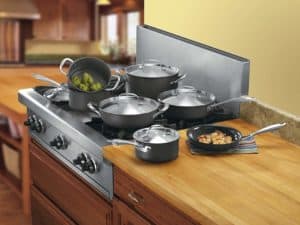 If you are a kitchen person, hand washing dishes can be especially tedious. These clean up quickly and easily unlike others that need soaking and scrubbing.
However, with Cuisinart ® GreenGourmet Hard-Anodized Nonstick Cookware, this is a thing of the past!
Cleaning this cookware is actually a walk in the park. The cookware offers an impeccable food release. For this reason, the food does not stick in the cookware even if burned. This is the key to long lasting cook wear. Make sure to clean properly after each use.
5.Durability
The durability of Cuisinart ® GreenGourmet Hard-Anodized Nonstick Cookware is incomparable! The tough construction will serve you for a long time. The durable design is also oven safe.
It is made of hard anodized aluminum that will ensure that the high profile cookware lasts for a life time. This is backed up by the lifetime warranty which gives you 100% assurance of its quality. Indeed, it is a cookware worth investing in.
Note: The cookware is not dishwasher safe. To prolong its life, Cuisinart ® GreenGourmet Hard-Anodized Nonstick Cookware should be cleaned gently, taking advantage of the fact that it offers an immaculate food release.
Check The Latest Price on Amazon, Now!
Why should you use Cuisinart® GreenGourmet Hard-Anodized Nonstick Cookware?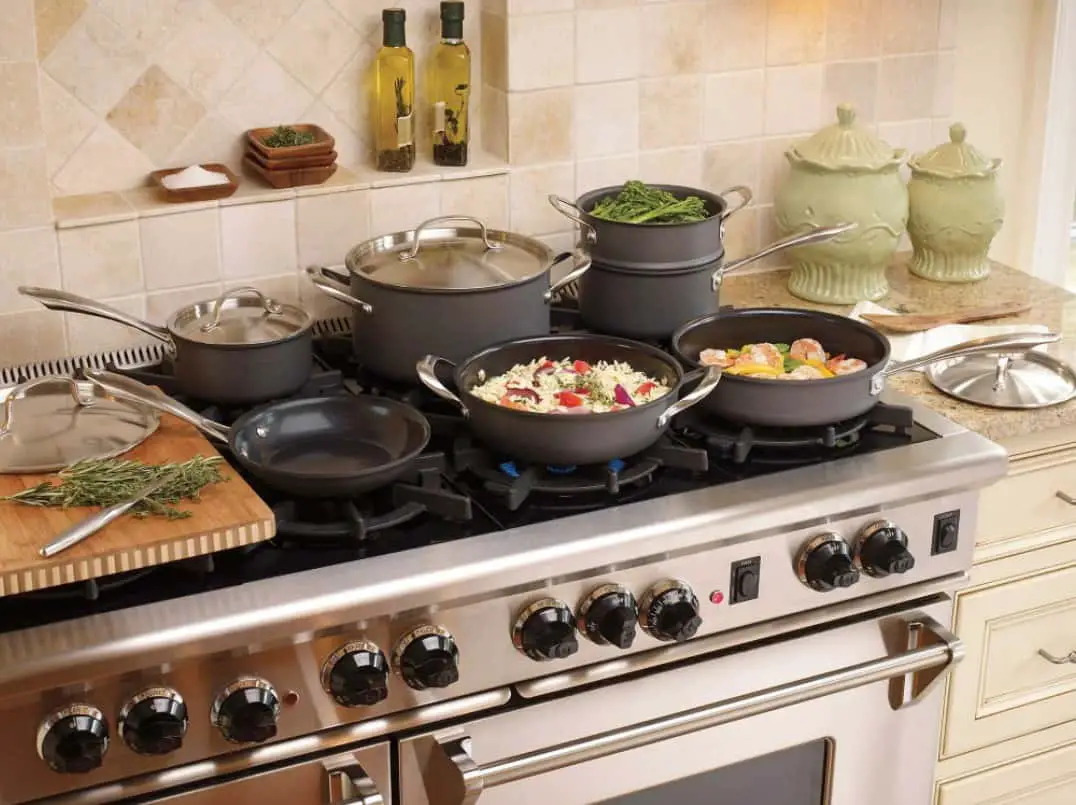 1.Energy-efficient
This is an energy efficient kitchen appliance. It automatically uses less energy when you compare it with other nonstick cookware. It is recommended that you select the burner size which matches the diameter of the base area of the pan.
When you are using a gas to cook, you are advised to ensure that the flame of the gas touches only the base of the pan. If the flame is extended up to the sides of the pan, then you will be wasting a lot of energy.
2.Healthy cooking
when cooking with this kitchen appliance, you may not need to add butter or oil to prevent your food from sticking into the pan. The Cuisinart GreenGourmet Cookware cooks perfectly and delivers healthy foods.
You can enhance the food flavor and the appearance of your food as you wish. You only need to add minimum amount to the nonstick surface of the cookware.
3.Easy maintenance
Compared to other nonstick cookware, this item is completely easy to maintain. It is easy to use and clean. You are only recommended to wait for the appliance to cool down after use before you clean it.
They are normally washed by hand using hot water and soft dishcloth or a soft sponge. It is advisable not to use abrasive metals or steel wool to scrub the cookware. This is because it may scratch and damage the cookware.
4.Convenient
The smooth exterior finish of the cookware makes it simple to clean and maintain. The build-up food or food residue on the exterior of the cookware may be removed easily using hot soapy water and scrubbing pad. The product is convenient and can be stored easily because of its design.
5.Impressive design
In addition to its convenient non-stick surface, the appliance is attractively designed. It has an attractive design that makes any kitchen look great. It is made of durable materials to last.
Product Benefits
Broiler and oven safe
Nonstick technology
Easy cleaning
Cooks healthy food
Energy-efficient
Easy maintenance
Convenient storage
Attractive design
The Negative Things
The price is higher but will last a lot longer
FAQ-Frequently Asked Questions
Can this kitchen appliance be used on the induction cooktops?
Yes it can.
Is the unit a dishwasher safe?
Yes, but it is recommended to hand-wash.
Can you cook without adding oil or butter with this appliance?
Yes, it has a base that is designed to cook without oil or butter.
Does this unit stain easily?
No, it is stain resistant.
Absolutely yes.
Final Verdict
While cooking may be a hobby to many, cleaning utensils is not. In fact, it is one of the most dreaded tasks. However, with Cuisinart ® GreenGourmet Hard-Anodized Nonstick Cookware, cooking is not only easy, comfortable and safe but makes cleaning the cookware easy as well.
The high profile cookware is designed with expertise to ensure that it saves time, energy and resources. This is the one that savvy cooks are using. If you want to buy ceramic cookware, then this will be a perfect choice for you.