What do you do when you have a family of six, and everyone wants pancakes? Not only do they all want pancakes, but they all want different flavor pancakes. Blueberry, chocolate chip, banana nut, plain, etc. It is almost impossible to cook a large batch of pancakes promptly.  Let's talk about the Farberware 20 inch ceramic griddle.
Unless you have a griddle. A griddle is a cookware piece that provides the same features as a frying pan, but with more surface area. Most of the time, a griddle is a flat square or rectangular-shaped pan. With little to no sides, you can use every available surface.
In the culinary world, you can find multiple types of griddles. There are the original griddles, stovetop griddles, and electric griddles. The original griddle can be used on a campfire or on top of two burners. Stovetop griddles can also be used on a stovetop, but it typically sits on one burner. An electric griddle is an appliance that works the same but without the hassle of the stovetop.
While griddles have been around for a long time, electric griddles have been making a comeback in recent years. Farberware currently sells a 20-inch ceramic griddle that is extremely popular for many reasons.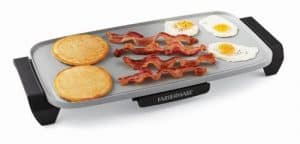 Want to know more about what makes Farberware's 20-inch ceramic griddle different than other griddles, and why people love them? Keep reading to learn more about this electric ceramic griddle!
All About the Farberware 20-inch Ceramic Griddle
This extra-large electric griddle comes with a ceramic surface. With a ceramic cooking surface, it is naturally nonstick. Another handy thing about this ceramic cooking surface is that it is removable and temperature-controlled!
Many household chefs choose electric griddles because they heat more evenly, and you can control the temperature. With a range from 'Keep Warm' to 400 degrees Fahrenheit, you are able to supervise more of the cooking.
The Farberware 20-inch ceramic griddle has a cooking surface of 20-inches x 10-inches. Farberware states that their griddle can cook up to 10 pancakes or eggs at the same time! A great benefit for those cooking for a crowd.
In addition to the temperature control and large cooking surface, this griddle also has side handles that make carrying and moving the appliance much easier. If you happen to break your griddle despite the functional handles, each appliance comes with a 2-year manufacturer's warranty.
What Makes This Griddle Different
This griddle has a ceramic surface. Ceramic surfaces are not made with traditional materials or unnecessary chemicals. Each griddle is BPA-free, PFOA-free, and PTFE-free. In addition to being healthier, it also claims to cook foods approximately 20% faster than other nonstick coatings.
Electric griddles are becoming increasingly popular because owners are able to remove the ceramic surface for cleaning and storage. Many choose to store their Farberware 20-inch ceramic griddle either in its original box or with other counter-top appliances.
The point of an electric griddle is convenience. Farberware wanted to create an appliance that allowed its users to quickly cook food in large quantities. Storage is also convenient with electric griddles.
What Do the Reviews Have to Say
There are lots of good things said about the Farberware 20-inch electric griddle. Many customers enjoy the simplicity and adjustable temperature. Others are more hesitant about the overall quality of their ceramic griddle. Keep reading below for the most popular reviews from Walmart's website.
"it is a very simple design as a griddle. just plug in the power cable and adjust the knob, and then it heats quickly. indeed it is nonsticky, which makes the cleaning easy. price is reasonable just need to be careful when power off, because it cools down slowly. don't burn yourself by touching the hot surface. apart from this, nothing to complain."
"This is by far the worst griddle I have ever purchased. After the first few uses, it looks like it's several years old. It does not heat properly. The cord and thermostat control gets so hot, it would burn me if I touched it. If I were to turn it on to the recommended temperature for pancakes (375), the pancakes burn. Ps..everything burns on the dark areas (see photo). There is no even cooking area on this griddle. The second photo is pancakes cooked at 325. You can see how uneven the cooking surface is. I thought Farberware would be a good brand. It's not."
'This griddle was half the price of one I planned to purchase but decided to try this Farberware brand. To my surprise, "Walmart" is stamped on the underside of the griddle (see photo). My first batch of pancakes burnt at 350°F. Subsequent batches at a lower temperature were better but not picture perfect. The non-stick surface is slick and I found myself chasing after the pancakes to flip them as they were just sliding all over the place. One even slipped over the edge and flipped itself over onto my counter, "jelly side down"! It always takes some time to figure out a new appliance."
"I love the size of the griddle, but it just did not meet expectations in terms of wear and use. It's longer than most griddles, but it is more narrow. I can put 6 good-sized pancakes on there with no trouble. As much as I liked the size, I do not feel like this is a quality product. I purchased 2-3 months ago, and I'm on the lookout for a new one."
How to Care for Your Griddle and What to Make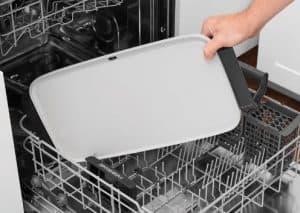 How do you clean a Farberware ceramic griddle?  Is farberware ceramic griddle dishwasher safe?  Many love the dishwasher-safe feature of their Farberware 20-inch ceramic griddle. Simply, remove the temperature control pad and place the ceramic surface in the dishwasher for cleaning!
It is always best to handwash; however, if you do, there are products you should avoid. Never wash your electric griddle with steel wool, scouring pads, or abrasive cleaners. Rough cleaners and scrubbing agents can damage the nonstick coating and leave scratches.
Electric griddles are great for making pancakes, cooking omelets, frying bacon, preparing grilled cheese sandwiches, and more! The great thing about griddles is the amount of space for cooking. When you have guests over or just a large family, a griddle makes cooking for a crowd super easy!
Do you own a Farberware 20 inch Ceramic Griddle? What do you cook the most with your electric griddle? Let us know!