Green Life 13 PC Set – Soft Grip Pro
For recently engaged couples starting a registry is almost as complicated as planning a wedding! Between hundreds of bowls and silverware to choose from, it can be difficult deciding which items are for you. One of the most popular choices of young people today is all-in-one options.
A cookware set that has a little bit of everything. Unless you are a professional chef, you will not need every piece of cookware and kitchen appliance known to man. Most couples chose a simple, all-inclusive kitchen set. These sets typically provide the bare minimum for a cooking couple.
GreenLife understands the demand for easy-to-understand cookware sets. While GreenLife has cookware sets that range from 2 pieces to 16 pieces, their 13-piece cookware set is a great seller.
Many choose GreenLife's Soft Grip Pro 13-Piece Cookware Set because it comes with the right amount of cookware, utensils, and color options! Want to know if the GreenLife's Soft Grip Pro 13-Piece Cookware Set is perfect for your wedding registry? Keep reading to learn more about each piece and why you should choose GreenLife's ceramic cookware!
What You Get and How to Use Each Piece
Each cookware set comes with thirteen pieces. A combination of pans, pots, lids, and utensils. The following items are included in the GreenLife's Soft Grip Pro 13-Piece Cookware Set: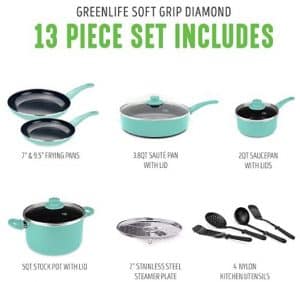 7-inch fry pans
5-inch fry pans
2-quart saucepan with a lid
8-quart saute pan with a lid
5-quart stockpot with a lid
7-inch stainless steel steamer plate
A nylon ladle
A nylon slotted turner
Two spatulas
For new homeowners, these names may not mean much. You may recognize the name of each cookware item, but you don't know how to utilize it.
The fry pans are perfect for frying things, of course! Cooking eggs, meats, pancakes, vegetables, sandwiches.
The two-quart saucepan with a lid is best for cooking sauces, pasta, quinoa, grains, and other items that may require boiling liquids.
For the 3.8-quart saute pan with a lid, you can best use it for cooking risottos, braising meats, panfrying, and stir-frys. The volume capacity allows you plenty of room to cook one-pan meals.
The five-quart stockpot is perfect for soups, chilis, and stock cooking! Throw all your root veggie scraps into boiling water to make your vegetable stock.
The seven-inch stainless steel steamer plate is best for vegetables. You can use your steamer plate with your frying pan. By using both cookware pieces, you can cook double the food in half the time, a great addition to a new kitchen.
Why Choose GreenLife Ceramic Cookware
GreenLife's cookware items are all made with a ceramic glaze. The ceramic coating is free of PFAS, PFOA, lead, and cadmium. Unlike other traditional nonstick pans, you do not have to worry about dangerous chemicals leeching into your food.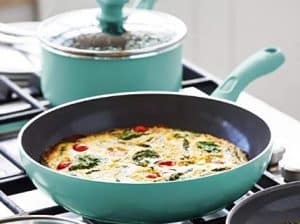 Not only is the ceramic healthy, but it is also durable. Each item is made with a diamond-reinforced coating that aids in the pots and pans durability.
GreenLife also strives to provide environmentally-friendly alternatives. Such as shipping, manufacturing, and design. When designing the Soft Grip Pro cookware collection, GreenLife uses recycled aluminum to provide heat distribution while not wasting unused materials.
By using ceramic, GreenLife uses 60% fewer CO2 emissions(compared to traditional nonstick cookware) during the manufacturing process. GreenLife also ships their product in recyclable materials!
Additional Benefits
Most of the pots from the Soft Grip Pro Green Life 13 pc set come with a clear, glass lid. The lid allows users to keep a watchful eye o their steaming meals. In addition to the glass lid, the handles are also specially designed.
The handles are Bakelite handles, meaning they are made to stay cool even when the cookware gets hot. Bakelite handles are also designed for ultimate comfort! The handles are attached using rivetless screws. By using rivetless interiors, you will not find food buildup between screws or on the handle.
GreenLife offers vibrant colors along with its designs. The Soft Grip Pro 13-Piece Cookware Set comes in turquoise and black. For those looking for a splash of color, this set may be for you!
Most positive reviews speak highly o
Popular Reviews for this 13-Piece Cookware Set
f the cleaning experience and the naturally nonstick surface. The negative reviews worried about durability and longevity. Keep reading to hear what everyone else has to say:
"I'm so in love with this set and I will be for many years to come I'm sure. It's the first "nonstick" set I've had that is actually nonstick and cooking is a breeze and so is cleaning them! Now, as long as you follow directions and don't cook these too hot or dry you'll be using these amazing pots and pans for years to come."
"This set has a great selection of sizes, we've used every one of them so far. They have proven to be truly non-stick. I've used the fry pans to make omelets, scrambled eggs, fried eggs, and pan fried pork chops and everything had just slid right out with ease. The slotted spatula utensil has been particularly useful for flipping eggs and folding omelets. They clean up very easily as well since nothing sticks. The handles are easy to grip, they don't get hot, and they feel sturdy – no wiggly handles here."
"I'm not too fond of aluminum, and I did not receive tracking information. Nevertheless, the 13 piece set is perfect for my family's needs. I could have used a smaller pot. However, this works out because I am not ready to part with an older one. In addition, I like how the large pot is narrow and tall, giving more space on the stovetop. I would have returned if the pans felt wimpy, but the thickness is suitable, so this is a keeper. I ordered these pans because I wanted to eat healthier."
Is the GreenLife Soft Grip Pro 13-Piece Cookware Set For You?
The GreenLife Soft Grip Pro 13-Piece Cookware Set is for you if you want to cook with fewer chemicals, and want to be environmentally friendly. You should also buy this set if you are looking for your first cookware set. This set can be extremely beneficial to those who do not know which pots and pans to buy. GreenLife's Soft Grip Pro 13-Piece Cookware Set is a great first-time set!
Do you own the Green Life 13 PC Set? Would you recommend it, as well? Let us know!