✅ In a hurry to see the most popular GreenLife set? Click here to find this set now!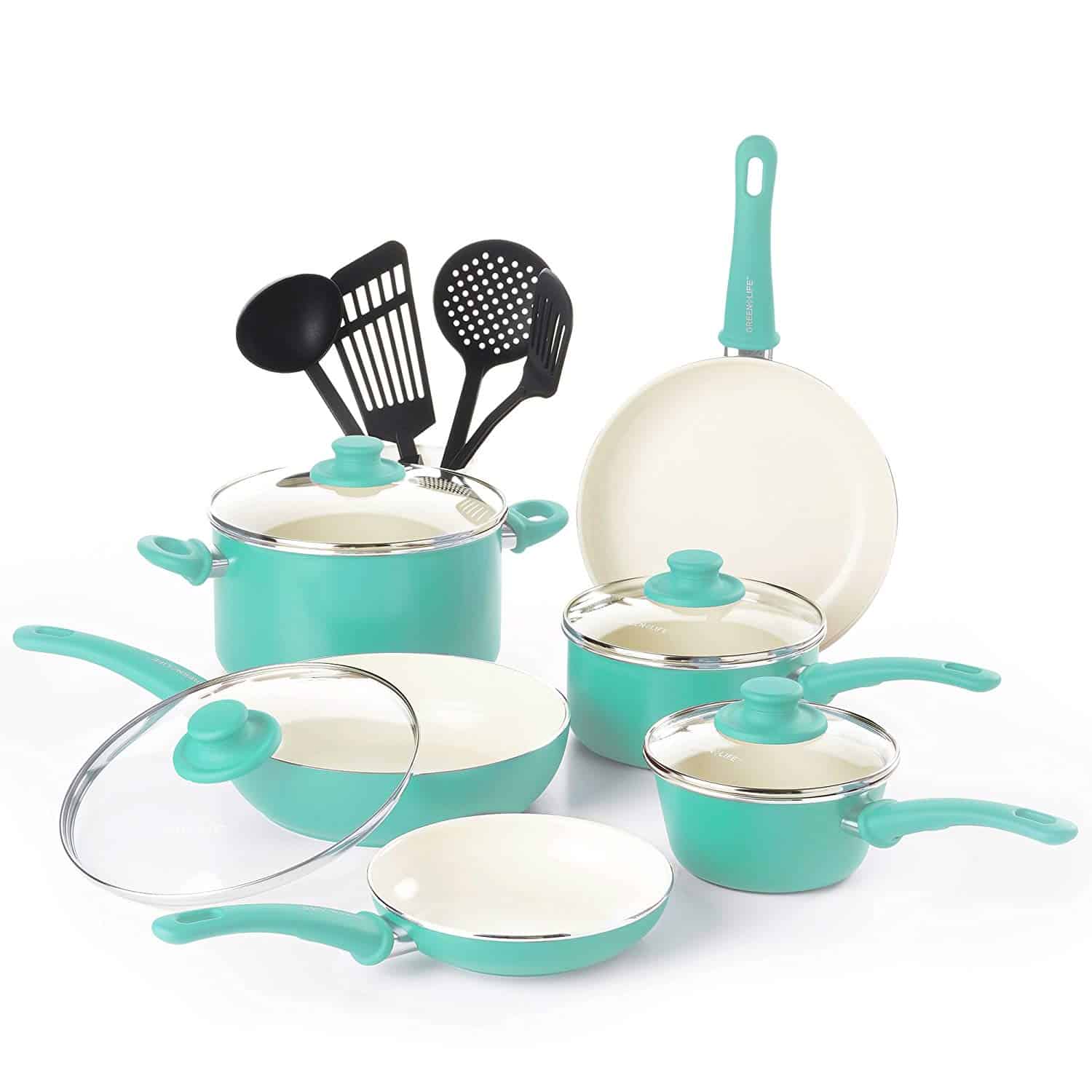 Unlike in the earlier times, there are many nonstick cookware in market today which are a result of the ever advancing technology.  Let do a quick GreenLife Ceramic Nonstick Cookware Review.
GreenLife Ceramic Nonstick Cookware is one of those product with advanced technology. It is designed with expertise to ensure easy and quality cooking.
This is a set with excellent heat conduction. It is made with a gorgeous finish and pleasant interior that improves the cooking result with a greater accuracy. It actually makes a perfect addition to your kitchen.
It has unique parameters that have made it stand out in market, yet at a very friendly price. The good looking cookware  has also been designed to ensure safety and comfort while cooking.
It also looks great hanging in my kitchen.
✅ GreenLife™ Ceramic Nonstick Cookware Review/ 5 Major Features
1.Durability and lightweight
GreenLife Ceramic Nonstick Cookware is very durable. It is made of very tough aluminum that is an excellent heat conductor. Apart from durability, the material ensures even heat distribution and allows you to cook with less heat. The dual riveted handles are firm and very strong.
The sturdy construction is also lightweight, which is a plus. You do not want to work with very heavy cookware that will only strain your wrist or elbow. In addition, the cookware has a decent warranty that guarantees you quality.
2.Easy to clean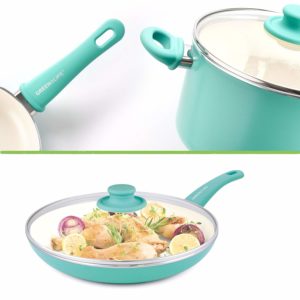 While cooking is most people's hobby, cleaning utensils is not. In fact, if you are a kitchen person, fighting over the dishes is not a very new experience.
In cooking, we all have the struggle of scratching cookware to remove stuck food when washing. Make the job easy by soaking them for a few hours if needed for easy cleanup. However, in GreenLife Ceramic Nonstick Cookware, cleaning has been made so easy.  Very seldom do you need to soak.
The good-looking cookware offers impeccable food release from the surface ensuring that cleaning is very easy. Additionally, it can be cleaned safely using a dishwasher. The dishwasher-safe construction not only makes work easier but also saves time and energy.
3.PFOA and PFAS free
Polytetrafluoroethylene (PTFE) and Perfluorooctanoic acid (PFOA) are chemical compounds that are found in the coating of most cookware. This is due to their non-stick ability of repelling water and oil.
Although their transfer to food is minimal, long term use of the same is not safe. GreenLife Ceramic Nonstick Cookware is however free of these and more harmful compounds like lead and cadmium.
It is as a result this cookware that is safe to use even if you are to use it for a life time. It is made of thermolon ceramic nonstick instead. Consequently, when the cookware is accidentally overheated, toxic fumes are not produced.
4.Ergonomic stay cool handles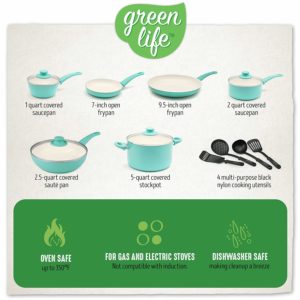 When cooking, getting burns from accidently touching hot handles is not a new experience. Actually, most cookware have handles that heat as the cookware heats and are very uncomfortable to hold.
However, in GreenLife Ceramic Nonstick Cookware, the handle is heat resistant. The stay cool handles are also very comfortable with soft firm grip.
The oven safe handles allow you to remove a very hot cookware with temperatures around 350 degree Fahrenheit from the oven with a comfortable secure grasp.
5.Glass lids
GreenLife Ceramic Nonstick Cookware has sturdy glass lids. The lids are transparent, offering a clear view of what is cooking. Subsequently, you will not have to keep opening and closing the lid to check progress. This also ensures no release of moisture.
When there is need to open, say to add some water or ingredient, it is very easy to open and it stays cool.
Note: metallic utensils should be avoided when cooking with this cookware. In their place, wooden and nylon ones should be used.
The cookware is made of an excellent heat conductor. Consequently, low to medium heat should be used.
Check The Latest Price on Amazon, Now!
✅ Why should you use GreenLife™ Ceramic Nonstick Cookware?

1.Cooking performance
Since this pans are all the same in appearances, the only thing that brings the difference is the performance of the cookware. It offers an excellent heat that cooks food perfectly.
This is because it uses aluminum material which is a good conductor of heat. Every part of the cookware heats up quickly and uniformly.
2.Affordable
This model sells cheaply than most of other model in the category. It is an affordable product making it a perfect choice for most people who are considering to buy a cookware.
The cheap price of the product does not compromise its quality and value. It offers great value and this is one of the reasons why many users are pleased with the product.
3.Pretty design
GreenLife ceramic cookware is a model that is attractively designed to meet all of your needs. You will definitely spend a good amount of time with the product before it depreciates. Its pretty design actually makes it easy to cook with and washing it is also easier.
4.Distribute heat evenly
GreenLife pans and pots are made using the aluminum material. As we know, aluminum is an extraordinarily good material for conducting heat. This materials heat up quickly and distribute the heat evenly in all areas of the cookware.
5.Food don't get stuck
Majority of users of this product have left a lot of comments that they are happy with the product. This is because it is easy to cook using this cookware and food don't get stuck easily. You can turn and prepare your meals with easiness.
The Pros
Lightweight
Easy to clean and use
It has ergonomic stay cool handles
Transparent glass for an easy view
Cooks healthy food perfectly
It is cost effective
Nonstick property
Distribute heat evenly
The Cons
Handles can melt if used in the oven over 350 degrees.
✅ FAQ-Frequently Asked Questions
Does this unit contain teflon?
No.
Can you use the cookware on induction cooktop?
Not safe for induction cooktops.
Which is the best oil type to use?
Any oil will do.  I prefer olive oil.
Do they stain?
Not really as long as cleaned properly after each use.
Are they dishwasher safe?
Yes.
✅ Final Verdict
GreenLife Ceramic Nonstick Cookware makes a flawless addition to any kitchen at a very reasonable price. The sturdy construction does not sacrifice its touch of style and elegance.
It has been designed with skill to ensure that cooking is not only easy but also safe and comfortable. With this dishwasher safe construction, there is no more fighting over dishes after every cooking.