Frying pans are versatile, so you can use them to prepare various dishes from omelets and chicken to pasta and meatballs.  The Lagostina white frying pan is popular among many online shops and retailers. Many people love it for its bold white ceramic coating.
This pan is a stunning addition to your kitchen cooking collection. It's quite easy to clean, and its glossy surface prevents wear. The frying pan's design is impressive and should turn into your go to frying pan.
This brief article looks at the benefits the Lagostina white frying pan offers.
Product Overview
Lagostina has a broad collection of cookware which includes pans and skillets. This brand has perfected the art of manufacturing frying pans with its lightweight and fast-heating technology, enabling fast-even cooking.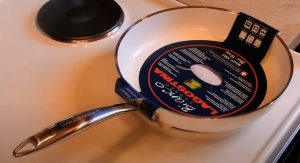 Behind the Lagostina frying pan's fast-heating technology is the stainless steel and aluminum alloy core which helps collect as much heat as possible from the stove. This alloy also promotes uniform and optimal heat distribution for even cooking. Also, its inner layer of ceramic coating uniformly channels the heat to the food when cooking. This way, Lagostina gets food done in no time.
The Lagostina white frying pan has a wear-resistant Meteorite ceramic coating on its insides and outsides. Ceramic coating is famous for its heat-retaining abilities. As a result, it performs several functions.
Firstly, the ceramic outer layer enables the frying pan to absorb heat from the cooker and get hot rapidly. This layer also ensures that the pan does not lose heat when used, so you get faster cooking times.
In addition, Lagostina's outer ceramic layer also prevents the pan's core from wear and tear while you use or carry it from place to place.
Lastly, the inner ceramic layer prevents your food from coming in contact with the pan's metal. As a result, you can cook smoothly without burning. This layer also helps with cleaning, as food does not get stuck to the frying pan's surface.
Design
The Lagostina white frying pan weighs 2 lb, making it less than one kilogram. This weight makes it handy and easily portable.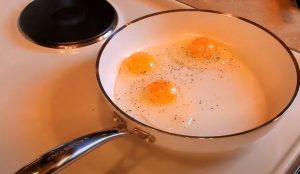 It has a length of 15.5 inches (including the handle) which helps it fit easily into your pot rack. The pan spans 8.5 inches in diameter and has a depth of 4.85 inches. These dimensions help you conveniently prepare breakfast, lunch, or dinner meals.
Like its name, the Lagostina white frying pan is white. It also has a glossy heat-resistant handle, so you can easily lift it from the fire while cooking without searching for protective gloves.
This frying pan entered the market first on February 13, 2015, and has won the heart of many customers since then.
It works with all cooktops, especially the frying pan-selective induction cooktop. As a result, you don't need a particular cooker or stove for this product.
The Lagostina frying pan also has a dishwasher-safe rating which means ease of cleanup. However, as you know, we like to hand wash to prevent scratches.
Benefits of Lagostina White Frying Pan
●    Portability
At just 2 lbs, the Lagostina White Frying Pan is lightweight and easy to handle. As a result, you can easily take this frying pan wherever you wish. Whether on field trips, camping, or while traveling, Lagostina is the proper companion if you love omelets, bacon, or chicken treats.
If you want, its compact size ensures you can fit it into your backpack or camping bag without much hassle. In addition, using it is not a problem since its small footprint fits into any space available for cooking.
●    Versatility
Another benefit you'll get from this frying pan is that it serves many purposes. Its depth helps it serve as a pot and a frying pan at the same time. You can simmer food, boil eggs, fry chicken, or roast bacon in one utensil. From making fruit salads to dumplings, the Lagostina pan has you covered.
You can also use it with any cooktop. One unique feature is that Lagostina is also compatible with induction stovetops.
●    Energy-Conserving
The Lagostina white frying pan has a stainless steel and aluminum alloy that helps distribute the heat on its surface evenly. This alloy also picks up heat quickly from the cooktop, which ensures faster cooking times.
In addition, the ceramic coating ensures you use less fuel and save more energy when cooking. This frying pan retains a lot of heat, so you do not need to use the maximum heating setting. As a result, it is excellent for deep frying and light frying foods.
●    Lifetime Warranty
You get a lifetime warranty with every unit you purchase. Lagostina offers a dedicated customer care support line. As a result, you can contact them for a replacement or advice if you encounter issues when using the frying pan.
●    Stability
The heat-resistant stainless steel handles stay fixed to the frying pan by two sturdy screws. The handles do not heat up fast, so you can safely lift the pan. Also, they do not flex when lifting the pan.
Also, the pan's core contains a sturdy alloy of two high-density metals. This way, it does not wobble or warp. As a result, you can easily use Lagostina without fear of spilling oil or hot food.
The ceramic finish also prevents the pan's surface from getting scratched or worn while you use it in the kitchen.  Remember not to use metal utensils on ceramic.
Pros
Very appealing to the eyes
Cooks fast
Saves heat
Includes lifetime warranty
Serves different purposes
Customer support available
Does not wobble when in use
Easy to clean
Cons
Works best at medium temperature
Larger pan sizes not available
Frequently Asked Questions
1.   How do you clean a Lagostina white pan?
Cleaning this frying pan is simple. Wipe the pan's surface with a soft sponge dipped in soap-filled warm water. Also, avoid scratching the pan, and do not pour cold water into a hot pan.
2.   Is Lagostina a good brand?
Yes. Lagostina makes one of the best frying pans and cooking pots available online. Some perks are that these utensils are high quality, easy to clean, energy-saving, and lightweight.
3.   Are Lagostina frying pans oven safe?
Yes. The Lagostina frying pans do not wobble or warp when in use. It has a sturdy handle that does not get hot quickly. In addition, the frying pan also has a protective ceramic coating.
4.   What is the best frying pan for everyday use?
If you're looking for a frying pan that is durable, lightweight and heats up fast, the Lagostina white frying pan is one of the best options. This product works with any cooktop and can serve multiple purposes.
Wrapping Up
The Lagostina white frying pan beats many competitors because of its versatility. If you've dreamed of a product that can serve as a pot and pan or one you could use to cook, fry or roast almost everything, Lagostina has you covered.