The Pioneer Woman is not simply about dishes and other kitchen or home living products but about a way of life. The Pioneer Woman recipe books, cooking tips, and bakeware have taken the market by storm. These items not only give your kitchen a fantastic style but also the functionality.  Let's focus on the Pioneer Woman casserole dish with lid.
The Pioneer Woman Casserole Dish is a stoneware dish that creates sweet and savory recipes. This article covers everything you need to know about this eye-catching dish.
Design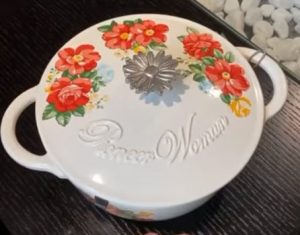 The handles are the first thing to notice about the design of the Pioneer Woman casserole dishes. The handles allow for easy transport from the oven to your table. Furthermore, the lids help keep your dishes warm and come with convenient knobs.
Each mini casserole dish is decorated with Ree's signature floral design, and available in yellow, teal, red, or blue. The decorations match perfectly with other Pioneer Woman products and add a vintage-country feel to your table. You can also interchange the intricately designed lids for an extra colorful feel.
The Pioneer Woman Casserole Dish Features
●    Sturdiness
The Pioneer Woman Casserole Dish and the matching lid are made with stoneware. Stoneware pottery differs from other pottery due to its strong, hard, and nonporous nature. These characteristics make it extra durable. Its durability is what makes it so perfect for cooking and baking. Meals cooked in stoneware tend to cook better because they distribute and retain heat more evenly than other pottery.
Being made from stoneware, you can also use the Pioneer Woman casserole dish in a microwave and dishwasher. It can go from your oven to the table and then to the refrigerator or the dishwasher, thus reducing dirty dishes.
●     Size
This mini casserole dish is just the size for an individual portion. It holds 14.4 oz or 1.75 cups of liquid. It is about 4.25″ in diameter at the top of the casserole dish and 2.25″ high. If you are cooking for one or wish to spruce up your dinner party look, this little dish is a perfect size.
●    Functionality
Other than cooking, the Pioneer Woman casserole dish is perfect for serving. Because of its heat retention qualities, it can be used to keep your food warm. This means you can prepare a meal and keep it warm until ready to serve.
You can also use stoneware casserole dishes for storing leftovers. Once your dish has cooled, cover it with the lid and place it in the refrigerator. The food can then be reheated without changing plates, in the oven, or the microwave.
●    Lids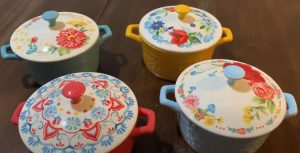 The mini casserole dishes are convenient for your dining room table and for an outdoor picnic or a meal on the patio or balcony. Thanks to its lids and handles, you can transport them easily to enjoy your meal anywhere.
The lids also help avoid over-browning during cooking, particularly for food with more prolonged cooking or baking time, which may result in a dark coloring or a dry texture. Some recipes require covering for all or part of the cooking time; having a dish with a lid makes this process a whole lot easier, with no need to use foil or try to find a cover that fits.
The Pioneer Woman lids are adorable, adding to the overall appeal of the dish.
Cleaning and Care
Stoneware's strong glaze is almost completely non-stick and hard, which makes the casserole dish extremely easy to clean. A plastic-bristle brush or a sponge will do when washing your dish. For extra hard stains, e.g., burned cheese or dried food, a 10 to 20-minute soak in warm soapy water will get it right off.
Pros
Convenient and easy to use
Durable
Non-stick
Aesthetically appealing
Cons
The design may fade in time
May be too small for some
Benefits of the Pioneer Woman Casserole Dish with Lid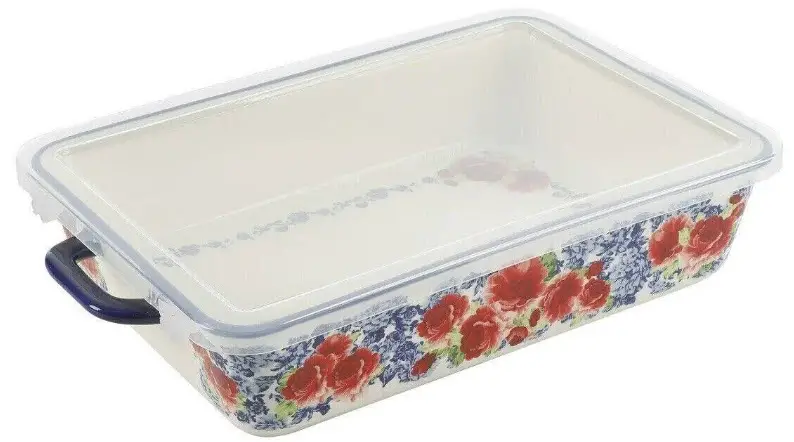 A significant advantage of the Pioneer Woman casserole dish is that it is all-in-one. You can prepare, cook and serve your meal in this mini casserole dish and refrigerate and reheat your meal. As a stoneware dish, the Pioneer Woman casserole dishes can withstand heat and retain it long enough to keep the food warm. It also ensures that heat is distributed evenly, providing a perfect cooking temperature. The handles and lid also add to the muli-use of this dish.
A second advantage to opting for the Pioneer Woman Casserole Dish is the size, which is a perfect individual portion. At 14.4 oz, it is perfect for an individual portion. Suppose you are cooking for one or have picky eaters at home. In that case, it is easy to prepare separate dishes with different ingredients, for example, a casserole with mushrooms for one family member and one or more without. Serving customized dishes has never been easier.
Furthermore, the intricate design adds a vintage country flare to your dinner table. In addition to the functionality of the lids, the mini casserole dishes each have a lid with Ree's signature floral design. The design may add color to your table, but the lids are far more than just a pretty addition to the dish. The lids allow extra cooking time without over-browning or drying out the food; they make transportation more manageable if you want to enjoy your meal outdoors and also assist in keeping your food warm or storing leftovers.
Other Products By Pioneer Woman
The Pioneer Woman series does not stop at casserole dishes; there are a variety of baking and cooking dishes available. All the bakeware matches perfectly together, creating a perfect vintage feel in your kitchen.
The Pioneer Woman Harvest Bakeware Set includes everything you need to make delicious desserts and casseroles. This set has a loaf pan, a rolling pin, measuring bowls, and spoons. Ree's signature floral design decorates all the pieces, which matches other pieces in the collection. This set can mix and bake the perfect cake or meatloaf. To ensure easy cleaning, all items are dishwasher safe.
Another great item to complete your baking set is the Pioneer Woman Willow 8-Piece Set. This set is mainly helpful for recipes where precision is of the greatest importance. The durable stoneware pieces include ¼ tsp, ½ tsp, 1 tsp, and 1 tbsp measuring spoons as well as ¼ cup, 1/3 cup, ½ cup, and 1 cup measuring cups. True to the feel of Pioneer Woman, each item has beautiful decorations, which are Ree's signature floral design and vibrant pops of red, blue, and yellow.
Overall Thoughts
The Pioneer Woman casserole dish is a true gem in the kitchen. Its sturdy and durable materials, alongside the intricate design and vivid colors, add a little something extra to your spread. However, the benefits of the casserole dish do not stop at the design. The extreme functionality of the mini casserole dish makes it a must-have for every kitchen.
The individual size and convenient design make it perfect for serving variations of the same meal. At the same time, the cute lids allow you to transport dishes to outdoor venues easily or to keep a dish warm before serving. So, if you are looking for practicality or are usually swayed by design, the casserole dish will tick both those boxes.