Deciding on the type of cookware to buy can be quite confusing. The type of kitchen cookware you use is part of what defines your kitchen; whether or not you like cooking, you will have to decide what kind of cookware dominates your kitchen. You may want to change your cookware set to something better, and you find yourself wondering about what type it should be. Today we look at Le Creuset vs All Clad.
Choosing between Le Creuset and All Clad can even be more confusing. When it comes to high-end cookware, both Le Creuset and All Clad perfectly fit this category. They are also known for their excellent performance in the kitchen. Thousands of reviews point to the super performance of both brands. This is why we have compiled the relative features of each brand. In this article, you will see how both brands contrast.
Before comparing the relative features, let us briefly discuss their histories.
What is Le Creuset?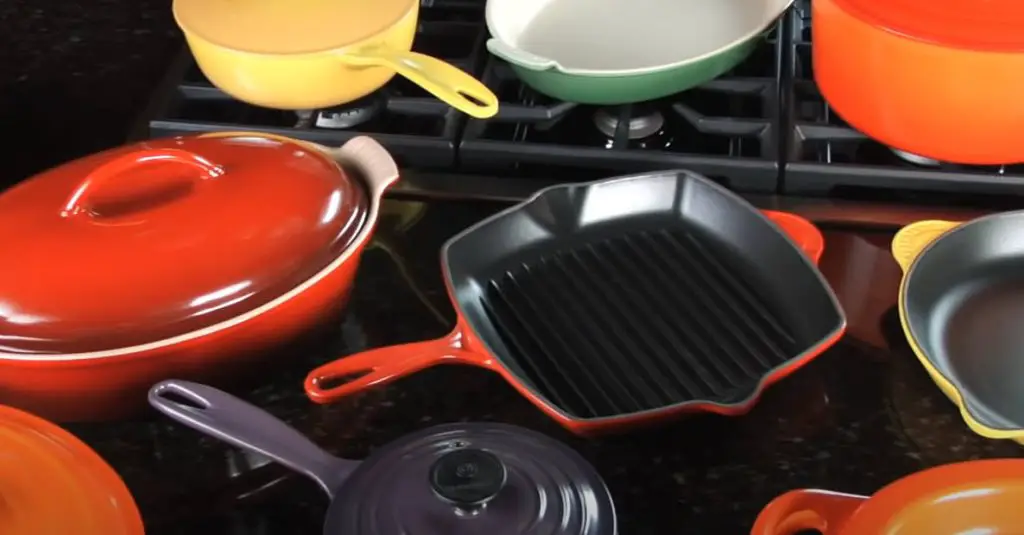 Le Creuset is a well-known French cookware brand. The French firm has been in operation since 1925. They are renowned for their enameled cast iron Dutch ovens. Le Creuset manufactures stainless steel cookware in addition to enameled cast iron. Stoneware casseroles are also available.
Le Creuset cookware is known for being both visually appealing and functional. They have consistently improved the quality of their cookware over the years. They have set a precedent by staying at the top of their game.
Le Creuset pots and pans are originally red—volcanic red. Although their products are also available in orange and other similar colors, the volcanic color remains their original.
What is All Clad?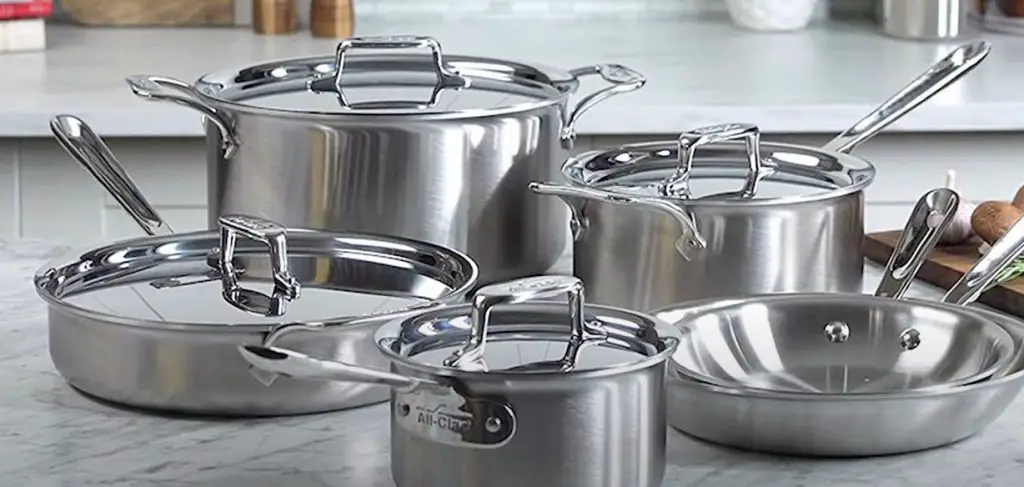 All Clad is a well-known brand of American cookware. John Ulam, the company's founder, was a metallurgist. In 1967, he founded All Clad. Interestingly, All Clad was not always in the business of making cookware; it was primarily used to make coins. They have, however, been producing high-quality cookware for many decades.
All Clad is well-known for its stainless steel cookware that is fully clad. This steel-based cookware is available in a variety of styles designed for specific purposes. They provide a variety of cookware options and are designed to be both elegant and long-lasting.
All Clad is a major player in the premium stainless steel cookware market. There was nothing like fully clad steel cookware before All Clad. All Clad was the first to produce fully cladded steel.
What Type of Cookware Does La Creuset Produce?
Le Creuset cookware is nonstick ceramic and designed for use over an open flame. The company produces bakeware, kitchen accessories, and oven and stovetop cookware.
While La Creuset offers a variety of cookware, the materials used to make them are all the same. The skillets from Le Creuset are made of enameled cast iron, while the fry pans are made of stainless steel. The only other material available besides the brand's signature enameled cast iron is stainless steel.
So, in general, Le Creuset produces the following types of cookware:
The stainless steel cookware
The signature Dutch Ovens (oval or round)
What Type of Cookware Does All Clad Produce?
All Clad is a cookware and kitchenware manufacturer. They offer a wide variety of products, such as saute pans, stock pots, skillets, baking sheets, and more.
The stainless steel in the core product line provides superior heat conductivity, durability, and stain resistance. The natural beauty of copper or copper-nickel alloy is also retained by stainless steel. However, they have a copper core and hard anodized (nonstick) variants. The materials are usually layered.
All Clad cookware is oven-safe and ready to use. A limited lifetime warranty backs clad cookware against manufacturing and material defects.
The types of cookware produced by All Clad are:
The D5 line
The D7 line
Copper Core
The Tri-Ply
What Are the Differences Between Le Creuset and All Clad Cookware?
Even after learning about their histories and reputations, it may be difficult to choose between the two. They both have solid credibility and prestige. They both provide high-performance cookware that meets or exceeds expectations.
All Clad is known for its steel-based cookware, whereas Le Creuset is known for its enameled cast iron pots and pans. The fact that Le Creuset also manufactures steel-based cookware is intriguing. However, the enameled cast iron cookware will be the main focus. So, distinguishing between the two brands entails selecting between two distinct materials.
To compare the two premium cookware brands, their features must be investigated. You can determine which is best for you when you understand what each brand specializes in. The highs and lows of both brands will assist you in deciding which one you prefer.
Let jump in; Le Creuset vs All Clad.  Here are the various categories in which both cookware brands will be distinguished:
Performance
Performance is one of the most important factors in deciding which brand to buy. Of course, everyone purchases cookware for its functionality. Purchasing cookware that does not serve its intended purpose would be a complete waste of money.
The lid of Le Creuset's enameled cast iron cookware fits snugly. It can sear perfectly without any hiccups. No, Le Creuset cookware is not suitable for induction cooking. Le Creuset cookware retains heat well due to its thickness. When compared to All Clad's stainless steel, it can hold heat for a longer period of time. However, due to the thickness of the enameled iron-cast cookware, it does not heat up quickly. Although Le Creuset makes steel-based cookware, it does not outperform All Clad in this category. Le Creuset does not adhere well. This means there are times when Le Creuset sticks.
Heat distribution is excellent in All Clad's fully clad steel. The hot spot is minimal when you cook with All Clad's steel cookware. Because of the even distribution, it is ideal for searing. There are some All Clad cookware models that are not induction-compatible. Furthermore, All Clad cookware does not hold heat as well as Le Creuset cookware. Although the D5 line retains heat for longer, it cannot compete with Le Creuset cookware. All Clad cookware is more prone to sticking.
Size
Le Creuset cookware, particularly the Dutch Oven, is available in a variety of sizes. Large sizes up to 12 inches for pans and 15 quartzes for the Dutch Oven are available. When you have a large group of people over, you don't need to use more than one pot.
All Clad cookware is also available in a variety of sizes. The brand also offers large sizes of cookware that can be used to prepare a large amount of food. However, the All Clad Dutch Oven does not come in a variety of sizes.
Design and Appearance
Le Creuset cookware is always beautifully designed. It is the type of cookware that you want your guests to notice. Measuring marks are included with Le Creuset cookware. There is no denying that this feature makes cooking easier. Le Creuset cookware is available in nearly every color imaginable. The color of Le Creuset cookware makes it even more appealing, and there are many to choose from.
All Clad cookware is gleaming and modern. It does not come in a variety of colors like Le Creuset cookware, but you don't have to tell anyone before they know your All Clad cookware is made of premium stainless steel. On the other hand, the brushed, shiny finish of the D5 line is a plus. Clad cookware is available in grey or black.
Weight
Some people are unconcerned about the weight of their cookware, while others are.
All Clad cookware is significantly lighter than Le Creuset cookware. The reason for this is due to the material used.
Weight is not an issue for All Clad. All Clad cookware is lighter than Le Creuset cookware because it is made of steel. All Clad cookware can be moved a hundred times without complaint.
Price
You probably expected this: All Clad and Le Creuset cookware are expensive. The two cookware brands operate at the 'premium level.' As a result, their prices are typically higher than those of standard cookware.
The cost varies according to the size. Le Creuset Dutch ovens cost around $350-$400, depending on the model. Enamel cast iron cookware starts at $150.
The price varies depending on the size
and other features. The price of an All Clad Dutch Oven is around $200. The frying pans begin at $100.
Lids and Handles
Pots and pans are more than just the size of the pot; other factors contribute to your preference.
Le Creuset cookware is distinguished by hollow handles that quickly cool. Their rounded shape makes them very easy to hold. Le Creuset cookware has lids that are easy to hold due to their metal knobs. However, some people find the lids difficult to grasp.
All Clad cookware has rounded handles that are relatively easy to grasp. Although the D3 line's handle is uncomfortable to hold (due to its U-shape), the other All Clad cookware lines are. All Clad lids are distinguished by their metal handles. When wearing gloves, the lids are frequently difficult to grasp.
Is Le Creuset More Durable?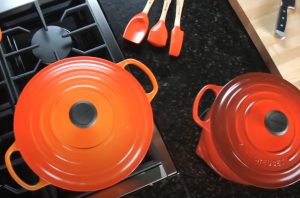 People assume that because La Creuset cookware is made of enameled cast iron, it will be the most durable of any cookware. Every type of cookware, however, has its limitations.
Le Creuset cookware is exceptionally long-lasting. Its weight is not insignificant. Because you don't move it around as much as other cookware, it retains its features for a long time. The enamel coating strengthens the cookware. The enamel coating may begin to peel off after a long period of scrubbing. When this occurs, you have the option of recoating the cookware.
Le Creuset cookware can last for decades without losing value.
All Clad has mastered the art of steel-based cookware and set a high-quality standard. This is reflected in the cookware's durability, as they are incredibly long-lasting. Clad cookware can be passed down through the generations. However, wear and tear are unavoidable over time. Due to continued use, the bottom of All Clad cookware may become discolored.
Which Cookware Is Oven Safe: Le Creuset vs All Clad?
All these types of cookware can be used in the oven. They have strength levels that validate the hype surrounding them as premium cookware.
The only difference between the two in terms of oven safety is the degree to which they are safe in the oven. Le Creuset cookware has a different limit than All Clad cookware because it is made entirely of various components.
Le Creuset cookware is oven safe to 500°, while All Clad cookware is oven safe to 600°.
Which is dishwasher safe: Le Creuset or All Clad Cookware?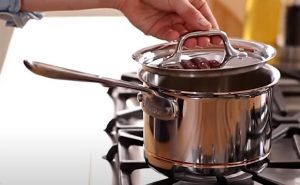 Le Creuset and All Clad cookware can be washed in the dishwasher. They do, however, follow strict guidelines.
It is not recommended to use the dishwasherwith Le Creuset cookware. This is due to the fact that it is enameled cast iron. Because of the dishwasher's washing conditions, the cookware can become dull over time.
The heat from the dishwasher can cause All Clad cookware to corrode.
Where Is Le Creuset Cookware Manufactured?
Le Creuset is a French company, as previously stated. Le Creuset cookware is primarily produced in Portugal, France, and Thailand.
Where Is All Clad Cookware Manufactured?
Clad cookware is made entirely in the United States of America. The hard-anodized aluminum line is manufactured in China.
Where Can I Get Both Brands of Cookware?
Le Creuset cookware is available on the company's website (lecreuset.com). Similarly, All Clad cookware is available on their website (allclad.com).
Alternatively, both brands of cookware are available from major reputable retailers.
The Bottom Line: Which Cookware Is Better?
After you've determined the differences between Le Creuset vs All Clad cookware, the ball is in your court. There is no definitive answer as to which is superior. Your decision should be based on which features are most important to you. The cookware that best meets your needs and preferences will be your final choice.
If you value the freedom to 'test different waters,' you might prefer All Clad over Le Creuset. On the other hand, if you prefer a high-quality, well-known brand, you might want to go with Le Creuset.
Le Creuset is your best bet if you like a wide range of colors in your kitchen. However, if you appreciate the solid elegance of All Clad cookware, go for it!
Whatever decision you make Le Creuset vs All Clad, you will be making a wise investment.