World-famous chefs and home cooks share one thing. This is the passion for All Clad cookware; arguably the best on the market. Cookware is expensive, like other hot-ticket items. However, any good chef will tell you that spending more on cookware is the way to go! With All Clad prices though, you get the best bang for your buck. This is why most chefs and home cooks choose from All Clad's best-selling products; the D3 and D5.  So, what's the difference between All Clad D3 and D5?
Differentiating and choosing between All Clad D3 and D5 cookware can be difficult. As a result, we've gathered information on two popular All Clad cookware sets to assist you in making your decision. From the differences between the All Clad D3 and D5, their benefits, and All Clad reviews.
A Little Bit About All Clad
All Clad is company that originated in Pennsylvania, USA, that began as metallurgists company that focused on bonding high quality metals. The US-based company, founded in the 1970s by John Ulam, then applied their metalworking expertise to the cookware industry, producing high-end, finely crafted items.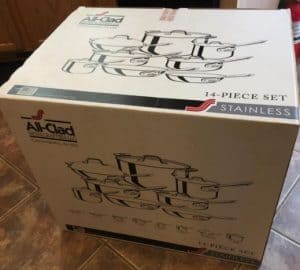 Prior to the establishment of All Clad, most of the brand's cookware was made of aluminum. These were inexpensive, plentiful, and did an excellent job of evenly distributing heat during its use. The only problem with their brand back then was that it was not long-lasting. Even though stainless steel was cheap and plentiful, as well as durable and stable, no cookware manufacturer considered making cookware out of it due to its poor heating properties.
This changed when John Ulam developed the cladding process. This process essentially sandwiches aluminmum between the layers of stainless steel. The stainless still is durable, and even heating. His Clad cookware discovery was an instant success, as he began selling at trade shows, attracting the attention of professional chefs all over the world.
What Types of Products does All Clad Sell?
Since its inception in 1971, All Clad has become one of the world's most popular cookware brands. Although the company is best known for its cookware lines, including the D3 and D5 lines, it also provides a wide range of kitchen accessories and ovenware.
Some of the All Clad products available on the global market include:
Skillets
Nonstick frypans
Stockpots
Stainless steel frypans
Casseroles
Cookware sets
Sauce pans
Grill pans
Ductch ovens
Saute
French braisers
Griddle Pans
Chicken Fryer
Saucier
Stackable Cookware sets
Egg pans
Open Stir Fry
Pasta Pentolas
Sear and Roasts
What is All Clad Known For?
All Clad product lines have the same high-quality stainless steel cooking steel surface and exterior. This feature produces long-lasting cookware compatible with any kitchen cooking surface, including induction stoves. The main distinction between the lines is the extra stainless layer in the center. When all layers are combined, this cookware brand distributes heat evenly, making it ideal for long cook times and does not react with food. This surface feature also facilitates cleaning. It does, however, have a disadvantage.
Despite differences in construction and layers, the All Clad cookware brand is one of the most affordable stainless steel cookware brands on the market when compared to the materials used by competitors. They are not inexpensive! If you cook frequently and consider the long-term usefulness, it can quickly become a worthwhile investment.
The brand's reputation for durability is also important. Because of its durability, stainless steel is used in all lines. Regular use of this cookware would be unlikely to result in severe damage. Any utensil can be used on them; metal may leave fine scratch marks, but not enough to affect the performance of the cookware.
Furthermore, all lines of All Clad cookware have riveted handles that are known for never becoming loose even after years of use. These rivets are also corrosion-resistant and made of high-yield strength steel – they are built to last.
Let's Talk About Two of All Clad's Top Selling Products
The D3 and the D5
Before we get into the differences between All Clad D3 and D5, let's look at each set separately.
The All Clad D3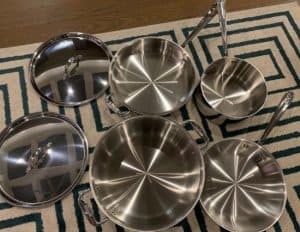 The All Clad D3 is the most popular cookware range from the All Clad brand. They are a versatile, mid-range range within a high-end cookware brand. The "3" in "D3" refers to the three metal layers in the cookware. It has an induction-compatible stainless steel bottom layer, a rapid-heating aluminum inner core, and a nonreactive 18/10 stainless steel top layer. In layman's terms, the cookware heats up evenly and stays hot for a more extended time. The D3 pots and pans are compatible with all cooktops and can be used in the oven at temperatures up to 600 degrees Fahrenheit.
The All Clad D5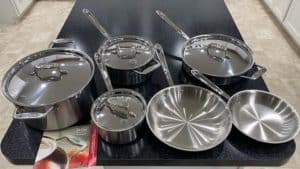 The All Clad D5 cookware line expands the D3's three bonded layers to five bonded layers. It has a durable 5-ply bonded construction that alternates between stainless and aluminum coatings, and it is thought to provide increased resistance to warping. Because there are more layers, it also adds a little extra heft. Five-ply cookware also heats up faster and more evenly, with fewer hot spots. D5 from All Clad is typically available in brushed (matte), and polished (shiny) finishes.
This All Clad line allows the chef or home cook to brown food like never before. This appliance helps promote and even heating for your food. The even heating then helps prevent any burning or searing.
Among the items from All Clad's D3 and D5 are:
D3 stainless steel 12-Inch Fry pan
D5 stainless steel Nonstick Covered Fry pan
Copper Core 12-Inch Fry Pan
G5 Graphite Core 10.5-Inch Skillet
HA1 Hard Anodized Nonstick Fry Pan Set
Essentials Nonstick Skillet Set
Fusiontec Skillet Fry Pan, 9 1/12″
D3 Quart Sauce Pan
The D3 6 Quart Deep Saute Pan
D3 – Armor (Fish Pan)
Stainless Roasting Pans with Nonstick Rack
What is the Difference Between All Clad D3 and D5?
The primary distinction between the All Clad D3 and D5 is in the construction of the cookware. As the name suggests, the All Clad D3 is a three-ply cookware, and the D5 is a five-ply. This variation in structure affects the performance, quality, and longevity of each All Clad cookware line.
Construction
The D3 cookware bonds only 3 layers. Whereas that's incredibly durable, the D5 (as the name suggests) has 5 bonded layers!
Performance
The D5 cookware line outperforms the D3 cookware line in terms of performance. The D5 provides even, consistent, and precise cooking that can elevate meals to a whole new level. In the case of the D3, it gives a more responsive, faster option. However, for faster cooking, the D3 range is the best option.
Price
Naturally, the D5 cooking appliance does cost more than the D3, but that is to be expected given that is has added bonded layers.
Durability
Although both lines are durable, the construction of the D5 has a higher performance rate than the D3 when it comes to durability.
Design
At first glance, both lines appear nearly identical, and it is often difficult to tell the difference in design. The D5's lid handles, on the other hand, do have the the All Clad logo engraved in them. They're also a little thicker.
Weight 
The D5 line is thicker than the D3. Although, both All Clad lines are lightweight for kitchen use.
Is All Clad D3 Better than D5?
The All Clad D5 line is technically superior. Because of its five-ply construction, the design, construction, and performance outperform the All Clad D3. If you want to pick the best of the two lines, the D5 is the way to go.
However, if you need cookware that heats up quickly and reacts to heat because of your cooking method, or if you don't have the budget for the D5, the D3 line is also a good option.
Whichever option you choose, the quality of the lines will not be compromised. You will be pleased with the high quality product!
Which Product is More Durable?
Both lines of All Clad cookware are long-lasting. One factor contributing to the brand's global acceptance is its commitment to high-quality cookware. The construction is such that it can be used during cooking with high heat conductive surfaces that do not react with food, allowing you to achieve the desired flavor quickly.
In other words, stainless-steel cookware is low-maintenance and durable, and it can be used with any ingredient. The aluminum core increases conductivity, allowing the pan to quickly and evenly adjust to temperature changes. While the initial cost is high, this cookware will last a lifetime if adequately cared for.
Are All Clad D3 and D5 Dish Washer Safe?
There is no special coating on the All Clad cookware, D3 or D5, which requires much upkeep. For everyday cleaning, all that is needed is water, soap, and a non-abrasive sponge. You can also wash them in the dishwasher because both lines are dishwasher safe. However, dishwashers can easily dull the stainless steel of your cookware.
Can All Clad D3 and D5 Go into an Oven?
The All Clad D3 and D5 are oven and broiler safe up to 600 degrees Fahrenheit. That temperature is sufficient for most cooking tasks, but it is important to note that the temperature rating applies only to All Clad pots and pans. The lids are not included.
Although the lids are made of stainless steel, they are much thinner than the pots and pans themselves. The lids do not have any temperature ratings.
What are All Clad D3 and D5 Made From?
The All Clad D3 and D5 lines are both made of stainless steel with layers of aluminum sandwiched between the two layers of stainless steel. The majority of All Clad cookware is still made in the United States, with a few exceptions made in China.
Are These Pans Safe to Use?
The All Clad Pans are appropriate, suitable, and safe for cooking in any home or business. They are made of high-quality materials and can be used for any cooking that does not exceed 600°F.
Are the All Clad D3 and D5 Pans Nonstick?
All Clad Cookware is well-known for producing high-quality, long-lasting cookware. It heats quickly and evenly, and the stainless-steel interior prevents food from sticking.
Things to Keep in Mind Before Purchasing the All Clad D3
The D3 design is straightforward, with a single layer of aluminum sandwiched between two layers of stainless steel. This feature enables it to heat up quickly and evenly. If rapid heating is essential to you, the D3 is your model.
What You Should Know Before Purchasing the All Clad D5
The D5 design is slightly more complex than the D3. The D5 has more aluminum layers and a stainless steel core sandwiched between the exterior and interior stainless steel. This line is ideal for slowly heating food and keeping it warm for an extended time.
Final Thoughts on the Difference Between All Clad D3 and D5
All Clad manufactures some of the most functional and long-lasting stainless-steel cookware on the market. While the cookware brand produces a wide range of cookware, the D3 and D5 are the products on which they have built their reputation. They are long-lasting, nonreactive, versatile, and simple to maintain.
After comparing the All Clad D3 and D5, it is clear that each line is distinct and well-suited for kitchen use. Regardless of the differences in features, it is up to you to choose the best line for your specific tasks and cooking style while keeping your budget in mind.