Quiche or tart pans can come in any shape, size, and color. I usually love displaying my ceramic bakeware and flaunt it anytime I have friends over. Even before they get a bit of tart, they don't fail to compliment my collections, and I have recommended some quiche pans to several of them. I prefer ceramic to any other tart dish sold. Some quiche dishes come in ceramic, elastic silicon, stainless steel, and non-stick alloy.
You would find two types sold, removable bottoms and mended bottoms. However, I will recommend the Chantal ceramic quiche pan, which isn't detachable and is durable.
Difference Between Pie Pan and Quiche Pan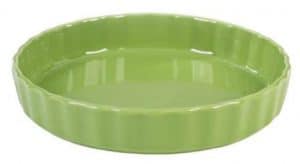 Before we look at the Chantal ceramic quiche pan, let me explain the difference between the regular pie pan and quiche pan. Some people don't know what makes these two distinct bakeware's different.
You can tell a pie pan from a quiche pan by looking at its appearance. Pie pans also don't always have a detachable bottom, but some do. However, they are different in thickness and shape. You can use them to make your apple pie or blueberry pie.
Quiche pans usually have straight sides, but some come with fluted sides. You can use a quiche pan to make several attractive snacks. These pans also come in different shapes; they could be round, rectangular, or oval. You can use your quiche pans to serve your snacks as soon as you finish baking.
What to Look for When Buying a Quiche Pan
If you plan on getting a new quiche pan for your tart, there are certain things you should look out for. We chose the Chantal ceramic quiche pan because of its quality, and it has the best features for your baking needs.
However, before you make your purchase, we will show you the features that make an excellent quiche pan.
Durability
When I visit the bakeshop or shop online for my bakeware, I tend to look out for the strength and durability of a product. However, if you are spending money on a quiche pan, your concern should be about how long it can serve your needs.
The first thing I look at is reviews or customer feedback, where people tell you their first-hand experience using their bakeware. After that, I try to learn everything I can about the product I'm getting, including warranty information.
You can use this information just in case something is wrong with it, and you need to get it replaced. For example, if it falls under the warranty, then it won't cost a dime to replace it.
Maintenance and Cleaning
Another essential feature that helps you decide which quiche pan to get is cleaning and caring for the bakeware. Some brands like the Chantal ceramic quiche pan are dishwasher compatible.
You should look at the user manual of any brand to know if you can use your dishwasher machine to clean it. If it works well with it, this makes your cleaning easier and faster. I mean, let's be honest, not everyone likes to go through the hand-washing process.
Removable Bottom
The removal bottom is not available in all quiche pan options. The purpose of the removable bottom is to make it easy to remove the tart without ruining its appearance. Some people like the appearance of the detachable option.
The base is often made of some non-stick material to make it easy to separate the tart from the pan. This design also makes it easy for your baked snacks to cool down faster. However, you won't need a removable bottom when you use a ceramic pan like the one from Chantal.
Thickness
The thickness of the pan is also another feature that determines how well your snacks come out. Some bakers prefer a thinner pan, while some opt for a much thicker version. Again, your choice will determine how efficient your baking will be.
Getting thick bakeware like the Chantal ceramic quiche pan allows your snacks to cook evenly and even get that crusty golden-brown look.
Size
Like I mentioned earlier, quiche pans come in different shapes and sizes. Some come as very large, while you can also get the mini-sized quiche pans. The large-sized pans are for larger servings, while the mini pans are for smaller servings.
Your choice will depend on whichever best fits your needs.
Why You Should Get the Chantal Ceramic Quiche Pan
One of my favorites is the Chantal ceramic bakeware which comes in a stunning design. It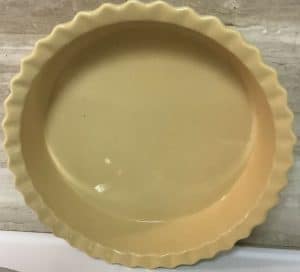 has a glossy feel, and you can get this quiche pan in several vibrant colors. The Chantal bakeware is made from high-quality, durable ceramic material and can be used in your oven or microwave.
Like all ceramic cookware, it can withstand high heat temperatures and won't crack. You can serve it straight from the oven without needing to transfer it to any serving dish. The pan is also knife safe because it won't scratch. You won't need to consider getting a detachable tart dish because it is easy to get your snacks from the non-stick ceramic.
The Chantal ceramic quiche pan comes in a 10-inch round pan and is non-porous. It does not keep any stains or food odor, and it is easy to clean the pan. In addition, it has a one-year warranty on any defect from the manufacturer in case of cracking, fading, or crazing.
Final Thoughts
If you have decided to get a quiche pan, I recommend you get this Chantal bakeware for your tarts. It is one of the best products sold, and you will enjoy your baking experience using it. There are many positive reviews or feedback about this quiche pan, and Chantal has a reputation for making only quality cookware.
Chantal ceramic quiche pan is durable and made using high-quality materials. You can't go wrong when you choose this quiche pan. It is scratch-free, and even when you have leftovers, you can store your snacks in the refrigerator. In addition, the pan is safe, non-porous, and won't contaminate other food in your freezer.