Owning and using a dishwasher indeed makes things thousand times more manageable in the kitchen. Using a dishwasher is perfect for those that are always on the go or for those that need the extra time for other activities.  In this article we will ask the question:  Can Ceramic Pans Go in the Dishwasher?
Many will argue that using a dishwasher is superior to handwashing, and they have some good points! Dishwashers are more energy-efficient and cheaper than handwashing! Washing dishes by hand can take much longer than simply putting the dishes in the dishwasher.
It may seem counterintuitive that dishwashers save you money, but by washing dishes in bulk you are saving water. Washing more dirty dishes at one time saves water, energy, and money.
There are a few examples of when dishwashers are not as helpful as they appear. Owning certain cookware items, such as ceramic pans, you may have to handwash rather than use the dishwasher.
Want to know more about using the dishwasher for your ceramic pans? Keep reading to learn how the dishwasher is affecting your ceramic pans!
Can Ceramic Pans Go in the Dishwasher?
Those That Can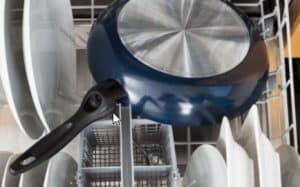 How can you tell if ceramics are dishwasher safe?  Some cookware brands state that they are dishwasher-safe; however, almost every brand highly suggests handwashing. Most ceramic pots and pans can go into the dishwasher when it is time to clean, but there are many reasons that they should not. Despite not being the best decision for your ceramic pan, the following cookware companies manufacture ceramic pans that are dishwasher-safe:
GreenPan Padova Ceramic Non-Stick Open Frypan
Faberware Ceramic Dishwasher Safe Nonstick Fry Pan
Initiatives Ceramic Nonstick Fry Pan
Neoflam Midas Ceramic Nonstick Fry Pan
All-Clad Fusiontec Fry Pan
ScanPan Classic Fry Pan
T-Fal Ultimate Hard Anodized Fry Pan
…and so many more!
Dishwasher-safe ceramic pans are not uncommon nowadays! While these ceramic pans are dishwasher-safe, it is important to fully read their instructions. Many instructions will include a suggestion for handwashing.
Those That Cannot
While most ceramic pots and pans are dishwasher safe, some ceramic items definitely can not be used in the dishwasher. Some earthenware and stoneware can not go into the dishwasher because they are made with less refined clays. This means that they are fired at a lower temperature and that they are more fragile and porous.
Porous materials should never go into a dishwasher. Unglazed ceramics and most ceramic mugs are often too porous for the dishwasher. When an item is porous, it has a higher absorption rate.
Advantages and Disadvantages to Using a Dishwasher
Advantages
Anyone that spends a long time cooking and cleaning can vouch for the joy of a dishwasher. A dishwasher comes in handy for a busy kitchen. With a dishwasher, individuals can shave time off of their cleaning process. Using the dishwasher frees up time to do other things in or out of the kitchen.
Not only does it save time, but it is also much easier. Sometimes standing over the sink for a long time is strenuous for chefs of all ages. Dishwashers can save someone the pain and aching of handwashing.
Disadvantages
Does putting pans in the dishwasher ruin them?  The downside of using a dishwasher for your ceramic pans is many. Using a dishwasher to clean your ceramic cookware decreases the lifespan of the cookware.
Many dishwashers use harsh detergents that can contain bleach or citric acids. Things with bleach and citric can be too harsh on the finish of ceramic pans. Ceramic pots and pans that have bright glazes can lose the polish and shine of the glaze because of harsh dishwasher detergents.
The detergents aren't the only thing that can ruin your ceramic pan, but the high drying temperatures can also affect it. High drying temperatures can affect the nonstick properties of your ceramic pots and pans.
Handwashing Your Ceramic Pans
How Should You Handwash Your Ceramic Pans?
When handwashing your ceramic pots and pans, it is pertinent to allow the ceramic cookware to cool completely before washing. Dunking or rinsing a hot ceramic pan in cold water affects the internal integrity of the pan and the nonstick finish of the glaze.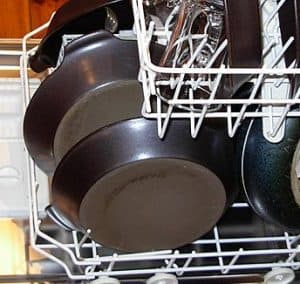 It is vital to let the pan cool so that you increase the longevity of the pan. If the ceramic is older or made 100% of ceramic, a drastic temperature change can crack or warp your ceramic pan.
After the pan has completely cooled, use only a soft sponge, cloth, or non-abrasive scrubber. A non-abrasive scrubber protects the nonstick coating from being damaged or scratched.
Also, avoid harsh detergents. Harsh detergents can change the color and shine of a ceramic pan. If you use a gentle detergent, you can keep your ceramic pots and pans looking good as new.
Why You Should Handwash Your Ceramic Pans?
When investing in a good ceramic pan, you will want to take give it the utmost care. Not only to increase its longevity but also to preserve its quality.
Typically, ceramic pots and pans will last three to five years after the initial purchase. By handwashing your ceramic cookware, you can ensure that it lasts this long and possibly longer!
A pan will only last as long as you take care of it. This is why it is crucial to treat your ceramic pans delicately. All nonstick pans, both ceramic and Teflon, will eventually lose their nonstick properties. However, with the proper handwashing technique and practice, your nonstick pan can remain nonstick for much longer.
The Verdict
Can ceramic pans go in the dishwasher? It depends on the brand, but mostly yes.
Many ceramic pans can be used in the dishwasher, and many ceramic pans cannot be used in the dishwasher. The first thing to do when purchasing any ceramic cookware is to read the care instructions. Most care instructions should explicitly state if the cookware is dishwasher safe or not.
Many companies will continue to suggest handwashing, even if the pans are dishwasher-safe. If you want your ceramic pans to last for years and years. Handwashing will preserve the quality, finish, and nonstick properties of the ceramic pan.
Did you learn something new about washing your ceramic pans? Let us know if you handwash your ceramic pans!