Pie weights are a staple is the kitchen of bakers. They make it easy to cook a pie crust without puffing or bubbling taking place. Although the traditional method of weighing down a pie is fantastic, sometimes it's not a feasible option. You may not have the little gadgets on hand or maybe you're making multiple pies and you don't have enough traditional weights, what do you do?  You improvise! Let's take a look at some of the best pie weights substitute so you don't have to stress in the kitchen!
What are pie weights?
Before we get into the nitty gritty of pie weights substitute, let's be sure you're clear on what pie weights are and why you need them.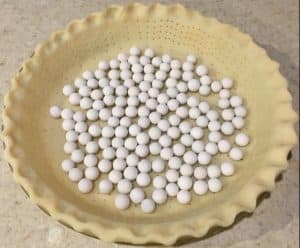 Traditional pie weights are small, metal, or ceramic balls used to be a temporary filling in a pie so that you can blind bake the pie crust. Not all pies require par-cooking of their crust, but it often aids in ensuring the crust and the filling cook at the same rate. Otherwise, you may end up with undercooked crust and overcooked filling!
If you do not have access to traditional pie weights, that's okay. You have other options to help you in the kitchen, but first you need to understand what to look for and how heavy your substitutes should be.
How heavy should pie weights be?
For an average sized pie (9×9 inch round), it's recommended to have around 2 pounds of pie weights in your pie crust. This will ensure your pie crust is heavy enough to prevent bubbling and puffing, but not so heavy that is flattens out the bottom of your crust!
Typically, traditional pie weights come in packages of about ½ pound, so you'll need four packages. However, with substitutions, you'll need to premeasure to insure you're not overstuffing a pie crust for blind baking!
The best pie weight substitutions
There are several options for pie weight substitutions, and you likely already have many of them in your house! The others, well you may have to order them on the internet!
Pie Weight Substitutions You May Have in Your Pantry
 Dried Beans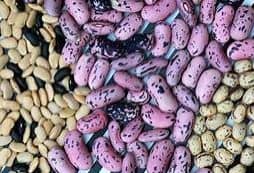 Dried beans make an excellent pie weight substitution as they mimic the original shape of traditional pie weights. However, the beans are often lighter than the traditional ceramic balls, so you will need more of them to reach the weight recommendations.
You can use any kind of dried bean to par-bake your pie crust. You can use black beans, pinto beans, red beans, etc. Some people even use dried black-eyed peas which is a great option.
Note: You cannot eat the dried beans after using them to blind bake your pie crust, but you can save them and use them as a pie weights substitute again!
Dried Rice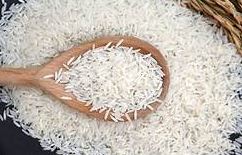 If you don't have the small ceramic balls, dried rice is another fantastic option for a pie weights substitute. Dried rice is particularly unique because of its shape. Since each grain is rather small, it can fit into the tiny crevices of the pie shape, which enhances the likelihood of the crust maintaining its shape. It's also a great option for smaller pie tins such as for individual pies!
Small Metal Objects
So long as they are oven-safe and clean, small metal objects you have in your house can work as last-minute pie weight substitutes.
Some common household metal objects include:
Be sure they are all thoroughly washed and to avoid using any objects that have other materials like rubber or plastic on or in their make!
Sugar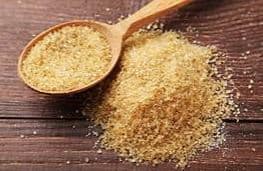 Nearly every household has sugar for baking sweet treats, but it can also be used as an excellent pie weights substitute. Sugar is an ideal option as the grains are so small that they mold perfectly to the shape of your pie crust. They'll fill in every crevice to ensure even baking and that your pie holds the form you want it to.
A unique bonus about this option is you can save the sugar and add it to a future recipe for a delicious caramel flavor!
Another Pie Tin
If you have a pie tin that is slightly smaller than your existing one, you can use it as a uniform pie weight! Again, you'll want to cover your raw pie dough with aluminum foil or parchment paper first. Then you can just place the additional pie tin on the crush and bake away! Your best bet is to use a pie tin that is the same shape as your existing one to keep the shape of the pie crust intact.
Popcorn Kernels
Raw popcorn kernels (not the kind from a microwave popcorn bag!) make great pie weight substitutions. They're smaller than traditional ceramic ball pie weights, which makes them ideal for smaller pie tins. However, they're also great for large pies that need a lot of weight that is easy to spread out!
Pie Weight Substitutes That Are Not as Common
Glass Marbles
Although you may only think of them as fun little floor game, an excellent pie weights substitute is glass marbles! Marbles actually mimic the size and shape of traditional metal or ceramic pie weights, so they make a perfect replacement. However, you need to be sure the glass marbles you have are safe for use in the oven as some of them have added colors and materials that are not suitable.
Metal or Glass Chains
If you happen to have some metal or glass chains lying around, these also make excellent pie weight substitutes! What's particularly unique about this option is that since all of the little balls are on a chain, taking them out is super quick and easy! They're a little bit more difficult to spread out and you may need multiple to reach the optimal weight, but they are a great last minute option!
Screws and Bolts
Small metal screws and bolts can be used as pie weights so long as they are thoroughly cleaned and have not been used before! Don't go taking apart a chair or table for the screws for this method. Since screws and bolts are small and metal, they work just as well as traditional pie weights. Additionally, they come in a wide variety of shapes and sizes. This makes it easier to fill the pie crust in a way that keeps its existing shape.
Why Do You Need to Blind Bake a Pie?
Pie weights are used in the blind baking process, but why exactly do you need to blind bake a pie in the first place? Blind baking is the process of either par-baking or fully baking a pie crust before adding the filling. You do this to ensure your crust cooks correctly along with the filling. Sometimes though, you don't need to cook the filling at all, but you still need a cooked pie crust!
In order to prevent bubbles and puffing, you blind bake the pie with pie weights. Some popular pies that you'll want to blind bake for include:
Cheesecake pies that don't need a baked filling
French silk pies or mouse-based pies
Fruit pies that need a par bake of the crust
Blind baking helps to prevent a soggy or undercooked/overcooked crust pending the filling of the pie!
Tips for Blind Baking a Pie Using Pie Weight Substitutions
 Chill your pie crust: Chilling your pie crust before blind baking helps the crust firm up a bit before it gets baked. This helps prevent air bubbles and puffing. It may also help prevent the foil or parchment paper from sticking to your crust and ruining the shape!
 Switch your cover material: If you've bind baked a crust before and found that the bottom of the crust was still relatively soggy while the edges were cooked thoroughly, it may have been because of the cover material used. Sometimes, you may need to use parchment paper instead of aluminum foil and vice versa. Give this a switch!
Prick your pie crust: Unless you have an overly wet filling such as in a cherry pie or an apple pie, pricking your pie crust can be beneficial. Pricking helps prevent air pockets that cause bubbles an uneven cooking. Use a fork and gently prick the bottoms and sides a few times to prevent this.
Know your recipe well: Sometimes, your recipe may require a crust that is fully baked and crisp! In these cases, it's best to remove your pie weight substitutes and covers halfway through to allow for complete baking. At about the halfway point, your crust should be firm enough to where pockets and puffing is no longer a concern.
Always use a cover: In order to prevent sticking and crust deformation, you should always use aluminum foil or parchment paper under your pie weight substitutes. This can also help prevent the transfer of taste and aromas from the weights into your crust!
Cover the sides: Sometimes, the sides of your pie crust will cook quicker than the bottom as they are closer to the burners and often thinner than the bottom of the pie. You'll want to keep an eye on your pie during the blind bake to watch for any browning. If you notice this happening, cover the sides of your pie crust to prevent burning while the bottom continues to cook.
Your Quick How-To on Blind Baking a Pie Crust!
Once you've found your ideal pie weight substitution, it's time to blind bake the crust! There are a few methods for doing so, but it can be helpful to have a general process in the back of your mind!
Step 1: Know Your Recipe
You first want to look up your pie recipe to find out if you need to do a full blind bake or a partial blind bake. This is critical to the success of your pie! You don't want to end up with a burnt pie crust or a doughy one.
Step 2: Make Sure Your Dough is Cold
Although this is 100% needed, it makes a world of difference. Whether your pie crust is homemade or bought from a store, you want it to be refrigerated for a few hours before you handle it. Making sure your pie crust is cold will make the dough easier to handle (as it will be much less sticky). It will also help prevent air bubbles from forming and puffing from happening. As the water from the cooling evaporates, you'll notice steam. Steam is what leads to a flakier crust!
Step 3: Prick Your Pie Crust if You Can
If you don't have a pie filling that is goopy or runny, you can prick your pie crust to help prevent the bubbles. You don't want to overdo it and don't be too aggressive. A few light pricks with a fork will do the trick!
Step 4: Add Your Cover
Put down a layer of parchment paper or tin foil over the pie crust while it's still cold. You want to mold the cover to the shape of your crust. This prevents sticking and flavor transfer from your pie weight substitutes.
Step 5: Add Your Substitute Pie Weights
Whether you're using dry beans, metal screws, or a ton of sugar, it's time to add them to your crust! Make sure there's enough weight that your crust is weighed down, but not so much that it thins the bottom. This can lead to burning and a crust that can't withstand the weight of the filling!
Step 6: Bake!
Pending your recipe, you may need to bake for longer or shorter periods of time. However, for a par-bake, you'll likely bake your crust in a 400-degree Fahrenheit oven for about 15 minutes. For a full bake, you'll take the crust out after those first 15 minutes, cover the sides, and then place back in for another 15!
Step 7: Remove the Weights and Add Your Filling
This is the easy part! Safely remove your pie crust from the oven. Take out all of your pie weight substitutions with heat-proof gloves and then add in your filling. You'll want to check your recipe to then determine if you need to bake the filing and for how long!
Voila! You've got a perfect pie!
Final Thoughts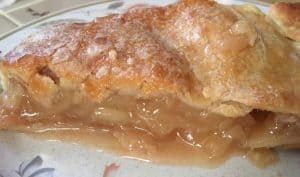 There are numerous options for pie weights substitution. Pending what you have on hand, you may use popcorn kernels, sugar, dry rice, or metal chains! Blind baking your pies isn't always necessary, but knowing you have the proper pie weight substitutions on hand can ensure you feel prepared. You'll also look like a pro in the kitchen and impress your family and friends with a delicious, perfect cooked pie!