A fantastic frying pan is a must-have in every kitchen. It's a type of cookware that every person uses most of the time, whether it's breakfast or a 20-minute family dinner. Thus, a good frying pan like the Scanpan Haptiq provides even heat distribution and heat retention throughout the cooking process. It also allows you to toss food easily with the sloped sides.  Lets dig into the Scanpan Haptiq review.
The Scanpan Haptiq pan is one of the best frying pans or skillets on the market from the Scanpan brand. The pan has everything you want in a frying pan, from a good interior and exterior design to great materials.
So, if you want to know more about the Scanpan Haptiq, our guide reveals its unique features, pros, and cons.
The Scanpan Haptiq Review
The Scanpan Haptiq is a black and silver, visually appealing cookware of excellent quality from the Scanpan brand. This pan is built to last long, and a warranty backs that. Besides,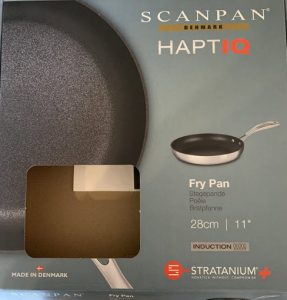 it has excellent features, including PFOA and PFOS-free nonstick coating that has been tested for quality. Its stainless coating is also more rigid and complements many kitchen designs.
The Scan Haptiq is built to prevent hot spots when cooking, enhancing a good cooking experience. Also, the frying pan can be an excellent choice if you love cooking with a wok. Maintaining this cookware is hassle-free because the non-stick surface is effortless to clean after cooking. For that reason, it doesn't require any other maintenance, such as seasoning, which is very common in ceramic cooking pans.
The cookware is durable and can last for over five years if taken care of. This is due to the durable stainless steel material used to craft it. Besides, the patented Stratanium technology enhances its durability, especially on the cooking surface.
Scanpan Haptiq Design
The Scanpan Haptiq comes in top-notch designs from the interior to the exterior. Some of the designs include the following.
●    Exterior Design
The exterior part of this cookware is shiny silver, offering a good contrast against the thick base. Furthermore, the pan core is built of high-quality aluminum that is well-melted, molded, and squeezed.
Most frying pans are made with spun aluminum in the exterior; thus, they bend easily into shapes. Also, those types of pans wrap when under pressure and when pressure changes. However, with Scanpan Haptiq, the process of pressure casting used eliminates wraps and bending because the aluminum used is hard and more durable. Therefore, Scanpan Haptiq can handle alkaline or acidic foods and doesn't wrap.
In addition, the casting process used in crafting Scanpan Haptiq delivers excellent heat retention and distribution. The Scanpan Haptiq exterior is covered with Stratanium, offering a full non-stick experience outside the pan. As a result, this helps in repelling any objects that may come in touch with the pan while it's hot.
●    Interior Design
The Scanpan Haptiq frying pan also features a Stratanium non-stick coating in the interior. Stratanium is produced from interlocking hard particles with wave-shaped layers. That way, the material gives the pan a good texture surface to withstand high temperatures, harsh washing detergents, and metal utensils.  We hand wash all our pans and never use metal utensils just to be safe.
This design makes it last a long time and stay unharmed as long as you don't overheat the pan. Besides, the sides of the Scanpan Haptiq are slope-like, making it easier to flip the food while cooking. Also, its rims are straight, which helps keep the cooked ingredients in the pan.
Features
Scanpan Haptiq is one of the best cookware from the Scanpan brand. This cookware has unique features, including but not limited to the following.
●    Handles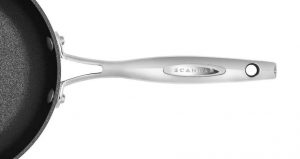 Scanpan Haptiq has a silver handle, made to stay cool while cooking, thus safe up to 500F. The brand uses high strength rivets to attach the panhandles firmly. Also, the panhandles have a locking system, making cleaning the spaces between the rivets easier. Also, the handle has a solid stainless steel band around the top part of the handle. This provides an excellent visual contrast between the upper side of the handle and the base.
●    Lids
This cookware has an oven-safe glass lid with a good knob style. The design makes it easier to grip the lid. Also, the Scanpan Haptiq lid helps keep any contaminants out and provides a tight seal that helps maintain freshness.
●    Material
Scanpan Haptiq is made of Stratanium, a non-stick coating developed by the Scanpan brand. Stratanium is hard and durable and is popularly known for its crispness and chinking sound, especially when frying and browning food. The sound is due to the microcavities that form during cooking. Also, it has a sleek and polished surface, making it an elegant addition to your stylish kitchen. The Stratanium technology has replaced many traditional frying pans.
●    Cooking Performance
Scanpan Haptiq comes in durable and pressure-cast aluminum material. This material is waterproof, retains a lot of heat, and controls temperatures. For that reason, Scanpan Haptiq's cooking performance is high, up to 500 F.
Another thing that makes Scanpan Hapiq perform well is its Stratanium surface. The surface makes the food searing and browning process hassle-free.
What Are Other Scanpan Collections Besides the Scanpan Haptiq?
Besides Scanpan Haptiq, Scanpan also produces other types of frying pans with unique features. These cookwares include Pro IQ, which has a stainless steel lid and knobs. Also, CTX is another Scanpan collection with a stainless exterior and glass lids and is compatible with other cooktops like induction.
Another Scanpan collection is Maitre D' with a shiny stainless steel exterior. The pan is small, making it suitable for cooking and serving presentations.
CS+ is another excellent Scanpan collection with a Stratanium+ design and stainless steel material.
You can equally go for the Pro S+, which also has a Stratanium+ surface making it have good cooking performance. Lastly, the Scanpan brand offers TECHNIQ pans, Featuring a non-stick coating interior and exterior design. The pan also features glass lids that have steel handles.
What Is the Difference Between the Scanpan Haptiq and CS+?
Scanpan Haptiq and CS+ come from the same brand (Scanpan). However, the two cookware differ in material and exterior design. For instance, Scanpan Haptiq has a shiny and stainless steel exterior, while Scanpan CS+ has a brushed and stainless steel exterior.
Pros
Great heat conductivity
PFOA free
Great design
Good handle
Non-stick surface
Good heat distribution
Lightweight
Durable
Oven safe
Cons
Discolored bottom
Pretty expensive
Final Words
A good non-stick frying pan allows you to cook food without it sticking to the pan's surface. So the food doesn't burn quickly, and you don't have to keep scraping the food off.
Also, a good pan has good heat conductivity, which is responsible for heat distribution and even cooking.
Fortunately, the Scanpan Haptiq frying pan has these features. The cooking pan is made of aluminum and well-polished stainless steel. Also, the pan has a non-stick surface that performs great when cooking.
The Scanpan Haptiq has a thick stainless steel handle making it easy to grip while cooking. It is easy to clean because of its non-stick surface; thus, you don't have to spend hours scrubbing the pan to get food remnants off the surface.
We hope our Scanpan Haptiq review helps you feel confident to buy the Haptiq to enjoy a good cooking experience!