Finding that perfect set of cookware for your kitchen is ideal for seasoned chefs and the good ol' fashion scrambled eggs master! With so many options on the market, it can feel a little overwhelming to find the best option for you. I mean, stick? Nonstick? Aluminum? Cast iron? What do you choose! Well, today we're discussing cast iron, specifically the Wenzel cast iron cooking equipment! Let's get into it!
Wenzel Cast Iron Review
Okay, let's start with the reviews because honestly, that's kind of the most important piece of the decision making process. After some pooling of customer pros and cons, here's the consensus. Overall, Wenzel cast iron products are a great choice…for those who are willing to take the time to properly maintain the products. So, a brief overview:
Pros
You can use the cast iron skillet on any stovetop, gas or electric, which is highly beneficial and serves a wider clientele base!
The cast iron skillets, pots, and pans come in a variety of sizes. So whether you're cooking eggs, veggies, or meet, there's an appliance for you!
Since it's cast iron, it'll last for years to come so long as you maintain it properly.
Fairly easy to clean with a little practice!
The handles are designed to remain to cool to touch
The cast iron products are sturdy and durable
Cons
Since these products are cast iron, they are much heavier than more modern products made form aluminum or ceramic.
They are not nonstick
Require a specific cleaning routine for maintenance purposes
That's it! There really aren't too many cons to the Wenzel cast iron products. You'll have to actually test the products out to understand, or just keep reading to find out more!
Wenzel Cast Iron History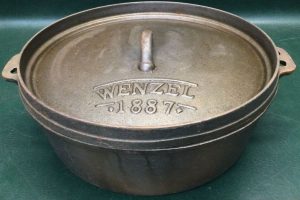 Wenzel has been around for over 100 years, which is why they're so well-known and approved above by cast-iron critics. All of their products are made from durable, high quality cast iron, which means it can be used to cook…really anything. It gained its popularity slowly and gradually, but with time, gained quite a household name as well as a name with the outdoor camping community.
Due to its durability and high heat resistance, outdoor enthusiasts very quickly fell in love with the products. In particular, the company's skillets and woks due to their size and ability to withstand an open flame. Something that everyone loves about the products though is that they do have an enamel coating that makes them easier to clean. Now, they're not technically nonstick, but this coating does aid in that department as well!
Wenzel Cast Iron Company
Now, a little background on the company and then its history! Let's start with a brief overview and then get into the nitty gritty details. Wenzel is based out of China but is sold to customers all over the United States. The company makes all of their products from Cast Iron and prides itself on being one of the leaders in cast iron cookware. They make all kinds of cast iron products, from pots to pans to Dutch ovens to so much more! There's no shortage of options (in fact, there's over 90 of them).
Where is Wenzel Cast Iron Cookware Made?
Like many of the kitchen appliances sold in the US, Wenzel kitchen appliance are manufactured in China. This is what keeps them affordable since they are all cast iron products. They're then shipped to the US and sold to customers everywhere!

Wenzel Cast Iron Products
Speaking of the over 90 different products, it's a bit imperative that we at least mention more than just their skillets. Wenzel is home to numerous products like pots, pans, skillets, and woks. They have a variety of different kinds of each. For example
Pots: Wenzel has cast iron pots for sauces, stews, broths, and even steaming veggies!
Pans: They've also got pans in various sizes for cooking eggs, pancakes, small portions of meat, etc.
Skillets: Their skillets tend to be best for heavier duty meal-making. Maybe searing steaks or prepping a lemon chicken!
Woks: Woks, of course, are best for cooking large meals as well such as stir frys.
They do also have dutch ovens, which can be a great addition to your kitchen appliance collection. Dutch ovens allow for slow cooking meals to obtain that perfect flavor balance!

Wenzel 1887 Cast Iron Cookware Crate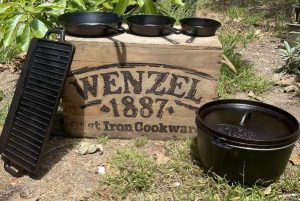 Probably what Wenzel is most well-known for is their famous 1887 cast iron cookware crate (also known as their best selling cookware set). To be more specific, this is a seven-piece cookware set that includes a variety of items, both staples and unique must-haves. The set includes the following:
75 inch skillet
12 inch dutch oven
Lid to the dutch oven
A 2-sided griddle
Leather gloves
Lid lifter rod
Trivet
The cookware set comes in this worn, wooden crate (hence the name). It's a nod to the early days of the company itself. The company chose to keep their original touches as it passed through the decades and it quickly became what they're known for. Why fix something that isn't broken, you know?
Is Wenzel Cast Iron a Good Brand?
Wenzel is one of the more sought after and highly rated cast iron kitchen appliance companies today. Their company has been making sturdy, long-lasting kitchen appliances for over a century. The methods they use remain the same over the years, continuing to produce appliances that every chef (or aspiring chef) adores. The products are primary sold on second hand markets now as they've become known for their vintage wear.
Based on reviews alone, Wenzel is a high quality brand. Their products are durable, fairly easy to clean, they last a long time, and there's over 90 options. The 1887 crate line is by far their most popular but they do have a plethora of other options! They've got skillets and pots and dutch ovens in a variety of sizes. The products are definitely on the heaver side but that's because they're made of high quality cast iron and cast iron is not a lightweight material. However, their heaviness is what makes them so long-lasting! They're also high-heat resistant. You can even use them over an open flame, which outdoor enthusiast love. Overall, they're a good brand and one that every cast iron lover should look into!
Wenzel Cast Iron Seasoning
The thing about cast iron anything is that you have to season it first (and we don't mean with salt and pepper…sorry to disappoint). In this case, seasoning refers to prepping and priming the appliance to actually be used in cooking. There are several ways you can go about seasoning a cast iron pot, pan, or skillet. However, there is definitely a preferred method as well.
You're probably already aware of this, but you should always clean any new appliance you get before doing anything with it. The same goes for cast iron products. Clean them with hot water and a dish soap approved for these products. You'll want to gently wipe the appliance down ,rinse it off, and then make sure it's 100% dry before moving to step two!
Apply a generous coat (or multiple coats) of cooking oil to your pot or pan. Most people use olive oil for this process, but you can use another kind of cooking oil like vegetable oil if preferred.
Place the appliance upside down in an oven at 375 degrees Fahrenheit for one hour. You may see some smoke from the skillet, that's normal so long as it's not setting off your smoke detector!
After the hour is up, remove it from the oven using heat resistant gloves and let it cool completely.
That's it! Your appliance is officially seasoned and ready to cook your favorite meals!
Conclusion
Wenzel cast iron appliances are high quality, sturdy products that you can use to cook all of your favorite meals. From meats to veggies to breakfast foods, so long as the appliances are seasoned correctly, you're good to go! The company has been around for decades upon decades and is still wildly popular so they're clearly doing something right!
The 1887 crate is the recommended cooking set, but make sure you check out all of their other products as well to find what's best for your kitchen!