Are you fond of quesadillas, pancakes, and tortillas? You could easily pull off all your cooking projects, particularly your favorite Mexican recipes on a Comal pan (tortilla pan name). Whether you like cooking on a robust, durable, or light utensil that is easy to store, the Comal pan fits the bill. Once you find the right Comal pan that suits your needs, you are ready for a smooth cooking journey ahead.
If you are fretting about finding the right Comal pan in the market, you are in luck today since we have done all the heavy lifting for you. We have compiled exclusive content on Comal pans. So, without any delay, let's dig into some exciting details!
What is a Comal Pan?
If you have ever been to Mexico, chances are you might have seen a Comal pan since most of the street vendors in Mexico have large ones, several feet long. A Comal pan is a conventional Mexican cooking utensil, a pan of all sorts. It can help you cook a variety of delicious dishes.
It is a round, flat-bottomed girdle with a smooth cooking surface. Traditional makers use clay to make these pans. However, you can easily find a Comal with non-stick materials, robust cast iron, or carbon steel. It is extremely popular cookware throughout Mexico and Central America and its usage dates back to as far as 700 BCE. All in all, these pans have a long history of adding genuine flavor to your favorite dishes. Today, you can always buy them from Latin grocery stores that stock varieties of Comal pans. You can even order one from online websites.
What is an authentic Comal?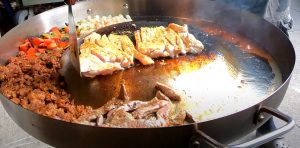 Various features make a Comal pan authentic.  A Comal is a griddle that is traditionally made up of a flat slab of strong cast iron or clay. An authentic one is flat, round, and has a shallow well. It also has lower lips which differentiate it from iron skillets. A cast iron or a clay pot heats slowly and also distributes heat evenly. If you are maintaining your cookware well, it adds its own subtle flavor to your food.
Is a Comal Pan the Same as a Cast Iron Skillet?
It is quite a common sight to witness European people, accustomed to Western cooking, think that they are probably cooking in a Cast Iron Skillet. There is no denying the fact that the designs of both cookware are quite similar and can easily confuse you. However, if you take a closer look, you can easily spot some differences between the two utensils. A key difference between a Comal and a Cast Iron Skillet is that Comal's usually comes with a lower lip as compared to a Cast Iron Skillet. It simply means it has a shallower well.
What is a Comal Good For?
A Comal is good for an extensive variety of food items. As we already know, Comal pans are famous for cooking or heating tortillas. It is a great choice for tortillas since it evenly distributes heat and enables you to cook them without them sticking to the pan. It also helps you to keep your tortillas warm after you cook them. You can also toast chiles to add to sauce or other dishes. Moreover, a Comal pan is a preferable option for making pancakes, quesadillas, and flatbreads since it prevents them from sticking to the pan and allows you to smoothly bake them.
You can also cook and grill meat on a Comal pan, although it is not as common as tortillas or pancakes. It's essential to keep in mind that meat will cook faster on the pan's sides than in the center. This is mainly because the pan is shallow. If you want to mitigate any chances of overcooking, it is essential to cook the meat on medium heat. Overall, a Comal pan is a convenient and versatile cooking option.
What can you Cook in a Comal?
There are no specifications or written rules for cooking in a Comal. Though mostly, you will find people making tortillas on a Comal pan. However, cooking is like an art. If you consider it as another utensil, Comal's can serve as multi-purpose cookware. You can make numerous dishes. For any dish that requires searing, sauteing, braising, broiling, or baking, a Comal pan can do it all. Be ready to pour all your creativity and art while cooking on a Comal and get the best results.
How do you Wash a Comal Pan?
Never run your Comal pan through the dishwasher or wash it with harsh soap. Scrape off any leftovers after each usage and then gently wash them with some oil and water. Using a gentle soap is necessary but for the most part, it's a rinse and dry situation!
Do Comal Pans Need to be Pre-Treated?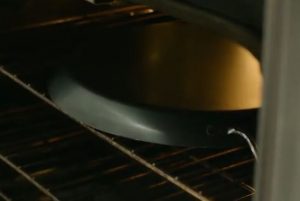 It is crucial to pre-treat your Comal pans. You don't want to use your brand-new Comal pan without seasoning it. The first step while pre-treating your pan is to season it. Seasoning is extremely easy. You can begin the process by washing the pan with warm, soapy water and leaving it to dry. After that, coat your pan with a thin layer of vegetable oil or shortening to protect it from developing rust stains. Heat the Comal pan for an hour in a hot oven (at least 350 F).
Professional chefs usually make sure that they pre-heat their Comal pans up to 400 F to 450 F while and tortillas. Take it out, let it cool, and then wipe away any unwanted residue. Apply some oil again, warm it up for another hour, turn off the oven, and leave it to cool overnight. Remove any leftovers and your Comal is now all set to use.
What are Some Popular Companies that Sell Comal Pans?
Lodge Cast Iron: Lodge Cast Iron is adept in bringing its consumers the highest quality cookware and accessories since 1896. They have a history of boasting quality, versatility, and durability in their products. One of their most popular products includes the Lodge 10.5-inch cast iron griddle which serves as the best Comal pan for home cooking. It comes in the perfect size and weight. A bonus feature of the Comal pan is that it comes with a heavy-duty construction which means that it is highly durable and might last for as long as you want it to.
The pan consists of solid cast iron, making it robust and durable. Other features including the weight and density of the pan ensure that there is even heat distribution from edge to edge. Here's a little caution for you. Since the heat also travels into the handles, so always make sure you have a towel or an oven mitt with you while cooking. This Comal pan gives amazing value for less than $20, particularly if you consider its durability and versatility features.
Victoria: Victoria, a Columbian brand, is one of the leading names in manufacturing Comal pans. A fringe benefit while cooking on a Victoria 15-inch Cast Iron Comal has to be its large size. If you are serious about the large production of tortillas, the 15 inches Victoria Comal Pan will accelerate your process and make it easy. Since the pan consists of Cast Iron, it is evenly going to heat the large pan surface. You can take advantage of its large size and make three to four tortillas in a single go. Additionally, you can also make larger flatbreads like dosa. However, the large size of the man means it's going to be a little heavy. It usually weighs over eleven and a half pounds.
This Comal pan is an excellent choice for pizza stone or grilling purposes. Although there is a flattened, loop handle for storing and handling, it can be a little challenging to handle the pan while using it. You should be aware beforehand that there are no elevated sides. Hence, you should use the least amount of oil possible or other liquids or lubricants are essentially off-limits. This 15-inch Comal will handle frying a large number of tortillas or other flatbreads with ease.
Le Creuset: The 10.75-inch Le Creuset enameled cast iron pan is one of the top choices of Comal pans. It is not only functional, and versatile but also doesn't require any seasoning or maintenance as compared to the others. It might cost you a little, but the cost is worth it.
This pan also comprises cast iron which is encased in a robust glass enamel coating. The glass enamel coating makes a significant difference. It brings high durability and even heat retention and distribution like the Victoria or Lodge pans. However, you don't have to worry about rust buildup or stains. You can even run these pans in your dishwashers.
How to Care for a Comal?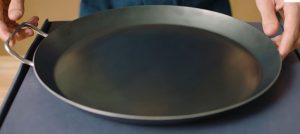 It is essential to maintain your Comal pan for a fine cooking experience. It is essential to clean and dry your Comal after every use. You should be careful while using a dishwasher for a Comal pan. Don't leave your Comal in a dishwasher. Instead, make sure to wash your Comal all with your hands and dry it using paper towels or soft cloth towels. Leaving it in a wet state can easily trigger rusting. If you are cooking meat in a Comal pan, gently remove any stubborn spots as soon as you are done with cooking using gentle wool or scrubber. You can also use spatulas to remove excess food scraps.
In case you are cooking on a clay Comal, you can season it with dry lime and water. Additionally, for a cast iron Comal, you can use vegetable oil to obtain the best results. Let your Comal pan adjust to the temperature on its own. Make sure you never expose your pan to cold temperatures. Let it cool on its own. If your Comal pan develops a crack, it is best to replace it with a new one. Broken Comal might adversely impact your cooking experience.
Can Comal Pans go in the Oven?
Comal Pans are versatile cookware. The versatility of the utensil stems from the fact that you can use it on the stove, or in the oven, or even on the grill according to your preference. However, it would be great if you read the specifications and features of your Comal pan so that you always get the best results.
Is a Comal a griddle?
Both Comal and griddle are the same pans but have different origins due to their link with diverse food cultures. However, sometimes a Comal has a broader base and has low edges while a griddle is round and low.
Can you use a Comal on a glass stove?
You can use some of the Comals on a glass stove. However, it would be best to check the specifications and instructions regarding the Comal units that you can use on a glass stove.
Conclusion
All in all, you can have your own miniature tortilla or pancake factory in your kitchen by owning this useful cooking ware. You cannot deny the versatility and functionality of the Comal pan which doubles the flavors of your dishes. If you are a beginner, it would be best, to begin with, a budget-friendly option such as the Lodge Cast Iron Comal. However, if you are serious about your tortillas and pancake productions, you should consider a Victoria 15-inch Comal. If you are worried about rust buildup, then you should go for Le Creuset. It might cost you a little more than the others but saves a lot of tension about your pan rusting. Have a smooth cooking journey with the best Comal pans!