What is an omelette pan? An omelette pan is almost identical to a frypan. Or in some cases, it is a frypan! Some companies market their frypan as "omelette pans" because of their similarities.  Today we'll look at the GreenPan Omelette Pan.
Companies that differentiate between frypan and omelette pan have two or three differences. While you can purchase omelette pans from many companies, you can also buy frypans at your local household store.
GreenPan is a well-known cookware company known for its ceramic material and environmentally-friendly habits. They have several frypans and egg pans that are perfect for omelettes!
Want to learn what makes a great omelette pan and what GreenPan can offer you? Keep reading to find out which GreenPan frypans make the best omelette pans!
What is the best pan to cook an omelette?
There are a couple of things to look for when searching for the perfect omelette pan. Many omelette and egg devotees, would rather have a specific pan dedicated to eggs and only eggs. Other chefs, do not fix omelettes and eggs enough to warrant a specific pan, rather they only need a versatile pan that is capable.
When looking for an omelette or egg pan, you first need to look at the sizes. Most omelette pans and frypans come in a wide range of sizes. You will need to purchase the size based on how many eggs you typically use in your omelettes and cooking. A 5-inch pan will be used for one egg or a small omelette. An 8-inch pan is perfect for two eggs, and a 10-inch pan can comfortably hold four to six eggs.
After choosing your size, you will need to look for sloping and curved sides. Sloping sides are not necessary when purchasing an omelette pan; however, it can be helpful. The curved sides allow the chef to flip their eggs efficiently. Taller and straight sides are more applicable when steaming or simmering items. For novice omelette makers, the sloping sides can come in handy.
Another feature to look for in an omelette pan is a good handle. When cooking eggs and omelettes, a stay-cool handle can make or break your experience. A stay-cool, sturdy handle allows the chef to maneuver the pan skillfully and without fear of being burnt.
What Does GreenPan Have to Offer?
GreenPan has many things to offer its omelette-loving customers! To begin with, all of their pots and pans are eco-friendly and healthy! Each frypan is made without harmful chemicals. Their frypans are free of PFAS, PFOA, lead, and cadmium. Without these toxins, chefs do not have to worry about hazardous fumes.
GreenPan is also eco-friendly because they use ceramic glaze. Ceramic produces 60% less carbon than other nonstick manufacturing. In each GreenPan cookware is recycled aluminum.
The ceramic glaze creates a nonstick surface. This nonstick coating makes flipping eggs and sauteing vegetables easy! There is some controversy around using a nonstick pan for omelettes. Many chefs and professionals believe that a stainless steel pan is best for omelettes. Oppositely, some believe that nonstick pans are heaven-sent when cooking egg dishes.
In addition to the ceramic glaze, GreenPan offers various cookware collections and sizes. You are sure to find a frypan that meets your needs as a GreenPan Omelette Pan.
Which GreenPan Frypans Make the Best Omelette Pans?
Mini Ceramic Nonstick 5-inch Frypan
The Mini Ceramic Nonstick 5-inch Frypan is 5-inches in diameter. A five-inch frypan is perfect for cooking a single egg or a small omelette. This small nonstick frypan is a compact size which makes it easier to store. For those who are only cooking for one or have limited storage space, the Mini Ceramic Nonstick 5-inch Frypan is a viable option.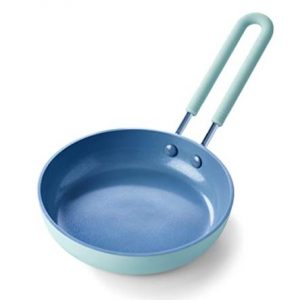 This five-inch frypan comes equipped with stay-cool, sturdy handles. To make their handles stay-cool and sturdy, GreenPan wraps each handle in silicone. The silicone also prevents any slippage.
The ceramic glaze is made with Thermolon. Thermolon creates a nonstick ceramic coating, which makes cooking and cleaning easier. The Mini Ceramic Nonstick 5-inch Frypan is also dishwasher-safe!
The following colors can be purchased for the Mini Ceramic Nonstick 5-inch Frypan:
Black
Blue
Green
Lavender
Light Yellow
Red
Turquoise
Chatham Stainless 8-inch Frypan
The Chatham Stainless 8-inch Frypan is another great example of a frypan/omelette pan. This frypan is made of three layers. Two stainless steel layers surround a thick aluminum core. The stainless steel and aluminum layers create an ultimate durable frypan.
In addition to the durability, the Chatham Stainless 8-inch Frypan is coated in a diamond-enhanced ceramic nonstick coating. The diamond-enhanced ceramic coating is more durable than other GreenPan ceramic pans because of the infused diamonds.
For those who are new to cooking omelettes and eggs, this may be the perfect pan for you!
Swift Ceramic Nonstick 12-inch Frypan with Lid
The Swift Ceramic Nonstick 12-inch Frypan with Lids is made with aluminum, ceramic coating, and stainless steel handles.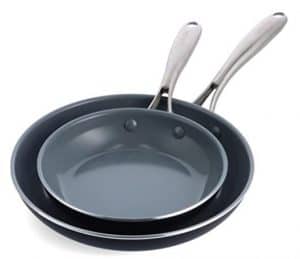 The aluminum core is ideal for omelettes because it offers quick heating and uniform cooking. It also offers a level of durability. The ceramic coating is nonstick and free of all toxins. For those who are looking for versatility, the stainless steel handles allow chefs to use their Swift Ceramic Nonstick 12-inch Frypan with Lid in the oven.
Using your frypan in the oven can be extremely beneficial. This allows you to keep your food warm and continue baking. Because it is durable, the Swift Ceramic Nonstick 12-inch Frypan with Lid is also dishwasher-safe.
The most unique feature of this frypan is the ease of transfer. The Swift Ceramic Nonstick 12-inch Frypan with Lid has a drip-free pouring rim. This is great for those who want more assistance when pouring or transferring their food from their pan to their plate.
Why Choose GreenPan Frypans for Your Omelettes?
Why should you choose a GreenPan frypan for your omelette? There are many reasons why GreenPan frypans make yummy omelettes. For starters, GreenPan coats its pans in a non-toxic ceramic glaze. The ceramic material is environmentally-friendly, healthy, and nonstick.
A nonstick pan is beneficial for novice chefs. If you require extra assistance when making eggs and omelettes, the nonstick surface can help tremendously. The aluminum core of each GreenPan frypan heats food quickly and evenly (necessary when cooking sticky foods similar to eggs).
GreenPan frypans are also remarkably versatile. Some GreenPan frypans have extra layers of durability, perfect for new or clumsy chefs. Some of their other frypans have drip-free pouring rims and stay-cool handles.
With GreenPan frypans, you can cook so much more than omelettes! What kind of pan do you use to make your omelettes?  Is it GreenPan Omelette Pan?  Let us know!