Tasty Ceramic Titanium-Reinforced Non-Stick Cookware Set, Multicolor, 16 Piece (BLUE)
Set Includes: 8 inch fry pan, 9.5 inch fry pan, 1.5 quart saucepan with glass lid, 2.5 quart saucepan with glass lid, 3 quart sauté pan with glass lid, 6 quart stockpot with glass lid, slotted turner, serving spoon with measuring marks, 3 ceramic bowls (2 ounce, 4 ounce and 6 ounce), recipe booklet
Premium non-stick coating: The cookware features a durable ceramic non-stick titanium reinforced coating that allows food to easily slide out of the pan
Healthy cooking: The non-stick coating on this cookware set is manufactured without PFOA or PTFE.
Flippin' awesome quality: The aluminum cookware guarantees optimum heat distribution for fast and even cooking.
Dishwasher safe for easy cleaning: These pans are as easy to clean as they are to use! All of the pans and tools are dishwasher safe for fast clean-up.
Some time ago, I had purchased a Tasty pot at Walmart. I enjoyed cooking in it, and I said why not try a complete set to see if they can replace my current 11 pieces of rusting and scratched "junkware," which I had purchased for $200 a year or two before. So I went online again and then purchased the 11 piece titanium-reinforced ceramic Tasty Brand cookware set, which is still really great to use today and delivered great value for my money.
The highlight of these pans, which I like, is that they disburse heat quite evenly. Also, they are much easier to clean, thanks to their non-stick ceramic coatings. In addition, after taking this cookware set through the dishwasher a couple of times, they surprisingly look brand new.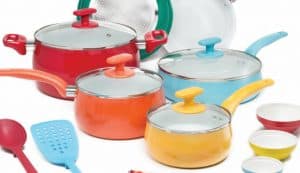 But what surprised me more is that despite their high-quality product offers, they are still relatively unknown. Yes, their products have good reviews and ratings of more than 4 to 4.6 on Amazon, but you can't just compare their popularity with its top competitors. But is this set right for you? Continue reading to learn the good, the bad, and everything in-between regarding Tasty cookware.
What Does the Tasty Brand Offer?
Tasty is an international food network brand that helps users with recipes information, tasty food videos, and do-it-yourself hacks. In addition, the brand now produces cookware that delights their audiences worldwide with simple but sophisticated kitchenware. But not only are they ingenious, but the new, multifunctional kitchen items in a modern design are also convincing across the board.
The Tasty line of cookware includes a large selection of items such as the:
Saucepans With Lids
Non-Stick Frying Pans
Wok Pan
Dutch Oven
Deep Cooker
Casserole With Glass Cover
Flat Pot, Bowls and More
What Are the Advantages of Tasty Kitchen Gadgets?
Tasty cookware has entered the market to rival models from brands such as Pioneer Woman, Calphalon, and more. So, wondering what makes their products stand out? Here are some key reasons Tasty cookware is so well-loved by its users.
Multifunctionality
Many kitchen gadgets from Tasty have additional practical functions. The whisk, for example, not only whips up liquids but can also be used to scrape the mixture out of the bowl, thanks to the integrated dough scraper.
Multiple selections
Another thing I also like is that their standard range has pans, pots, and kitchen utensils ready for you. However, there are always changing promotional products for seasonal or special occasions.  But the price point and vibrant bright colors make family dinners fun.
Quality and price
I am quite convinced of the high quality of their products, which is why there is a five-year manufacturer guarantee on pans from Tasty for you. Furthermore, all their kitchen products are so well made that they're completely dishwasher-safe and temperature-resistant. And that wasn't the best: the prices are just great!
Unique design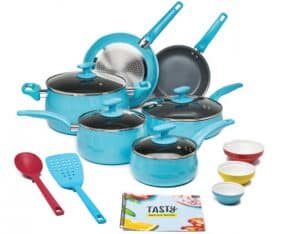 Each Tasty cookware comes with ingenious designs, features, and product offers. For example, the Tasty 30 Piece Set comes with a Google Home Mini, a voice-controlled smart speaker which you can use to set reminders or ask for recipe suggestions. There is also titanium reinforcement in the ceramic coatings of some cookware sets, such as the Tasty 11-piece Cookware Set Non-Stick in multiple colors.
Who Makes Tasty Brand Cookware?
Tasty kitchen products are licensed and manufactured by Epoca International, a leading kitchenware manufacturer in the housewares industry, for the past 25 years. Recently, Walmart and Tasty reached a deal to let the retailer sell their kitchen tools appliances.
Epoca International is a Florida-based manufacturer. Through a licensing deal, BuzzFeed receives a cut of the wholesale price, likely a single-digit percentage, each time a consumer buys one of its tools and gadgets.
Is Tasty Ceramic Cookware Safe?
All Tasty brand cookware is safe to use for cooking and handling your food. In addition, their ceramic cookware is free from all forms of toxins, such as PFOA or PTFE. Tasty provides non-stick ceramic coatings reinforced with titanium while not adding any toxic chemical to them, and therefore into your food.
Are Tasty Pots and Pans Dishwasher Safe?
The possibility of washing your pots and pans in the dishwasher gives the set better value and ease of maintenance. However, not all pots and pans are dishwasher safe, especially models with non-stick ceramic coatings. But, thankfully, most Tasty cookware are dishwasher safe for fast and effortless cleanup.
The Tasty Non-Stick 16-Piece Cookware Set and the Tasty 6 Piece Stainless Steel Cookware Set are safe for cleaning in the dishwasher. However, the Tasty 30 Piece is not safe for the dishwasher. So, it depends on the construction and design of the cookware. We, therefore, recommend checking the description to confirm if the model you're going for can be used in the dishwasher.
Is Tasty Cookware Teflon Free?
Again, Tasty cookware is free from all toxic substances such as PTFE. Many of Tasty's ceramic-coated pans and pots are non-stick. However, most pans coated to have this quality consist of PTFE (polytetrafluoroethylene), which is also known as Teflon. At high temperatures, PTFE substances, in the form of toxic polymer fumes, break down into food substances and can cause health problems.
However, no Tasty cookware comes with Teflon. Their products are proudly toted as being PFOA and PTFE free, meaning the product doesn't include Teflon.
If you want to cook while taking care of your health, the Tasty ceramic dish is undoubtedly one of the best you have. This material prevents the transfer of metal ions in your meal, which are often responsible for several diseases. In addition, with a non-PTFE dish, your food will keep all its flavors, making it a great and safe way to cook at home.
Is Tasty Cookware Oven Safe?
Most of Tasty's non-stick titanium-reinforced ceramic cookware is oven safe up to 400 degrees Fahrenheit. That's around 100 degrees less than the average for these types of cookware. However, their stainless steel and aluminum cookware are completely oven-safe at high temperatures of over 500 degrees.
Is Tasty Ceramic Cookware Durable?
If you fancy a kitchen utensil that lasts for quite a long time, the Tasty ceramic cooking sets are some of the best options for you. Their materials are quite durable. Their products are often made of heavy gauge stainless steel or a stainless steel/aluminum core with a titanium-infused ceramic coating designed for lasting use. On top of that, you can even leave the cooking to your young child without worrying about them damaging your cookware.
So you now you may understand why so many people prefer to trust this brand when it comes to choosing their kitchen utensils. You won't have a hard time cooking with their ceramic dishes at all, making it the perfect ally for when you want to spend several years with a cooking dish without stressing about it.
Another thing that you will love about this cookware is that it is quite strong and durable. Meaning when you put it in your oven, you have nothing to worry about—it cannot break, regardless of the temperature. This is why kitchen utensils made from this material have proven their strength.
This material is also quite resistant to various thermal shocks, meaning whatever the heat source, you can trust your cookware will hold up. It is a material that won't scratch, and you also don't have to worry about any rust with their stainless steel sets.
So you understand that its maintenance is not at all difficult. You don't need any special tools to take care of it. You just need to put it in a dishwasher to maintain your ceramic dish.
Is Tasty Cookware Right For Me?
Tasty cookware offers several health and cost-savings benefits. Their products are free from all forms of toxins, such as PFOAs and Teflon. Although most of their products are oven-safe, you cannot wash some of their ceramic kitchenware items in the dishwasher, so if this is a deal-breaker to you, you may want to keep shopping.
But, overall, Tasty brand cookware has a good range of high-quality and multifunction pans and pots sold for entry-level prices across each category of cookware. So all-in-all, between careful research and testing, it's a brand I wholly recommend for any home.