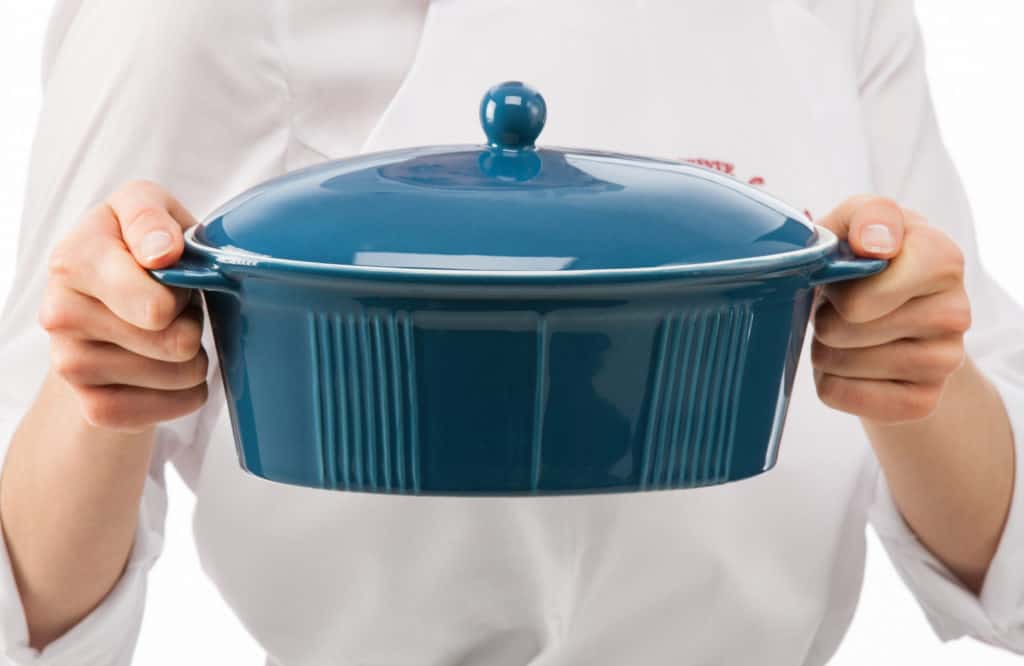 Are you thinking of making the move to non-stick ceramic cookware?
There's a myriad of benefits that using ceramic in the kitchen offers. Ceramic cookware is affordable, easy to clean, cooks evenly, is environmentally friendly, and is better for your health in comparison to Teflon non-stick cookware.
However, when it comes to choosing your ceramic cookware, it's difficult to know where to start. We recommend for ease and affordability to invest in a ceramic cookware set. This means your ceramics will all match and you'll have a wide choice of kitchenware to use – it will have you covered!
Not sure which cookware set to choose? Don't worry, we can help. Here are the best ceramic cookware sets on the market to suit all budgets.
1. Calphalon 11 Classic Ceramic Nonstick Cookware Set
This Calphalon cookware set rates as the overall best ceramic cookware set on the list. Why?
The set includes everything from an 8 " frying pan, a 10 " frying pan, a 12 " round griddle, a 3 quart sauté pan with lid, a 1 1/2 quart saucepan with lid, a 2 1/2 quart saucepan with lid, and a 5-quart Dutch oven with cover.
Made of hard-anodized aluminum, the set features long and cool stainless steel handles, useful measuring marks within the pans, and straining lids to help eliminate cooking liquid with ease.
While the set is quite pricey, it is designed to be used every day for you to get the best use out of it. Plus, it offers a 10-year warranty against defects so you can be assured of a replacement if any piece becomes damaged.
Buy it now!
2. Ceramic Pro 10 Piece Non-Stick Cookware Set by Bialetti
The ceramic pans and pots from this set are also perfect for everyday use in the kitchen.
You may recognize the Bialetti brand name from their famous stovetop expresso pots, but they also produce fantastic ceramic cookware too.
This set includes a 6-quart Dutch oven with lid, an 8″ sauté pan, a 10″ sauté pan, a 1 1/2-quart saucepan with lid, a 3-quart saucepan with lid, and a 3-quart deep sauté pan with a lid.
While this set is also reasonably pricey, it won't break your budget and it offers high-quality ceramic kitchenware with plenty of extra features that you simply wouldn't find in a budget set.
It's also an oven-safe option and can be used up to 400 degrees, so you can pop a pan in the oven to keep your grub warm without worrying of any damage. Handles are heat resistant too, so a potholder won't be necessary when cooking on the stove.
Buy it here!
3. GreenLife Soft Grip 14pc Ceramic Non-Stick Cookware Set
This reasonably priced ceramic 14pc set includes a 4" Mini frying pan, 7" open frying pan, 9. 5" open frying pan, 1Qt covered saucepan, 2Qt covered saucepan, 5Qt covered stockpot, 2. 5Qt covered sauté pan, 7" stainless steel steamer, and 4 kitchen utensils.
When using this ceramic cookware set, you can expect to dish up wonderfully and healthily cooked meals due to less oil and heat being used in the cooking process.
The handles of all the Green Life pans and pots are coated with a thermalon coating meaning you won't catch any pesky burning when touching them. Plus, it feels super soft and pleasant to touch!
If you're looking for a great quality ceramic cookware set to buy without breaking the bank, this is a fantastic option.
Buy it Now!
4. Farberware Purecook Ceramic Nonstick Cookware Set
This option is one of the best ceramic cookware sets for those on a budget. It includes a 2-quart saucepan with lid, a 5-quart Dutch oven with cover, a 5" mini skillet, an 8 1/2" skillet, a 10" skillet, and 11 ½" skillet with a lid.
If you're seeking a splash of color for the kitchen, this set with its aqua exterior, stain-resistant white interior, and striking black handles is sure to brighten it up.
The larger skillets feature textured surfaces – perfect for improving food release when you're sizzling up a large piece of meat or fish.
While the mini skillet is unlikely to be used often, it's the perfect size for cooking an egg on its own or heating up butter. The only thing we might suggest is that an extra saucepan would come in handy!
The lids are shatterproof and the whole set is safe to use in the oven up to 350 degrees. Plus, the cookware set is lightweight for easy handling and heats up food quickly and evenly.
Get it here!
5. T-fal Initiatives Nonstick Ceramic Cookware Set
Finally, we welcome the best budget offering from the list.
This set includes a 7 ½" frying pan, an 11" frying pan with lid, a 1-quart saucepan with lid, a 2-quart saucepan with lid, a 5-quart Dutch oven with lid, a 10" square griddle, and six nylon tools to be used in the pans.
Importantly, the quality isn't bad either. The set features a white ceramic interior that is scratch-resistant and stain-resistant so you can be sure the product is long-lasting and durable. Produced with aluminum, the ceramic cookware set heats food evenly and quickly too.
If you're feeling curious during cooking, the lids of the pots and pans are created with tempered glass so you can have a peek in without lifting the lid and disturbing the process. And if you fancy heating up your grub in the oven, you can do so too up to 350 degrees.
Buy it now!
Ready to Buy Your Ceramic Cookware Set?
If you're seeking kitchenware that offers a healthier, smarter, long-lasting, environmentally friendly, and affordable way to cook your cuisine – then choosing ceramics is the right option for you.
Whatever your budget, there's a ceramic cookware set to suit you, each with their own pros and cons – we hope we've helped you find it!
If you've decided which ceramic cookware set suits your budget and works for you, then you may be wondering how's best to use and look after your new kitchen gear. Check out our article to learn how!