Do you ever worry about what is in your cookware and bakeware? Many years ago, there was a scare revolving around Teflon and PTFE materials.  Lets discuss the Green Life 8 inch fry pan.
These materials, when heated to a certain degree, released dangerous fumes into the air. It was later discovered that these fumes caused serious illness, cancers, and life-lasting damages to individuals.
Nowadays, many cookware companies do not manufacture this harmful chemical anymore. However, the fear is still there for many people.
GreenLife has taken extra steps to show their customers that their cookware and bakeware is safe to use. Their products are manufactured with your reservations in mind!
Want to know more about GreenLife and what makes them different from other companies? Keep reading to learn if the GreenLife 8-Inch Fry Pan is safe to use in your kitchen!
About the Green Life 8 Inch Fry Pan
Materials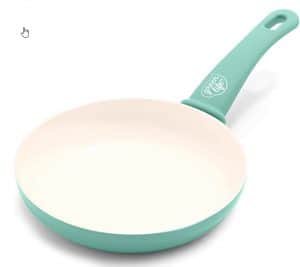 The GreenLife 8-Inch Fry Pan is made of ceramics and aluminum. The internal structure of every GreenLife fry pan is made with recycled aluminum.
The aluminum core is used because aluminum is a great conductor of heat. Aluminum is a fast-heating metal. With a recycled aluminum core, the GreenLife 8-Inch Fry Pan heats its contents quickly. Customers love this pan because their food heats up quickly and efficiently.
Another reason, GreenLife has chosen to use recycled aluminum as its core is because of its durability. Aluminum can withstand mechanical shocks that may otherwise damage your pan. Your pan should not warp or wobble because of high temperatures.
While the base is recycled aluminum, the outside contains ceramics. The outside of the GreenLife 8-Inch Fry Pan is coated in a ceramic coating that provides many things. Ceramics are beneficial to GreenLife's pans because it is nonstick and durable.
The inside coating is reinforced with diamonds. The diamond-reinforced ceramic glaze provides a high level of nonstick. This superior nonstick coating makes cooking easy because food does not quickly burn.
With a slick pan, cleaning is effortless. Food can simply be wiped away or pushed off the plate after cooking.
Features
Many customers enjoy the GreenLife 8-Inch Fry Pan because of its natural materials, but its features are a bonus too! The GreenLife 8-Inch Fry Pan is compatible with the following stovetops:
Ceramic
Electric
Gas
Rangetop
The only stovetop that the GreenLife 8-Inch Fry Pan is not compatible with is induction stovetops. However, GreenLife currently sells other fry pans that are compatible with induction stovetops.
If you don't need the stovetop, but need the oven, the GreenLife 8-Inch Fry Pan is oven safe up to 350 degrees Fahrenheit. Because of its durable construction, most of GreenLife's fry pans are safe to use in the dishwasher, as well.
Additions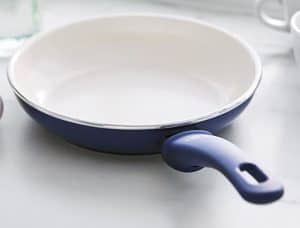 There are more than one eight-inch fry pans available through GreenLife. Some pans have stay-cool handles made with Bakelite; these handles have a thumb rest imprinted. The thumb rest provides better control. Other pans have stainless steel handles (these handles can handle higher oven temperatures).
Each GreenLife 8-Inch Fry Pan comes with a glass lid; it is made with tempered glass. Tempered glass protects users from cuts and injuries. Traditional glass can break into sharp edges; however, tempered glass breaks into duller pieces to protect people.
What Makes GreenLife Different?
Production
Not only are GreenLife products safe to use, but the production process is safe for the environment. Purchasing a GreenLife 8-Inch Fry Pan means protecting our environment.
Producing ceramic is far better for the environment than producing other nonstick cookware and bakeware. Nonstick ceramic creates 60% less CO2 emissions as it cures.
According to GreenLife, "Our factory gets 30% of its power from the solar panels on the roof, and it also has its own wastewater treatment plant to keep our water clean."
Throughout the entire manufacturing process, GreenLife does its best to provide safe cookware and bakeware.
Care Instructions
When you purchase natural cookware that prides itself as an environmentally-safe product, you must be prepared to take extra precautions while cooking and cleaning.
The GreenLife 8-Inch Fry Pan requires specific steps to ensure that it lasts a long time. Below are a few general rules to follow to make your pan last a lifetime:
Cook only at a low to medium temperature (high temperatures damage the nonstick properties)
Use only plastic, silicone, or heat-resistant nylon utensils (metal utensils scratch the pan)
Hand wash in warm water and with non-harsh dish detergents
When washing your fry pan, only use soft, non-abrasive scrubbing agents
Why Makes GreenLife Safe to Use?
The GreenLife 8-Inch Fry Pan is created in a way that is beneficial to both the planet and its inhabitants. Every piece of GreenLife cookware and bakeware is toxin-free.
Other nonstick pots and pans are made using Teflon or other PTFE chemicals. In the past, these chemicals caused serious illnesses. To guarantee safety, GreenLife removed all harmful chemicals and materials.
The GreenLife 8-Inch Fry Pan is free of the following chemicals:
If you are worried about the recycled aluminum bases leeching into your food, there is no need. There is a thick layer between the ceramic coating and the aluminum base. This base serves as a protector. Even if the pan chips, the protecting layer will not peel or flake.
This means that your GreenLife 8-Inch Fry Pan can be used even if the coating is gone.
Not only is the GreenLife 8-Inch Fry Pan safe for the planet and you, but it is also safe for pets! Those that have pets in the household do not need to worry about harmful chemicals or dangerous materials. Each GreenLife pan is safe for all pets.
The Verdict
Is the GreenLife 8-Inch Fry Pan safe to use? YES!
The GreenLife 8-Inch Fry Pan is safe to use in every situation. The ceramic coating is made without harmful materials, and the aluminum base is protected by a thick layer.
Even if your pan gets too hot, no hazardous fumes will harm you or your pets. Those that buy the GreenLife 8-Inch Fry Pan should know that GreenLife is taking many steps to make manufacturing safe for the environment as well.
Will you purchase the Green Life 8 inch fry pan? Let us know what you think about it!