Are you looking for a casserole dish that can provide you with consistent results? Or maybe you are looking for a mixing bowl that is perfect for melting butter and freezing fruit curds?  Lets dive into Avery ceramic baking dishes.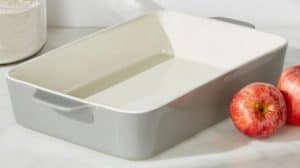 Finding a bakeware company you can trust can be difficult. Sometimes, finding a bakeware company that supplies the basic baking necessities can be surprisingly burdensome.
Consider Avery ceramic baking dishes. Avery produces ceramic baking dishes that meet your basic baking desires. With consistent reviews and a variety of sizes, Avery may have what you need.
Read below to learn where to buy Avery baking dishes and why you should!
Why Should You Buy Avery Ceramic Baking Dishes
Avery baking dishes have many alluring qualities. Not only are they durable, but their appearance is pleasing.
Glazed Ceramics
Avery is made of glazed ceramic materials. Glazed ceramics have a popular following in the bakeware community for countless reasons.
The first reason being: glazed ceramics are extremely low-maintenance. Glazed ceramics are considered low maintenance because they do not require the same upkeep as other materials.
For example, cast iron skillets require seasoning, and pizza stones can only be washed with warm water. Glazed ceramics are not porous because they have an outer coating; they do not require seasoning or special cleaning instructions.
The material that makes Avery baking dishes is also durable. It is durable and sturdy because it is created by using fire. Durability means no scratches from metal utensils. With metal baking dishes, you must be careful using metal utensils because they can scratch the dish.
Unless an abnormal amount of shock is applied, your Avery dish should not have chips or dents. Items made of glass material often are chipped due to bumps on a kitchen surface, but not ceramics.
Also, the glaze material makes Avery ceramic baking dishes resistant to stains. The glazed ceramic coating also makes for an easy clean-up!
The strength of the materials allows bakers to use their Avery ceramic baking dish in a variety of temperatures. Avery baking dishes can withstand a large range of temperatures. It is freezer safe, oven-safe (up to 450 degrees Fahrenheit), microwave safe, and dishwasher safe.
Appearance
Being resistant to stains, chips, and dents makes for a flawless baking dish; this only adds to the beautiful appearance of Avery ceramic baking dishes. Avery ceramic baking dishes come in an array of beautiful colors and designs.
Because they are so beautiful, many people use them as serving dishes as well. They are perfect to use for baking and serving. The Avery baking dishes also come with nice, sturdy handles. The handles allow its users to maneuver the dishes with ease.
Baking Dishes
As mentioned above, Avery has many beautiful pieces of bakeware; however, they have a select few that are popular among the public.
The baking dishes are an assortment of three casserole dishes of various sizes. Each dish is a different color and different in size. The outer coating is a soft color, and the interior is a soft white. These casserole dishes come in the following colors:
Blue & White
Gray & White
Green & White
These casserole dishes also come in various sizes. The blue and white ceramic baking dish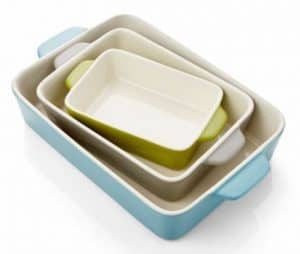 is 12 x 2.5 x 8.5 (92 oz). The gray and white ceramic baking dish is 7 x 2 x 5.25 (48 oz). And the green and white ceramic baking dish is 9.25 x 2.5 x 6.5 (20 oz). With a variety of sizes, you can cook a variety of meals!
Avery also produces a popular lasagna baking dish. The lasagna baking dish has a soft gray exterior and a white interior; it can hold 152 ounces of volume. 152 ounces is more than enough to create your next family meal!
Not only does Avery offer casserole dishes and lasagna pans, but they also sell mixing bowls. The Avery mixing bowls come in the following colors:
Aqua stripe
Grey stripe
Green stripe
Blue stripe
Where to Buy
The best place to buy Avery ceramic baking dishes is Crate & Barrel. Crate & Barrel is a well-known home store.
This store sells items under the following categories: furniture, kitchen, decor, lighting, rugs, bed, and bath. With over 100 stores and franchise partners in 9 countries, Crate & Barrel may be closer than you think!
You should buy Avery ceramic baking dishes for many reasons, but mostly because they are durable, they are low-maintenance, have an appealing appearance, and they make excellent baking dishes and serving dishes!
Do you own an Avery ceramic baking dish? Let us know!