Picture this: you wake up bright and early on a Saturday morning to make yourself some fried eggs and toast. You pull out your handy-dandy "non-stick" frying pan, and breakfast sticks to every surface of the pan; this effectively ruins breakfast and your pan. Lets talk about a better way: Zwilling Ceraforce Xtreme.
Thankfully, there is a cookware brand that is trying to solve this problem! Zwilling has constructed a cookware line that is trustworthy, easy to use, and non-stick!
With seven different cookware lines, Zwilling has proven that it can make high-quality cookware. One of Zwilling's more popular lines is the "Zwilling Clad CFX". What is CFX, you ask?  Ceraforce Xtreme.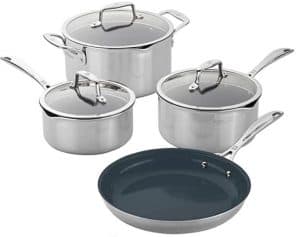 Ceraforce Xtreme is a specially named and crafted coating that Zwilling uses in their ceramic cookware line. They claim that the Ceraforce Xtreme coating is 50% longer-lasting and is 3x durable than other non-stick brands.
Should we believe all the hype? Is it worth the money and time?
Read below to find out if Zwilling Clad CFX (Ceraforce Xtreme) can replace your non-stick cookware!
Zwilling Ceraforce Xtreme Highlights
The Ceraforce Xtreme coating isn't the only feature that is noteworthy of Zwilling Clad CFX. Each piece of cookware is crafted with the finest materials, sound construction, and thoughtful features.
Construction
Each Zwilling Clad CFX (Ceraforc Xtreme) cookware piece starts with a durable aluminum core. This aluminum core provides even heat distribution and stability. Aluminum is a great heat conductor that supplies each pot or pans with even heating.
Some pans have what users call "hot-spots", meaning that some parts of the pan heat up faster than the rest of the pan. Many reviews state that customers have not had this "hot-spot" problem.
Being made with a ceramic coating, this cookware is non-stick and toxin-free. Like many ceramic pots and pans, Zwilling Clad CFX (Ceraforce Xtreme) is made without PTFE (polytetrafluoroethylene) and PFOA (perfluorooctanoic acid). Those who care about unnecessary chemicals and toxins will benefit from the Zwilling Clad CFX (Ceraforce Xtreme) cookware line.
Compatibility
Combining the aluminum base and the Ceraforce Xtreme coating, this cookware is extremely durable and can withstand many things. Zwilling Clad CFX (Ceraforc Xtreme) cookware is oven-safe up to 400 degrees Fahrenheit.
The Zwilling Clad CFX (Ceraforce Xtreme) is not only oven-safe, but it is dishwasher-safe as well! Many love dishwasher-safe cookware. For those who need durable cookware, rest assured because Zwilling Clad CFX (Ceraforce Xtreme) is safe to use with metal utensils too.
Another bonus of this cookware is that it is compatible with the following stovetops:
Electric
Glass
Induction
Gas
To some, finding pots and pans that are compatible with induction stovetops is hard. Impressively, Zwilling Clad CFX (Ceraforce Xtreme) works with all stovetops.
While using this cookware on any stovetop, Zwilling ensures their customers that all their handles will remain cool no matter the stovetop temperature.
PROS & CONS
After hearing about Zwilling Clad CFX (Ceraforce Xtreme) and all of its features, you're probably ready to go out and buy it! Read through the following pros and cons before deciding if Zwilling Clad CFX (Ceraforce Xtreme) is for you.
Pros
The biggest selling point of the Zwilling Clad CFX (Ceraforce Xtreme) cookware line is that its coating lasts 50% longer than other brands.
According to reviewers, customers, and the website, it IS non-stick.
Found on Zwilling: "…The interior nonstick surface that has changed the way I cook for the better. No more fussing to get eggs off in the sink, or blueberry/chocolate stains from pancakes."
Found on Crate & Barrel: "It cooks eggs so well, [my husband] dipped his toe into making silver dollar pancakes and grilled cheese sandwiches and teaching our kids to cook with it, too. Best purchase!!
With this being said, a great benefit of buying this cookware line is knowing that it will do what it says!
Cons
On the downside, Zwilling Clad CFX (Ceraforce Xtreme) pots and pans are hard to clean. Judging by reviews and customer experiences, many of the Clad CFX cookware pieces are difficult to wash.
From Crate & Barrel: "This pan started out impressing me. One time we heated the pan quite hot. Nothing burned. After that, the pan is non-stick and very difficult to wash."
From Zwilling: "The nonstick ceramic holds up well and things cook evenly but the clean-up afterward kills the deal."
Make a Note: If ceramic cookware is on a high-heat setting, it can ruin the quality of the cookware.
If you don't mind the possibility of extensive clean-up and questionable durability, then go with this set!
IN SUMMARY
If you are looking for a cookware line that is toxin-free, durable, and compatible with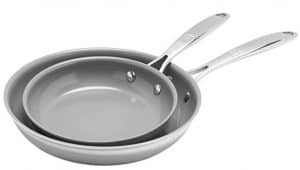 induction cooktops, then look no further.  We switched to these from our beloved Kitchen Essentials from Calphalon set.
While this brand cookware has many benefits, consider the downfalls of clean-up and using low temperatures.  Actually quite similar to most ceramic cookware.
Even if it does not live up to its claims or your hopes, you can send the cookware back to the company because of their warranty.
Will you replace your cookware with the Zwilling Clad CFX (Ceraforce Xtreme)? Did this article help you decide? Let us know!