Toaster Ovens are becoming increasingly popular. We live in a world of instant gratification. We know what we want, and we want it now!  These Casaware toaster oven pans help.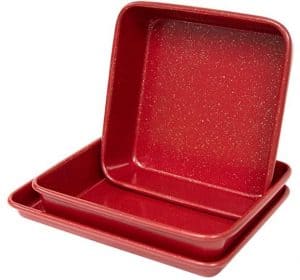 Although it may be considered a first-world problem, there is nothing more upsetting than slow internet when you're downloading your favorite game. Or how about preheating the oven when you are starving!
Everyone wishes that they could cook their food in half the time without the preamble and fuss of preheating. Toaster ovens may be the answer to your problems!
Toaster ovens are quite similar to a conventional oven; except that it is smaller and is often used as a countertop appliance. Toaster ovens work faster than normal ovens. They have special heating elements that are similar but work faster because of their size and capabilities.
These types of ovens are slowly becoming a household favorite. Families love toaster ovens because they can quickly throw food items in and have them cooked in half the time.
The biggest downside to using a toaster oven is that few pans will fit within it. Most baking pans are manufactured and produced to fit a standard kitchen oven. Most toaster ovens come with a pan, but these pans are usually a flat baking pan rather than a deep dish baking pan.
Casaware has solved this problem. Casaware sells toaster oven pans that are deep dishes! Deep dish pans are ideal because you can cook so much more with a casserole-style pan in addition to a baking sheet pan.
Read below to learn more about how to take care of your Casaware toaster oven pans and how they can help in your kitchen!
Casaware Toaster Oven Pans – What You Need To Know
The Casaware toaster oven pans are made with ceramic, non-stick technology. As most people know, ceramics are easy to use and even easier to clean. These pans are produced with a blue-colored granite coating. This blue has a combination of metallic gold and cream dots that creates a cute, rustic appearance.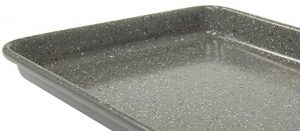 The granite ceramic coating is a vital feature of these toaster oven pans because they can withstand the high temperatures of the toaster oven.
Casaware toaster oven pans come in three popular sizes.
The 7x11x1.5 is the perfect toaster oven pan; its size, was made specifically, with brownie-lovers in mind.
The square Casaware pan is 7x7x1.75. This square pan is great for biscuits, cinnamon rolls, and other raising pastries.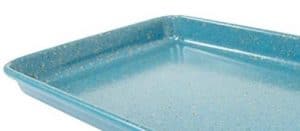 Casaware also manufactures a toaster oven baking sheet that is 9x6x3/4 and is used typically for cooking mozzarella sticks, pizza rolls, and toasting sandwiches.
Another great thing about these adorable pans: is that they can be used in a conventional oven as well. So if you do have the time to preheat and cook, this pan will work there too!
How to Clean Your Casaware Toaster Oven Pans
Due to the granite ceramic material, Casaware toaster oven pans are super easy to clean! The smooth and slippery surface allows users to clean the toaster oven pan with minimal effort.
Stick to the following tips, and your Casaware toaster oven pans will last a long time:
Allow the pan to completely cool after baking. Many people like to douse hot pans in water to quickly wipe away food residue; however, you should not do this with baking items made with a ceramic material. By allowing your toaster oven pans (or any ceramic pan for that matter) to cool before washing, you are essentially saving the non-stick properties of the pan.
After allowing your pan to cool, wipe away any food left in the pan with a soft sponge, cloth, or other scrubbing agents. You do not want to use metal utensils or other sharp objects to remove food because this could damage your pan. Sharp objects may scratch the pan and cause future problems for your kitchen experience.
Use warm soapy water, gentle dish detergents, and soft scrubbing agents to clean the pan. Many reviewers have stated that these three items are the only things they need to safely and efficiently clean their Casaware toaster oven pans.
How it Helps in Your Kitchen
Casaware toaster oven pans can help your kitchen by providing a safer and quicker cooking method. The pans are safer because of their materials.
Being made of granite ceramics means that there are minimal toxins in the baking pans. They are free of the following toxins:
PTFE (polytetrafluoroethylene)
Cadmium
PFOA (perfluorooctanoic acid)
Lead
PFOS (perfluorooctanesulfonic acid)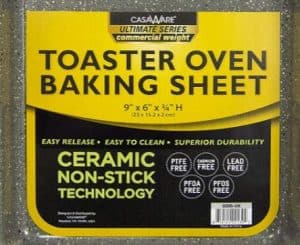 There should be zero worries about dangerous toxins and more focus on preparing a great meal!
The Casaware pans are FDA approved, California Proposition 65 approved, and European Union Approved.
Those worried about the health risks of hazardous toxins can rest easy with these toaster oven pans.
Casaware toaster oven pans can cook your food quicker when you use them with a toaster oven. For those days when you have to be at four places at once, these pans can help you throw something together when you don't have the time to fix a three-course meal.
In Summary
Why should you buy Casaware toaster oven pans? They are made extremely durable, and they have great non-stick qualities.
The blue granite ceramic coating creates a high functioning, high fashionable baking pan.
The colors provide customers with an enjoyably rustic appearance. The material provides customers with a non-stick, easy-to-clean surface.
Try our cleaning tips for your toaster oven pans and tell us how it goes!