✅ Best Ceramic Muffin Pans
1. GreenLife 12 Cup Ceramic Non-Stick Muffin Pan
The Premium ceramic non-stick coating is 100% free of PFAS and PFOA. The HD steel ensures quick and even distribution of heat. The cooked food slides out very easily and it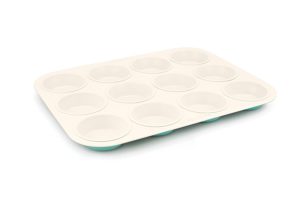 can be easily hand washed. This muffin pan is oven safe up to 450 degree F. It is really beautiful and is great for making shallow muffins. The cups are wider and are ¾ inch deep. It is quite easy to clean up the pan and the muffin can be taken out using a fork and without applying oil or butter. This muffin pan is time-saving as well as energy-saving.
2. Viking 4040-3512-CGY Ceramic Nonstick Bakeware Muffin Pan, 12 Cup
This nonstick muffin pan is resistant to stain and water and is 100% free of PFOA and PFOE. The carbon steel body makes it durable and ensures efficient heat transfer. The double-sided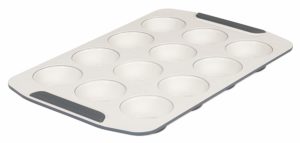 silicone handles ensure perfect grip and the ceramic coating is water-based so as to ensure anti-adherence. Though this muffin pan can be cleaned in the dishwasher hand washing is recommended to ensure longer life. The water-based ceramic coating is BPA-free. The non-stick surface of the pan works perfectly well. This pan ensures even baking of the muffins and they smoothly fall out of the pan. Additional cupcake papers are not required and even baked eggs will not stick.
3. CasaWare Ceramic Coated Nonstick 12 Cup Muffin Pan (Silver Granite)
This muffin pan ensures the most efficient baking. The cooked muffins slide off very easily.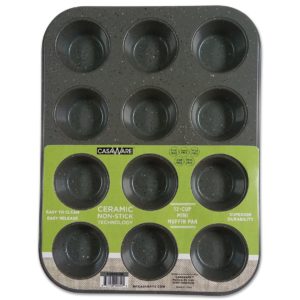 The pan can be easily cleaned. The ceramic Coating of this muffin pan is approved by EU, California Proposition 65 and FDA. The coating is 100% free of PFOA, PFOS, PTFE, lead and cadmium. This is a highly fashionable bake ware with colored exteriors as well as interiors. Since the ceramic surface is double coated it ensures scratch resistance and durability. This muffin pan can withstand temperature up to 450 degree F. It can be hand washed using soft cloth or sponge and liquid dishwashing soap in warm water. Since the baked foods slide out easily the user need not turn the pan upside down every time to take out the food. This muffin pan will release the content consistently without using muffin cups. For baking eggs, if a few drops of coconut oil are added before baking, the baked eggs slip out very easily. The facts that these pans are so easy to clean and that nothing will stick to them make it an amazing muffin pan. The pans are quite sturdy.
4. Farberware pureCOOK Hybrid Ceramic Nonstick Bakeware Muffin
This muffin pan is long-lasting as well as warp-resistant. The hybrid ceramic inside is non-sticking and ensures the easiest release of baked food. This pan is very easy to clean up.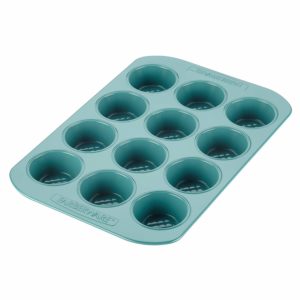 The quilted surface ensures stability of the baking pan and facilitates airflow to ensure balanced cooking. Hand washing is recommended. The pan is oven safe up to 500 degree F. This pan is ideal for baking and cooking. The hybrid ceramic inside is free of PFOA, lead, cadmium and PTFE. The Muffins come out perfectly clean. The pan can be easily wiped with a soft cloth or sponge and soap water to get rid of oil. This Muffin pan ensures an amazing baking experience.
5. CasaWare Jumbo Muffin Pan 6 Cup Ceramic Coated Non-Stick (Blue Granite)
The cream and brown accent makes this bake ware beautiful and fashionable. This pan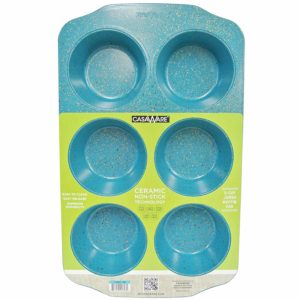 ensures easy release of the baked food. The exterior surface is coated with high temperature non-stick blue granite finish. The ceramic non-stick interior surface ensures smooth and efficient baking. The coating is free of lead, cadmium, PFOA, PTFE and PFOS. The 6 Cup Muffin Pan is ideal for making breakfast muffins, domed cupcakes and desserts. This muffin pan is oven safe and is to be hand washed. It is very easy to clean the pan.
6. American BakeWare 6 Cup Muffin Pan
This non-stick ceramic muffin pan is 100% free of cadmium, lead and other harmful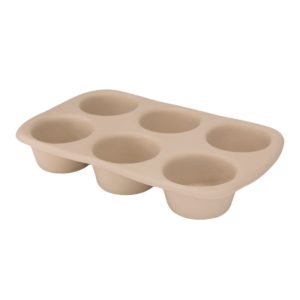 chemicals and is heat resistant up to 400 degree F. This Muffin pan is safe for dishwasher, ovens and Microwave. These pans ensure the best muffin results. This pan will not absorb moisture. The non-sticking ceramic stone ware ensures even distribution of heat. It will not create smoke or retain the odor of the food stuff. This muffin pan ensures perfect taste of the muffins. The pans are solid and are of excellent quality. This ceramic muffin pan comes in bisque color and has a capacity of ½ cup.
✅Types of Muffin Pans
Mini Muffin Pan
Jumbo Muffin Pan
Muffin Pan for Eggs
Muffin Top Pan
Is There a Ceramic Muffin Pan Made in USA?
Unfortunately, we have yet to find a good ceramic muffin pan made in the USA.  There is a USA Pan company that makes an Aluminized Steel cupcake pan if you absolutely need one made in the USA.  It has a coating they call Americoat that is PTFE, PFOA and BPA free.  Looks promising with great reviews, but still not ceramic.
In conclusion
We hope that our research has helped you find the best ceramic muffin pan to add to your kitchen.