Ceramic coated baking trays should become customary in everyone's kitchen. Several brands and companies manufacture high-quality ceramic coated baking trays.
Most households own at least one ceramic baking dish for baking or serving. Ceramic frying pans, dutch ovens, and cooking pots are also a commonality among chefs.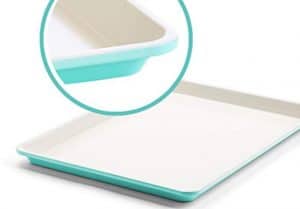 Ceramic cookware/bakeware includes stovetop, baking dishes, dutch ovens, and baking trays.
The majority of people use their baking trays for things such as cookies, biscuits, garlic bread, and french fries.
Why should you use a ceramic coated baking tray? Where can you buy a ceramic coated baking tray, and which one should you buy?
Keep reading to find out!
Why Use Ceramic Coated Baking Trays
Non-Stick
Things made of ceramic are generally non-stick; which is why chefs love them. Ceramics create a smooth surface and a non-stick feature for bakeware and cookware.
Foods are easy to remove from ceramic coated baking trays because of this non-stick quality. Users can transport food items from the baking tray without food remaining on the tray.
The non-stick feature is also beneficial for cleaning. Due to the non-stick coating, it is easy to wipe away any crumbs or food remnants. While most ceramic coated baking trays are dishwasher safe, it is always better to hand wash.
Durable
Not only are ceramic baking trays non-stick and easy to clean, but they are also durable in many ways. Ceramic coated baking trays are scratch-resistant, nonporous, and often dishwasher safe.
With metal baking trays, it is easy to scratch the surface with metal utensils. Ceramics can withstand scratches from day-to-day use.
This impressive coating also prevents any foods or flavors from absorbing into the pan. Some baking trays need seasoning and special care instructions to counteract any absorption. Ceramic coatings are nonporous; meaning that they will not hold onto any flavors.
Healthy
Ceramics are toxin-free. The bulk of ceramic consumers enjoy ceramic bakeware and cookware because it is free of PFOA, PFAS, lead, cadmium, and heavy metals.
Those who are health-conscious will enjoy ceramic coated baking trays because they are free of all major toxins. Other materials, when heated up, release dangerous chemicals into the air; this is not the case with ceramics.
With other materials, spray oils and fats are used for baking and cooking. Because ceramic bakeware is non-stick, it hardly ever requires oils or fats. Those dieting can enjoy the minimal grease and fewer calories for a healthy meal.
Where to Buy Ceramic Coated Baking Trays
Amazon
Amazon is a great place to buy ceramic coated baking trays. Not only is Amazon accessible, but it has many options that you can not find in stores. By shopping from Amazon, customers can check reviews. This can make things easier because customers can see what other shoppers have to say. Amazon also has a large price range to explore. Shoppers are more likely to find something within their budget through Amazon.
Bed, Bath And Beyond
Bed, Bath, and Beyond is a leading housewares store. Many couples use Bed, Bath, and Beyond for their wedding registry. Whether it is for a gift or your home, Bed, Bath, and Beyond has ceramic coated baking trays. The majority of baking trays at this store come in a variety of sizes and brands. Most of the baking trays are single baking trays.
Target
Target is a great place to shop for items for the home. While the may not have a wide variety like Amazon, but it does offer a hands-on experience. By shopping locally, customers can look at each option in person. Customers can feel the weight, material, and handles if they shop at Target.
Williams & Sonoma
Like Bed, Bath, and Beyond, Williams & Sonoma is popular among newlyweds. If you are searching for a higher-quality ceramic coated baking tray, Williams & Sonoma is the place to go. Professional chefs and those who enjoy the art of baking can appreciate this store.
Which Brand to Buy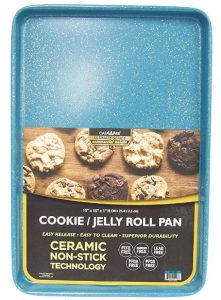 CasaWare
CasaWare is an exceptional option for those who enjoy a colorful kitchen. They have lots of colors and lots of baking tray sizes. Most notable is their toaster oven pans that are versatile. With colors such as blue, red, and white.
CasaWare can come in a pan set and can resist heat up to 450 degrees Fahrenheit. Be aware that their ceramic coated baking trays are not dishwasher safe.
Farberware
Farberware is capable of handling up to 500 degrees Fahrenheit. Not only can it handle high temperatures, but Farbereware can handle freezing temps. This ceramic baking tray is safe to use in the microwave. Farberware also has a variety of bright colors for you to choose from.
Greenlife
Greenlife pioneered the ceramic bakeware movement. With this, Greenlife has proven that it is trustworthy. This company has been in business for a long time and has a good reason. Greenlife has many colors, sizes, and baking tray collections. You can buy them in a set or by the pan.
Gotham Steel
Gotham Steel can be found in many stores and online. There are many reviews for Gotham Steel ceramic coated baking trays. For those who are looking for a beginner's ceramic bakeware set, Gotham Steel is a great choice.
Wilton
Wilton is known for its bakeware pieces amongst chefs and bakers. Their ceramic coated bakeware is dishwasher safe and durable. If you are unsatisfied with your bakeware, Wilton offers a lifetime limited warranty.
In Conclusion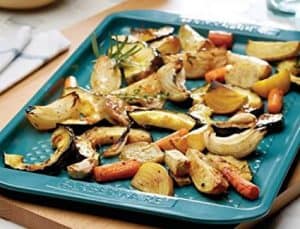 There are many places to buy ceramic coated baking trays. Shop your local housewares stores for the necessities, such as Target or Amazon. Or shop at a specialty store for a professional-grade baking tray, such as Williams & Sonoma or Bed, Bath, and Beyond.
There are countless ceramic bakeware brands out there. It can be hard to choose which brand is right for you. Consider what is most important to you as a baker: is it colors, brand reputation, heat capabilities, warranties, durability, etc.
Did this honest review help you? Are you going to buy ceramic coated baking trays? Let us know!