Do you need a frying pan that is versatile and durable?  Enter the Blue Diamond 7 inch Frying Pan! This frying pan can be the answer to all of your cooking desires.
This pan is the perfect size for eggs, toast, chicken, and stir fry!
This frying pan looks sleek, made with amazing qualities, and with great reviews.
Find out if the Blue Diamond 7 inch Frying Pan is for you!
Who is Blue Diamond?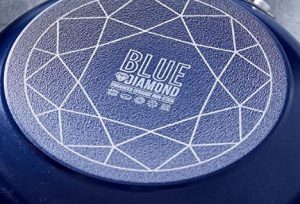 Blue Diamond became popular through its "As Seen On T.V." personality. They are a company that specializes in cookware and bakeware and has many products for all your basic kitchen needs.
Blue Diamond Cookware:
Waffle Pans
Frying Pans (various sizes)
Pots (various sizes)
Griddles
Knives
Blue Diamond Bakeware:
Muffin Tins
Cookie Sheets
Cake Pans
All of Blue Diamond's products are made with the same diamond-infused ceramic coating. The ceramic coating is durable and lustrous.
The most popular product of Blue Diamond is the 7-inch frying pan. Frying pans are possibly the most used piece of cookware in any household because of their universal functionality.
Frying pans can be used for every meal and the most common bites.
The Blue Diamond 7 inch Frying Pan Features
The Blue Diamond 7 inch Frying Pan has many features that keep its customers raving.
As stated previously, the Blue Diamond 7 inch Frying Pan is made with a diamond-infused ceramic coating. This diamond-infused ceramic coating is five times harder than any other non-stick pan. Diamonds provide a more durable surface than the most commonly used material, copper.
To match its durability, this frying pan comes with a proclaimed, durable glass lid. The Blue Diamond company states that it is safe to use metal utensils with their products. Any ceramic cookware owner can attest that this is a major benefit.
This durability increases the longevity of this rugged 7 inch pan. This diamond-infused ceramic coating lasts ten times longer compared to other ceramic-coated frying pans.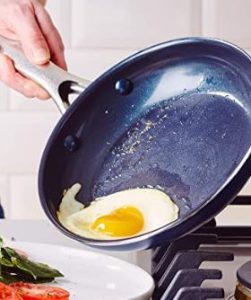 Similar to other ceramic cookware brands, the ceramic coating is toxin-free, making it the most environmentally conscious option for cooking. Because it is a ceramic coating, it is also extremely non-stick. Everyone loves a non-stick pan!
This  great little pan also transfers heat uniformly and evenly. According to the Blue Diamond website, the diamond ceramic coating transfers heat four times faster than copper. In an age of instant gratification, the faster the better.
Say you need to bake your steak after searing it in your pan. There are no worries about having to wash up two dishes. The pan is oven safe up to 850 degrees Fahrenheit. And when it is time to wash your frying pan, throw it into the dishwasher because the it is dishwasher safe!
What Do the Reviews Say?
With every product, there will always be positive and negative feedback. The reviews for this pan are predominantly positive!
The most common comment is on the durability and scratch-resistance of the Blue Diamond 7 inch Frying Pan. Many state that their frying pan has lasted them a long time and with minimal damage, such as scratches, chips, and dents.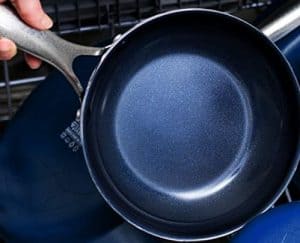 Another positive is the light weightiness of the pan. Many love the ease of handling the cookware. With little to no issues moving and maneuvering the cookware, people love this feature! This also makes it extremely easy to clean. The light weightiness and ceramic coating make this pan extremely easy to clean.
Everyone is talking about the great heat distribution.  It s enforced ceramic coating create a great heat conductor. With a heat transfer four times faster than copper, this frying pan gets lots of positive responses.
Be wary of the handle! Because this frying pan is a great heat conductor and to ensure that it is oven safe, many users complain that the handle gets hot while cooking. It's vital to utilize caution when operating the handle while cooking.
Other users state that this pan, while non-stick, only works its best when paired with an oil or spray. Many express that they use various oils and oil sprays to ensure that the pan remains nonstick throughout its lifetime.
Is the Blue Diamond 7 inch Frying Pan For You?
If you are looking for a cookware company that makes bold claims and has the reviews to back them up, look into Blue Diamond. With numerous cookware and bakeware items, Blue Diamond hopes to find the perfect product for you. And what better product is there to try than the versatile 7-inch frying pan?
With features such as invariable heat transfer, toxin-free coating, durability, and non-stickiness, this frying pan has a little bit of everything.
Blue Diamond is mainly sold on the Blue Diamond website, Walmart, Target, and Amazon. Each business has user reviews, and they endorse the reputation of Blue Diamond.
Let us know if you love your Blue Diamond 7 inch Frying Pan!