Do you love home cooking in style? Do you love bright colors and sophisticated cookware? Then you will love our Pioneer Woman Ceramic Cookware Reviews!
Pioneer Woman has gained a major following in the last ten years, and for a good reason!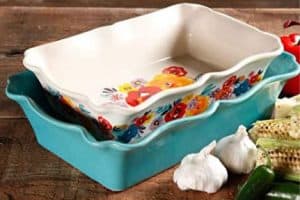 The Pioneer Woman is none other than Ree Drummond an American, self-made chef. For years she blogged her best recipes, her life on a ranch, and snapshots of her family.
She became incredibly popular for her "city girl turned cattle rancher" stories and her delicious recipes.
She has written cookbooks, children's books, and a personal memoir. Not only has she written multiple books, but she also has her own show!
"The Pioneer Woman" is filmed on her ranch and currently runs episodes on Food Network.
As many know, Ree Drummond has a ceramic cookware line, and it has become increasingly popular among her followers.
Her ceramic cookware line has frying pans, saucepans, Dutch ovens, pots, pans, and various kitchen accessories.
Everyone is asking: is it any good?
Read below for our honest Pioneer Woman Ceramic Cookware reviews!
Pros and Cons of the Pioneer Woman Ceramic Cookware
Everything has its ups and downs, and this Pioneer Woman collection is no different. Below we will break down the Pioneer Woman ceramic cookware review into two categories: Pros (all the great things) and Cons (all the not-so-great things).
PROS:
Colors
Anyone who has seen the Pioneer Woman ceramic cookware line knows that they stand out, in comparison, to other brands. The Pioneer Woman ceramic cookware has many colors and designs, and people love it!
This ceramic cookware line has the following colors:
Gray
Turquoise
Green
Red
Ombre
Speckled
Blue Floral
Other brands offer simple colors, such as black and silver. Pioneer Woman is known for her unique designs and colors.
Ceramic Material
While she offers cookware made from other materials, her ceramic cookware is the most sought-after. Ceramic is, arguably, the best material to use while cooking. Ceramics are the most environmentally friendly cookware.
Because it is ceramic, it is free of PFOA and PTFE toxins.
Not only is her ceramic cookware toxin-free, but they are also durable because of its aluminum interior and its ceramic coating.
Nonstickness
The ceramic coating provides a nonstick factor. The Pioneer Ceramic Cookware line is known for its non-stickiness. Many reviews comment on the ease of using Pioneer Woman's ceramic cookware because it is nonstick.
Ceramics provide the distinctive ability to be non-stick, which is another reason this cookware line is popular among household cooks.
Heating
The Pioneer Ceramic Cookware has an aluminum interior, which offers a high level of durability. This aluminum interior also plays a part in heating.
With the aluminum interior, the porcelain enamel (ceramic) offers even heating.
Many brag about the saucepans and dutch ovens because they consistently heat food evenly and uniformly.
Cookware Accessories
If you purchase the Pioneer Woman Ceramic Cookware set (a set that ranges from 8 to 12 pieces of cookware), then you will get a great bang for your buck!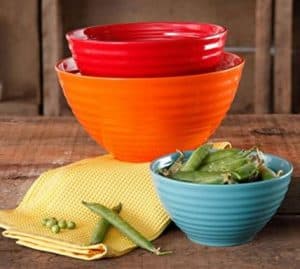 Metal utensils are not recommended with the Pioneer Woman Ceramic Cookware. To make up for this, Pioneer Woman includes wooden spoons with ceramic cookware pieces.
Another accessory that people rave about is the ceramic cookware lids and handles. The lids and handles are accessories made for convenience.
The handles and lids are slightly larger than necessary to provide comfort, ease, and safeness. Because the handles are sizable, it makes the lids and pots easier to handle. The handles do not get hot like other brands.
CONS:
Unfortunately, the Pioneer Woman Ceramic Cookware is not perfect. There are a few things that many have complained about and slight discouragements. Some cons are because of human use, and others are design flaws.
Fading
There have been several reviews stating that the colors of the cookware fade between a few months to a few years. If the ceramic cookware is not cared for properly, it will fade.
Ceramics typically work best on a low to medium heat setting. On a high heat setting, ceramics can become damaged. Damages can include fading, a lack of durability, and stains.
Shape
The Pioneer Woman Ceramic Cookware line offers a bellied design. A belly design is when a cookware piece has a smaller diameter around the top, a large middle, and a smaller bottom.
While some love this unique design, others complain about excessive sloshing. Because of this design, moving or stirring liquids can cause spillage.
With this belly design, you can not fill the entire pot up because it has a greater chance of spilling and sloshing.
Lifespan
Many seek cookware lines that can last years and years. The average lifespan of a ceramic cookware piece can last from 3 years to 5 years. If the ceramic cookware is not taken care of properly, it can only last 6 months to 9 months.
Many expect the Pioneer Woman Ceramic Cookware to last for a long time because of its representation. The typical lifespan of this cookware line is 2 years to 4 years.
It is crucial to take care of your ceramic cookware to prolong longevity.
Handwashing vs. Dishwasher
The Pioneer Woman Ceramic Cookware is not dishwasher safe.
Using a dishwasher with this ceramic cookware line will damage the pans, fade the colors, and reduce the lifespan.
Many complain that it is not worth it because the time taking care of the pots and pans does not justify the money spent on the cookware.
The Pioneer Woman Ceramic Cookware Review Summarized
This set is perfect for young families who are just starting. It is also perfect for those who will not spend their time doing intense cooking or baking. The Pioneer Woman Ceramic Cookware comes with recipe booklets straight from Ree Drummond, herself!
The Pioneer Woman Ceramic Cookware is not for professional chefs and those who will spend a lot of time in the kitchen. It is better to spend the extra money on more professional-grade ceramic cookware.
The Pioneer Woman Ceramic Cookware is easily affordable and you do get a lot of pieces for the price you pay! However, be aware that you will have to take extreme care of your ceramic cookware to ensure longevity.
So, is the Pioneer Woman Ceramic Cookware for you?
Did our Pioneer Woman Ceramic Cookware Reviews help you?  Let us know!