Orgreenic is an "As Seen on T.V." company that has gained a community because of its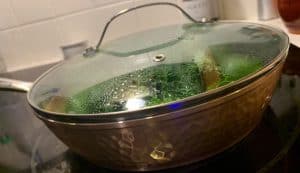 products.  Lets take a look at the Orgreenic Rose Hammered pans.
The company sells both cookware and bakeware. Many are seeking this company out because they claim that their cookware and bakeware promote healthier eating.
The cookware and bakeware come in three colors: rose, green, and white. And Orgreenic sells many products, which include the following:
8" Skillet
10" Fry Pan with lid
12" Fry Pan with Lid
5 Quart Hammered Pot with Lid
5 Quart Hammered Pot with Lid
5 Quart Hammered Pot with Lid
5" Griddle with Induction Bottom
Stainless Steam
Bundt Pan
17" Cookie Tray
15" Cookie Tray
13" Cookie Tray
9" round baking pan
9" square baking pan
9" loaf pan
12 cups muffin pan
8" Round Pan
5" Round Pan
10" Round Pan
12" Round Pan
14" Round Pan
Specifically, we are going to cover the Orgreenic Rose Hammered Pans.
How are they promoting healthier cooking? Is it healthier? What makes this pan great?
Read below to find out!
The Orgreenic Rose Hammered Pans
Before diving into the reasons these pans are healthier than others, let's explore their fan-favorite features.
HEATING CAPABILITIES
The Orgreenic Rose Hammered Pans heat up quickly because of the uniquely designed bottom. The bottom of the Orgreenic Rose Hammered Pan has been designed to ensure fast, uniformed heating.
Not only is it fast, but the pan is suitable for all stove types. Orgreenic Rose Hammered Pans work with the following stoves: gas, electric, ceramic, halogen, and induction.
Because of its heating capability, the Orgreenic Rose Hammered Pans are oven safe up to 500 degrees Fahrenheit. When not in the oven, the handle is guaranteed to stay cool. In other brands, you have to be careful around metal handles because they heat up as the pan heats up. Orgreenic states that they have "stay-cool handles".
DURABILITY
Orgreenic pans pride themselves on their toughness and durability. The coating of the them is so heavy-duty that users can use metal utensils. Other brands highly suggest that cooks use wooden, silicone, or nylon utensils, but not Orgreenic. Orgreenic is positive that metal utensils will not cause scratches or chips.
The cookware line is also dishwasher safe. Many pans require hand washing and a soft cloth when cleaning dishes. However, Orgreenic has created a durable pan that can withstand the vigorous cycle of a dishwasher.  With that said, we still hand wash ours.
Some pans come with a tempered glass lid. Despite being more difficult to manufacture, Orgreenic provides its customers with safer and stronger glass lids.
Tempered glass has safety advantages that other lids do not. Due to its reinforced chemical reactions, tempered glass doesn't break into uneven, sharp pieces. Rather, tempered glass shatters into small, even pieces. This reduces your chances of being cut. Not only is it safer, but tempered glass is highly heat-resistant.
NON-STICK
These pans are extremely non-stick. Their biggest claim is that their pans do not require oils or butter to cook.
This company claims that its pans are sufficiently non-stick without added ingredients or other non-stick agents.
Because of the coating, the Orgreenic Rose Hammered Pans remain non-stick throughout the lifetime of the pan. This non-stickiness is perfect for bites such as scrambled eggs, veggies, and meats.
Without adding oil and butter, does this make meals healthier?
This leads us to our main question: are Orgreenic Rose Hammered Pans healthier?
How Is It Promoting Healthy Cooking / How is it Healthier?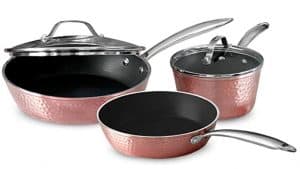 Orgreenic states that less oil and butter means fewer calories. For some, fewer calories equal healthier options. With fewer fats, meals can become more nutritious for those seeking a non-fat diet. For those who do not need to restrict fats, a non-stick pan is still a win!
Is OrGREENic a Teflon?  Not only is it fewer calories, but it is also less toxic than other leading brands. The Orgreenic Rose Hammered Pans are free of PFOA (Perfluorooctanoic acid) and PFOS (perfluorooctane sulfonate).  No teflon.
These toxins are typically used with more common non-stick pans. There have been recorded health effects that are linked to PFOAs (perfluorooctane sulfonate). By emitting both PFOA and PFOS from their pans, Orgreenic is reducing health effects on its customers.
Orgreenic Rose Hammered Pans are also free of lead and cadmium. Even small amounts of lead and cadmium can be toxic to individuals. Cadmium toxins are often released when smoking and lead toxins can be exposed if pans are scratched or chipped. Orgreenic takes this out of its products to ensure safety.
Is it Healthier?
Being free of PFOA (Perfluorooctanoic acid) and PFOS (perfluorooctane sulfonate) toxins, make the Orgreenic Rose Hammered pans healthier than other pans! They prevent food from being exposed to dangerous toxins.
Lead-free and cadmium-free pans are a big plus! There isn't a risk of hazardous fumes being inhaled or ingested.
If you are on a low-fat diet, then this pan can be considered healthier than other pans. Reviews state that, for the most part, the claims are true! Many users do not use oil, sprays, butter, or other non-stick agents with their Orgreenic Rose
Hammered Pans.
Reviewers have cooked scrambled eggs, fried rice, veggies, broccoli and cheese meals, and others without additional oils or kinds of butter.
If you are looking for a pan that eliminates the need for oil and butter, this might be a great buy for you!
If you don't care about oil and butter and you just want a toxin-free, non-stick pan, try out Orgreenic Rose Hammered Pans!