Everyone has that one casserole dish that they swear by. They've used it for years and refuse to use anything else. Almost every household cupboard is overrun with bakeware that is still in the box.  Find out why you need an extra large ceramic baking dish in your life!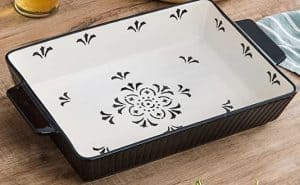 Instead of buying bakeware that you don't even use, maybe it is time to find a dish that you can use for years and years.
An extra large ceramic baking dish is a perfect kitchen cupboard accessory. There are many reasons to own one, but how do you know which one to buy?
Each baking dish comes with unique features. Once you find the right one for you, the possibilities are endless!
Why You Need an Extra Large Ceramic Baking Dish
Large baking dishes offer unlimited potential. Whether you are baking for a church potluck or family dinner, they are perfect for crowds. With a large baking dish, you can bake for holidays and parties without worrying if it will feed enough people.
Not only can it feed a crowd, but a ceramic dish can be used to serve a crowd too!
Ceramic baking dishes are exceedingly elegant. You can buy ceramic bakeware in various colors and shapes. Because ceramics are molded, glazed, and painted, they are often used as serving dishes.
Large ceramic bakeware pieces are desired because they are perfect for traveling. You can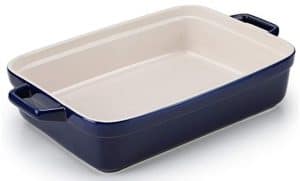 pop a meal in the oven, cover, and go! With this unique feature, you can travel from your oven to your party with ease.
They are made to bake and serve. Its size is made to bake for a crowd, and its classy design is made to serve a crowd.
Ceramic baking dishes also have durability and longevity. Ceramics don't only look good, but they can last a lifetime. Ceramics are highly resistant to scratching and chipping. They are also resistant to temperature changes, which is another reason it is used for traveling.
What to Look for In Your Baking Dish
There is more to consider than just its size when purchasing an extra-large ceramic baking dish. Depending on your wants and needs, each large dish could look different. It's fundamental to consider the following features and prioritize their importance for your baking needs.
VOLUME CAPACITY
There are so many sizes of baking dishes out there, it's hard to understand what is "too big" and what is "big enough". The most common baking dish size is 9×13. A 9×13 baking dish normally has a depth of about 2 inches. This baking dish holds approximately 3 quarts or 12 cups. 9×13 baking dishes are most commonly used for casseroles and family dinners.
You can also purchase a 14×10.5 baking dish; it holds 4 quarts/16 cups of volume. If you need something even bigger, you can look for a 5 quart/20 cup dish. A 20 cup dish is an 11×15.
SHAPE
Ceramic baking dishes come mostly in four shapes: round, oblong, rectangular, and square. Each shape holds a different baking purpose.
Round baking dishes are typically used for cakes, sweet rolls, and deep-dish meals. If you are using an oblong baking dish, you can cook puddings, cobblers, and pasta bakes.
Those who frequently make lasagna and roasts can benefit from rectangular-shaped dishes. Lastly, square shapes are perfect for brownies, cornbreads, and bars.
HANDLES
Rectangular and square baking dishes usually come with handles, but round and oblong dishes do not. If you worry about lifting a heavy dish or not having enough grip, handleless baking dishes may not be the right choice.
Something else to consider is traveling. Large handles can come in handy when traveling, making it easy to move from one spot to the next.
Which Brand to Choose
There are hundreds of extra large ceramic baking dishes out there; it can be hard to choose one. The three most popular and reviewed brands are as followed:
Emile Henry
Staub
Le Creuset
Corningware
HIC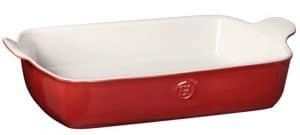 Emile Henry offers a great ceramic baking dish that has been a classic for generations. Each piece is well made and highly recommended. Specifically, many love the longevity and its easy-clean surface.
The Staub baking dish became popular because of its many colors. Customers love the way the Staub baking dish looks. One customer's review states, "Beautifully crafted baking dish. Easy to clean and timeless design.".
Le Creuset is a high-quality brand that many customers swear by. What makes their baking dish so unique is that it comes with a ceramic lid. The lid traps in the heat and makes traveling easier.
The Corningware baking dish is a first-rate example of a good bakeware line. The Corningware baking dish comes in an oblong shape, a glass lid, and graspable handles. It checks all the boxes!
You can comfortably purchase the HIC baking dish from Amazon. The ceramic baking dish from HIC is made with large handles that make it perfect for lifting and toting a hot baking dish.
What to Do with Your Dish
An Extra Large Ceramic Baking Dish is great for crowds, parties, traveling, and serving big meals. It looks good enough to show off while being extremely functional.
Consider the benefits of ceramics and ceramic-coated baking dishes. This material offers a durable and long-lasting container. The volume capacity, high-quality handles, and shape play a role in deciding which large baking dish is for you!
While there are many brands to choose from, each one has its advantages. Check customer reviews, product websites, and blog posts about each brand to find the best fit.
Extra-large ceramic baking dishes are perfect for lasagnas, brownies, puddings, deep dish meals, pasta, and more!
What will you bake?