Using and Caring for Your Staub 8×8 Baking Dish
Have you ever bought a baking dish and the company swears that it will last a minimum of five years, yet you damage yours within two years?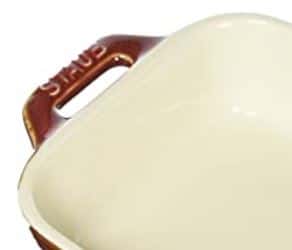 It is easy to buy bakeware, but it is sometimes challenging to maintain it. Staub has an excellent cookware and bakeware line. The Staub 8×8 baking dish is one of their more famous pieces of bakeware.
Many customers have their Staub bakeware last a long time, while others complain that it breaks easily. So, which one is it?
A dish will only last as long as you take care of it. Learn how to care for your Staub baking dish and how to use it best in the years to come!
Staub 8×8 Baking Dish
This baking dish is ideal for any kitchen because of its materials, colors, and other features. The 8×8 Staub baking dish is a stoneware dish surrounded by a glass porcelain gloss.
The exterior provides a buffer between the high-quality material and damages. Because of its unique coating, Staub's bakeware is scratch-resistant. It is also impact and thermal shock-resistant.
The ceramic material makes their baking dishes durable against temperature changes. Staub baking dishes can withstand heat up to 572 degrees Fahrenheit.
It is safe to use in the oven, under the broiler, microwave, and freezer. So, not only can it withstand melting temperatures, but also freezing temperatures as well!
It is clear to see that Staub handcrafts bakeware to stand the test of time. Because they also want to visually entice their customers, they offer multiple designs and many colors. Chefs and bakers can choose from the following colors:
Cherry
Dark Blue
Rustic Ivory
Rustic Red
Rustic Turquoise
White
Most of the Staub baking dishes come with easy-grip handles. The handles are ergonomically designed, to offer better stability. With these handles, chefs and bakers can grip their pan without fear of dropping it.
Staub is made to last for years, considering durability, design, and ergonomic handles.
How to Care for Your 8×8
While Staub's 8×8 baking dishes have proven to last a long time, they still require a basic level of care. It is vital to take good care of your bakeware to ensure that it remains unscathed.
WASHING
Many will be glad to hear that Staub ceramic bakeware items are dishwasher safe. However, handwashing is the best way to clean and care for your 8×8 baking dish. Handwashing is far less abrasive than a dishwasher.
Letting your dish cool before washing makes a huge difference. When you dunk your hot dishes in cold water, it weakens the coating and makes the bakeware more susceptible to damage.
When handwashing your bakeware, use a nylon scrubbing pad, a sponge, or a soft cloth. Do not use steel wool, scouring pads, or harsh dish detergents.
UTENSILS
While Staub's 8×8 baking dish is scratch-resistant, it is good practice to not use metal utensils. Metal utensils have sharp, strong edges. These edges make it easy to scratch and chip coatings.
Try using wooden, plastic, or nylon kitchen utensils instead! Wooden utensils do not have the same sharp, strong edges as metal utensils.
BASIC HEAT PROTECTION
Ceramics are extremely durable, meaning that little bumps and scrubbing will not harm your baking dish. However, there are general practices that can prevent major damage.
Ceramics are made to withstand high heat; however, they are not made to be used with direct heat. In other words, ceramics are perfectly safe to use in an oven with high temperatures, but it is not safe to use on a gas stove or a fire.
How to Use Your Staub 8×8
With the impressive vitality of a Staub 8×8 baking dish, it is pertinent to learn how to care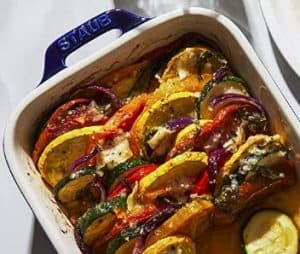 for and use it. Its materials, handles, and glaze provide a superior design.
The durable structure means that little bumps and scrubbing will not harm your baking dish. Handwashing, safe utensils, and avoiding direct heat can extend the lifetime of this dish.
Now, what should you do with it?
According to Staub's website, their 8×8 baking dish is versatile and perfect for every meal! Their website has countless recipes that work well with their bakeware! Just one of the desserts for their baking dish is an Apple and Pear Crumble. Yum!
Not only does Staub have sweet treats, but they have savory dishes too! Some of the most popular, savory meals include Stuffed Beef Tomatoes, Shrimp Tails with Garlic, and Roast Potatoes with Thyme.
Take care of your Staub baking dish and it will last for years! You'll have lots of time to try one of Staub's recipes!