Staub is a cookware company that has been providing good quality cookware for years. Located in a famous region in France, called Alsace. Alsace is known for its culinary prowess and traditions. Most chefs know that Alsace provides some of the most classic and best culinary inventions and methods.  Lets discuss the Staub 9×13 baking dish.
Staub handcrafts cast iron products and ceramic cookware. Each piece of cookware is crafted at a professional grade.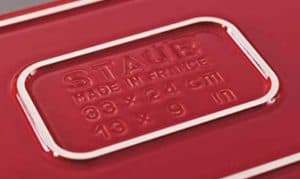 Staub ceramic cookware is bought by professional chefs, restaurants, and individual households. Staub prides itself on providing great ceramic cookware and cast iron cookware for its customers.
One of the most popular pieces that Staub makes is the Staub 9×13 Baking Dish. The Staub 9×13 Baking Dish is versatile and perfect for every home. In comparison to other brands, the Staub 9×13 Baking Dish is vastly different.
Read below to find out how the Staub 9×13 Baking Dish is different from other ceramic cookware brands!
How The Ceramic Cookware is Crafted
Staub ceramic cookware begins with an aluminum mold and individual sand molds. The melted material is then cast and molded into a sleek design perfect for serving and cooking.
After molding, the cookware is fired at 800 degrees Fahrenheit for 30 minutes; this creates a strengthened core and a more durable piece of cookware.
The Staub 9×13 Baking Dish is enameled, internally and externally, two to three times. The extra layers of enamel guarantee a smooth surface and a scratch-resistant exterior.
Each Staub ceramic cookware piece is inspected at least 100 times before it leaves the manufacturing site.
The Staub 9×13 Baking Dish
MATERIALS:
The Staub 9×13 Baking Dish has a stoneware interior and a glass porcelain enamel coating. The stoneware interior provides an even bake for food and a durable piece of cookware.
The glass porcelain enamel coating provides a resistant surface. The coating is highly scratch-resistant and chip resistant. This finish also provides an easy-cleaning surface. The glass porcelain enamel coating prevents major stains, as well.
TOUGHNESS:
The Staub 9×13 is impact-resistant, meaning that it won't break with bumps and thumps. This baking dish is also thermal shock resistant. Thermal shock resistance means that it will not strain against sudden temperature changes, such as glass.
This baking dish can be used almost anywhere! It is microwave-safe, dishwasher safe, freezer safe, and oven safe (up to 572 degrees Fahrenheit).
MAKES BETTER FOOD:
One of Staub's major claims is that food baked in their ceramic cookware is more flavorful,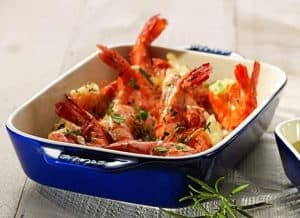 tastier, and all-around better than other brands. This company can make this claim because of its crafting methods.
Staub's ceramic cookware does not absorb moisture like other ceramic cookware. There is 10 percent more moisture in food baked in a Staub 9×13 Baking Dish.
When the moisture is not absorbed, into the ceramic cookware, the food absorbs that moisture and steam, creating more flavorful meals.
STYLISH:
Staub strives to create a baking dish line that can be used for cooking and serving. With baking dishes with good quality handles, this dish is both functional and sophisticated.
When creating their ceramic cookware, Staub puts a minimum of two coats of color on each piece. These multilayer coatings give each piece a vibrant shine and hue.
They also provide customers with multiple color choices. Here are the colors offered:
Cherry
Dark Blue
Basil
White
Rustic Red
The Rustic Ivory
Rustic Turquoise
Matte White
Matte Black
How to Care for Your Staub 9×13
While Staub is of good quality as it is known for its long-lasting cookware items, it is still crucial to take great care of its products. There are a few instructions that Staub gives its customers on how to properly clean their cookware.
When washing your dish, it is vital to let it completely cool before submerging it in water. By waiting for it to cool, it lessens the risks of staining and a weakened coat.
Also, avoid harsh scrubbing agents such as steel wool pads and scouring pads. Use items such as nylon scrubbing pads or sponges. If you stay away from harsh detergents and abrasive cleaning materials, there is no reason why your baking dish can't last a lifetime.
What Makes the Staub 9×13 Baking Dish Different?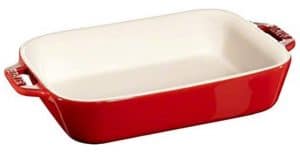 With its origins from a culinary-famous region in France, it is no wonder that Staub makes beautiful cookware for professional and novice chefs.
Crafted, enameled, and inspected methodically, Staub provides long-lasting cookware.
It's different from other brands because of its durable stoneware interior and its sophisticated glass porcelain enamel finish.
Conveniently, Staub offers many colors, recipes, and care instructions on their website.
The versatility of this fine dish is a bonus. You can use this baking dish for casseroles, lasagnas, biscuits, brownies, and deserts!
Let us know what you make with your Staub 9×13 Baking Dish!