Fiestaware is one of the most popular dishware brands on the market. With fun, festive colors, and a variety of packages, these dishes are ideal for any family home. Interested in purchasing some Fiestaware dishes for the first time? Let's talk about these ceramic Fiestaware lead free dishes and why they're so popular!
A Little About Fiestaware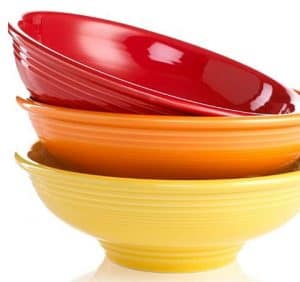 Fiestaware is also known as Fiesta. It is a porcelain glazed dinnerware line that was established in 1936. Homer Laughlin China Company produces Fiestaware. Since 1871, the Homer Laughlin China Co. has been producing dishes. Every dish with an HLC backstamp is created in the United States. Fiesta Dinnerware has been producing American dishes for over 145 years and is manufactured in the United States at their plant in Newell, West Virginia. Since it was first built and manufactured over 75 years ago. Federick Hurten Rhead, Art Director at Homer Laughlin, developed the Fiesta shapes and glazes. He created long-lasting serving ware.
Their appealing glazes, which are available in red, yellow, green, blue, turquoise, and antique ivory, are what make them so unique. Fiestaware introduces one new color each year and has grown to become a top dinnerware brand in the United States. Fiestaware is now the most collected tableware in the tabletop industry's history.
Are Fiestaware dishes free of lead?
Fiesta Dinnerware is free of lead. Homer Laughlin China Company has implemented a major manufacturing process change making sure all dinnerware produced for the retail and foodservice markets has been "lead-free." This decision was due to demand placed by consumers learning about the harmful effects of lead-products.
How Can I Tell if my Fiestaware is Free of Lead?
While vintage Fiesta pieces are still high in lead, newer Fiestaware items (including those marked "lead free" on the bottom) have either no lead or only trace amount of lead. The trace amounts are not deemed harmful by the FDA.
Is it Safe to Microwave Ceramic Fiestaware Lead-Free Dishes?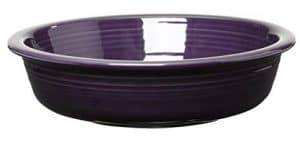 Yes, Fiestaware can be used in the microwave, making it great for families who frequently have leftovers! Modern Fiestaware is free of uranium and lea, making it nontoxic and non-radioactive. Modern Fiesta is strong and long-lasting so you can easily reheat food in the microwave! Fiesta dinnerware can withstand temperatures as high as 350 degrees Fahrenheit.
How Can You Tell if a Dish Contains Lead?
You won't be able to tell if a dish contains lead simply by looking at it. However, dishware with lead is required to be labeled as such. So, if there's no label, it's likely lead free! To be absolutely certain of such though, you can purchase a test-kit to check for lead. This can be beneficial for dishware bought at yard sales or from resale stores that don't show a label!
What is the Difference Between the Classic and Bistro Ceramic Fiestaware Lead Free Dishes?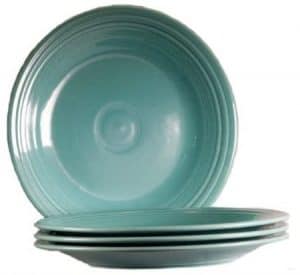 A Dinner Plate, Salad Plate, and Medium Bowl comprise the Classic Place Setting. These are the traditional Fiesta Dinnerware forms that you know and love. The Dinner Plate and Salad Plate feature a classic tapering shape. The Medium Bowl is a low, shallow bowl with a thin rim and sides that measure 1-7/8″ in height.
The Bistro Place Setting is a modern take on the Classic Place Setting, consisting of a Bistro Salad Plate, Bistro Dinner Plate, and Small Bistro Bowl. The fundamental distinction between Classic Plates and Bistro Plates is that the Bistro type has a narrow rim and deep coupe shape, allowing for a bigger center surface. The Small Bistro Bowl is a deeper bowl with sides that measure 2-3/4″ in height.
What Colors are Fiestaware Dishes Available In?
Fiesta pottery is available in a variety of gorgeous and appealing hues, the most recent of which being Butterscotch! This brilliant orangey-yellow hue is the 52nd color they've created since the 1936 fiesta launch. Fiesta has a wide variety of hues in its collections, with 15 distinct fiesta colors. They include:
Ivory
Slate
Scarlet
Poppy
Butterscotch
Daffodil
Sunflower
Lemongrass
Shamrock
Meadow
Turquoise
Lapis
Cobalt
Mulberry
These hues add something special to your dining area! Liven up Dinner parties, holiday gatherings, and even family dinners a bit with these beautiful dishes!
What Makes Ceramic Dishes Better Than Others?
Fiestaware is a type of dishware made from ceramic materials. Ceramics include pottery, terracotta, bone china, fine china, porcelain, glazed earthenware, paper clay, and stoneware. Ceramic dishware is thought to be the healthiest material of all. It is non-porous, and ceramic products are non-hazardous when made correctly.
Benefits of Using Ceramic Dishes:
Ceramic is made by heating clay to high temperatures and then burning it. You can find ceramics almost anywhere. Ceramics are widely utilized in everyday life. These are brittle, non-compressible, and extremely hard. You can also bake and roast with ceramic cookware. Most people favor ceramic cookware because it can be used for both dry and wet cooking. They are also non-stick, which prevents food from burning. They are simple to clean after usage.
Let's look at some of its advantages –
The use of ceramic dates back millions of years and has been found to be healthful and safe for eating. This of course is only if the dishware is lead free and nontoxic!
Ceramic dishes are heat resistant. You can prepare food on the stove, in the microwave, or in the oven. The material does not melt or break when heated, unlike plastic. It is due to the fact that the product's porcelain (the ultimate material of all materials) is responsible for the equal distribution of heat to the gas chambers. However, not all ceramics are heat resistant; only a few can withstand the heat such as Fiestaware dishware. Therefore, make sure that the utensil is heat-resistant before buying.
Ceramic Fiestaware dishes are well-known for their durability. They bake Ceramic at an extremely high temperature, which makes it both durable and non-porous. Despite their appearance, they are actually quite strong!
Ceramic Fiestaware dishes has been shown to be nonstick. They have a smooth, glossy quality that makes it easier to clean the dishes. Whether you're cooking a dish on ceramic cookware or enjoying a meal, the dishware is always easy to clean. Soap and water can easily clean your ceramic Fiestaware lead-free dishes.
Can Ceramic Fiestaware Lead Free Dishes Go into the Freezer?
The oven and freezer are ok for your Fiesta. Their products are designed to meet the needs of the professional customer in the foodservice/hotel business, and they offer a wide range of functionality
You can use them to make some delicious chocolate covered strawberries, popsicles, and more that need to harden inside the freezer!
How Do You Clean Lead-Free Ceramic Fiestaware Dishes?
Ceramic dishware is fairly easy to clean by hand! Your first step should always be to remove any food left over on the plate and give the plate a quick rinse. Then, use hot water and some gentle dish soap to lightly scrub anything sticky or greasy. You can do this with a sponge or soft-bristled scrub brush! From there you can rinse and repeat as needed. You'll then place your dishware upside down on a drying rack or towel and let it air dry! You can save some time by drying the dishes with a clean cloth if you'd prefer.
Is it safe to put Ceramic Fiestaware lead-free dishes in the Oven?
Yes, you can put ceramic Fiestaware lead-free dinnerware in the oven. They are completely safe to use in the oven and in the microwave. Modern Fiestaware is devoid of lead. As a result, they are not radioactive in the same way as older ones are. You can bake at temperatures as high as 350°F with the Ceramic Fiestaware lead-free dishes. However, Fiesta bakeware can endure temperatures as high as 500 degrees Fahrenheit!
It's also dishwasher and microwave safe. Fiestaware should never be used near an open flame. The Fiestaware collection may be used from the freezer to the oven, from the oven to the table, as well as from the table to the dishwasher!
When using high-quality ceramic Fiestaware, follow the instructions on the package. In general, Fiestaware set you should avoid repeated high-temperature cooking to avoid product cracks caused by the heat stability of the product.
Is it Better to Use Lead-Free Dishes?
Despite the health concerns of lead, the dinnerware industry has long utilized it as a crucial ingredient in paint and glaze to make dishes more durable and less prone to break. However, toxic lead is a substance that can harm people of all ages. It is particularly hazardous to youngsters, pregnant women, and unborn children. Since lead accumulates in your body, even trace levels can pose a health risk over time.
Small levels of lead are naturally present in the environment, but because lead is a dangerous toxin that accumulates in the body, health professionals advise avoiding it whenever possible.
According to experts, lead exposure can cause learning difficulties, ADD, lower IQ, speech, language, and behavior problems, poor muscle coordination, constipation, sleeping disorders, high blood pressure, muscular and joint discomfort, birth defects, and nerve and kidney damage. According to government regulations, even low amounts of lead exposure can have a lifetime impact on a young child. Due to this, it is best to use lead-free dishes.
This is why it's important to use lead-free dishes like Fiestaware dishes!
Fiestaware sells what kinds of lead-free dishes?
Fiestaware sells a wide variety of dishware. They have an abundance of categories for their lead free dishes including:
Mugs
Cups
Bowls
Place Settings
Plates
Platters
Serveware
They also sell pitchers, bakeware, crockpots, and various other kinds of dishware and kitchenware for consumer use! All of their items are lead-free, making them nontoxic and ideal for your kitchen!
Final Thoughts
Ceramic Fiestaware Dishes are officially lead-free. The only exception is if you purchased any dishware prior to them becoming lead free in the 1980's! You can confirm if your dishware is lead free by checking for a label on the bottom of each item or using an at home testing kit. With a wide variety of colors, Fiestaware dishes make beautiful additions to your kitchen!