Have you ever sat down and thought about what would be the best slow cooker? How big would you need to just feed a small family of four or a large party? There are a lot of slow cooker brands out there to choose from that can make the decision harder. All Clad Slow Cooker's though make some of the best options. The question is, do you go with All Clad slow cooker ceramic vs aluminum?
A Little About All-Clad
All-Clad is a cookware company that has a wide variety of handcrafted cookware to fit any style of cooking. This company was first founded in 1971 by John Ulam. They have a range of copper, stainless steel and low maintenance non-stick pans. To name a few saucepans, they have skillets, frying pans, mixing bowls, and lasagna pans. Their merchandise doesn't end there; they also sell bakeware and some household electronics, much like handheld blenders, waffle iron and of course, crockpots! They have two options of either Aluminum that is 7 quarts, and Ceramic that is either 4 quarts or 6.5 quarts.
Does All Clad Make Good Slow Cookers?
All- Clad has a few different options to choose from, and like all their cookware; it is tailored to the buyer's preferences.
The first choice there is, is the Stainless-Steel Ceramic 4 quarts Slow Cooker. It comes with four different modes to cook and can cook up to 26 hours. It is also dishwasher safe, but not recommended for stovetop or oven. As well as easy to grip handles that makes transporting it from pot to tabletop easy and of course the tempered glass lid to keep your food warm and avoid becoming cold.
The 2nd choice is the Stainless-Steel Ceramic 6.5 quarts Slow Cooker; this one comes with all the same features as the 4 quart slow cooker listed above as well as feeds a larger group. Tabletop accessibility, easy grip handles, tempered glass lid to keep food tasting fresh and warm.
Lastly, the Aluminum Slow Cooker Crockpot. This crockpot is 7 quarts, has a digital timer to set that can be set for up to 20 hours, which allows for food to cook slowly. It also features an automatic "Keep Warm " option for in case you are out longer and unable to turn off the crockpot manually, this feature can last for up to 6 hours. The aluminum slow cooker can also be transferred to the stove top to cook your meats and veggies to a nice brown prior to mixing in your ingredients in the crockpot and an added bonus is that it heats from all sides to allow for even cooking of your food.
All Clad Ceramic Slow Cooker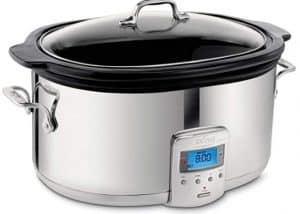 The Ceramic Slow Cookers come in two different sizes: 4 quarts and 6.5 quarts. The 4 quarts is good for serving 2-4 people and the 6.5 quarts is for that larger crowd. Both are dishwasher safe and can be removed from the pot and brought straight to the table; however, they do not cook on the stove top like Aluminum slow cookers can. They also do not have a "Keep Warm" option when the food is cooked, but much like the Aluminum slow cooker, it does cook from all sides of the pot.
All Clad Aluminum Slow Cooker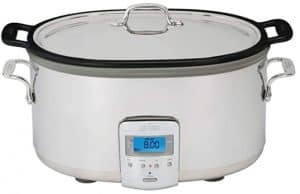 The Aluminum Slow Cooker is 7 quarts, which allows for lots of food to be made that can feed a lot of people. The aluminum insert comes out as one whole piece that cooks evenly among the sides on your stovetop. This is where you can cook your meat and onions or any additional foods in the recipe to a nice brown before transferring the entirety of the pot into the crockpot. Bonus, there are less pots that you have to dirty up while cooking. The only real cons to this slow cooker is that it isn't recommended for use in the oven and it is not dishwasher recommended.
Are Aluminum or Ceramic Slow Cookers Better?
Each Slow Cooker has its advantages and disadvantages. Ceramic and aluminum slow cookers each are great at cooking food from all around the pot to add an even layer of cooking to your foods. They can also feed a good amount of people. Ceramic slow cookers are dishwasher safe, and the insert can be brought to the table. However, it does not have a "Keep Warm" option once it is done cooking. Aluminum Slow Cookers, while they do cook on the stovetop to allow for a few messes to clean up, cannot be brought to the table and is not recommended for the dishwasher. Yes, it does have that "Keep Warm" option automatically. At the end of the day, it is just a buyer's preference. If you like fewer messes and more food at the end of the day, and that "Keep Warm" option, buy yourself the Aluminum Slow Cooker. If you like dishwasher safe and tabletop safe options, and don't need that "Keep Warm", get the Ceramic Slow Cooker.
Final Thoughts
Each slow cooker brings their own pros and cons to the table, but both meet the needs of each style of cooking. Aluminum can be great for the larger crowds and meals that require extra pans to use and will limit that down since it can be cooked in the same pot. Ceramic are easy to clean and ideal for small families! Whichever you chose, All Clad slow cooker's are guaranteed to be your favorite kitchen gadget!  That's it for todays post All Clad slow cooker ceramic vs aluminum.